This website may use affiliate links. When you purchase products from an affliliate link, I make a small commission.
This post is sponsored by Beautycounter, although all thoughts and opinions expressed are my own.
It's December, and you know what that means- we are all frantically trying to find the best gifts for our loved ones. Something that is sure to be a hit and make you look like the most thoughtful and generous friend they have. Am I right?
If you haven't heard of Beautycounter yet, I am SO sorry! You need to! Beautycounter has all of the no-fail, impress your friends, and make them super happy- goodies. Not only will they love it, you will love it and want to keep it all for yourself. When I was introduced to this company by a girlfriend, I originally tried their skincare and really fell in love. From the Counter-Match moisturizer, to the Rejuvenating Night Cream it was all amazing and made such a huge difference in my skin. The very best part of Beautycounter is the fact that they are truly leading a movement to get cleaner, safer products into the hands of everyone. The company prohibits the use of over 1500 harmful and questionable ingredients, so you know even those people on your gift list who read every ingredient on the label, will approve.
I recently began to try the Beautycounter makeup and it was just as fab! I love the variety of colors they offer. The lipstick goes on smoothly and is lightly infused with peppermint, which makes me feel like I am sporting super fresh breath when I wear it. YUM! All of the beautiful gifts sets from Beautycounter are so good!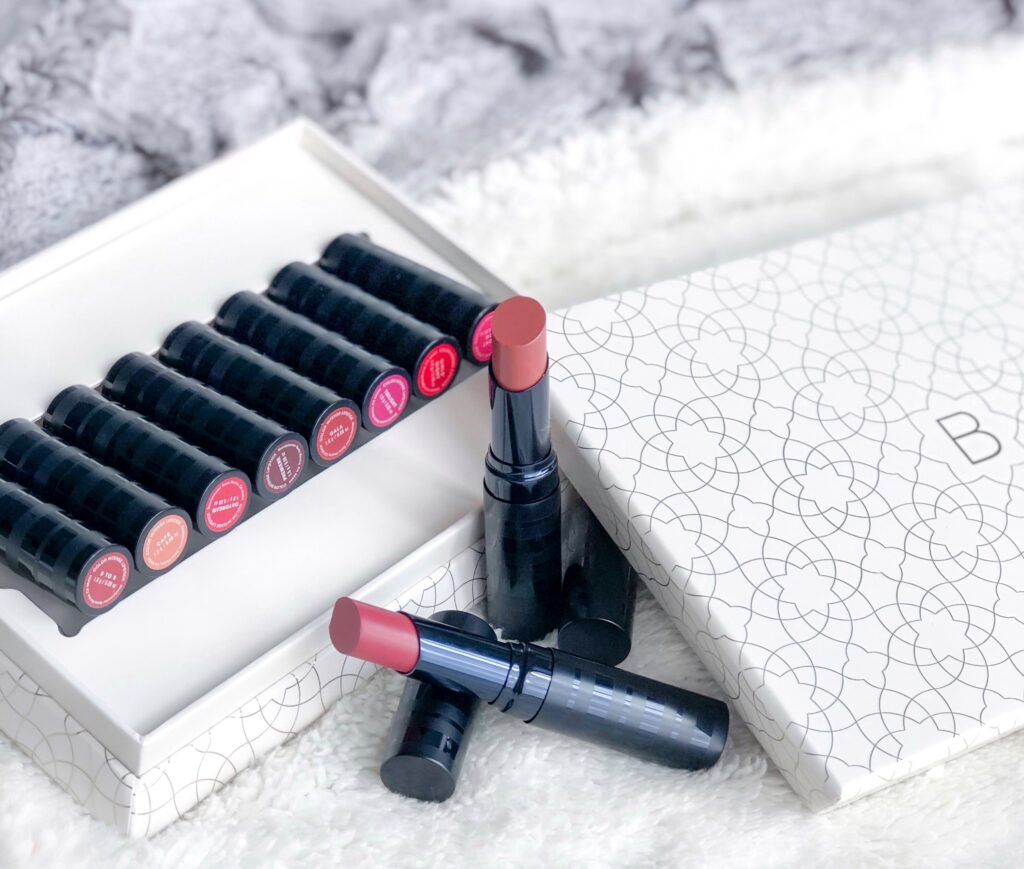 One of my favorite sets, is the Mini Color Intense Lipstick Vault. It's filled with 8 mini lipsticks, in shades for literally any event or occasion. I love this because I'm so indecisive when trying to buy a lipstick color. Now I have the perfect variety, and a color for everything. There is also a Color Intense Lipstick Duo with two full size lip colors. These colors would look gorgeous on any skin tone or style. Give the whole set to one lucky lady, or break it up and you have a little gift for a group of the ladies on your list!
Let's talk about the gorgeous Beautycounter eyeshadow sets. So pretty I almost didn't want to even use them. Each one comes in a beautiful white and gold box. Mirrors are also included and removable from the inside cover.
The Necessary Neutrals Eyeshadow Palette has 18 different shades. Cool and warm, matte and shimmer… This could literally be a gift for anyone, and you would win Christmas for sure! This palette comes with a double-ended brush as well.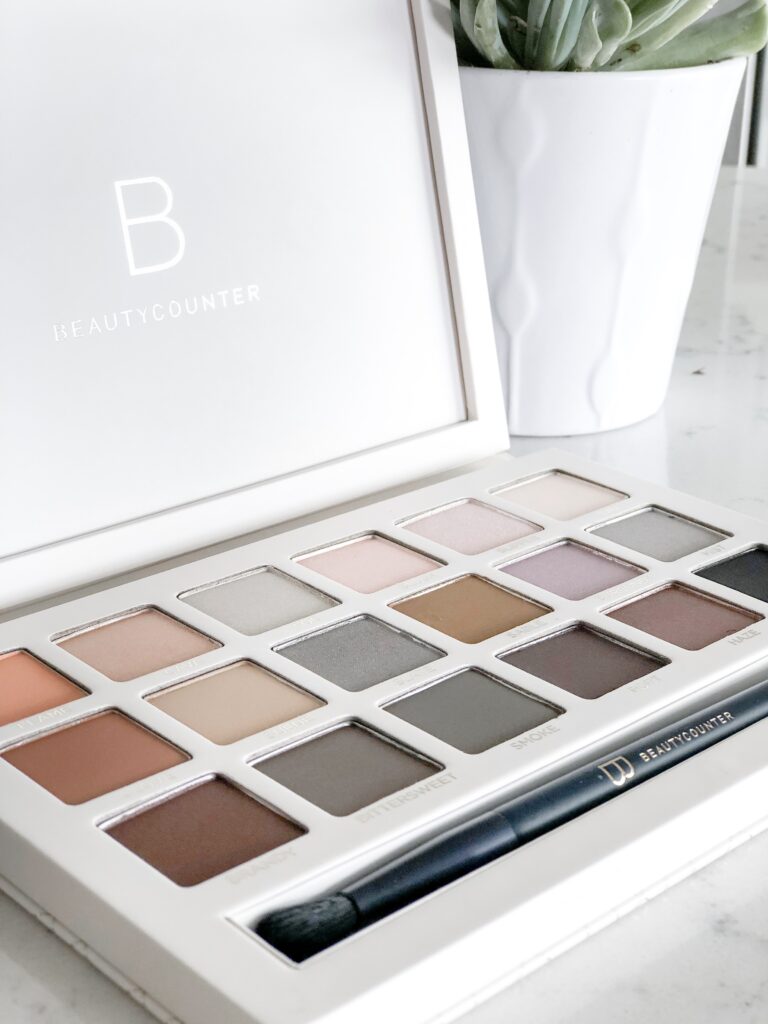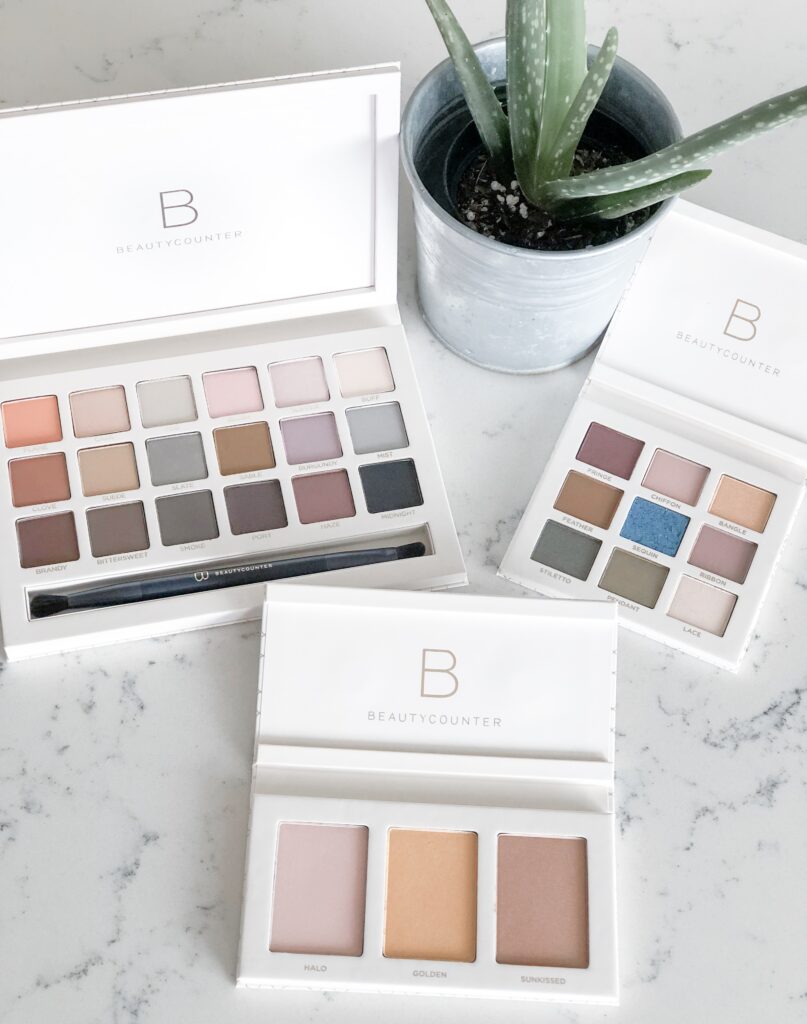 The Velvet Eyeshadow Palette has 9 richly pigmented shades. A smaller set, but it's not lacking anything. It can fit right into your clutch and be applied on the go- which I love.
Now when you truly want your skin to POP with that youthful glow, the First Light Highlighter Palette is your go-to. This really made me feel like my look was complete and gave me that healthy, fresh finish that I love. Any and ALL of the gals on your gift list will swoon over this kit. Includes three highlighters, created with finely milled pearlescent powders. I mean, doesn't that just sound like a million bucks? My favorite is the Halo, but all three will without a doubt make you GLOW.
Don't keep searching Google for a unique gift to impress your Mom, Sister, or bestie. Head over to Beautycounter and grab something for everyone you love. I'll just be right here, having too much fun with my cleaner, safer, BETTER beauty kits! Oh dang, was I supposed to give these away…? I'll have to get more.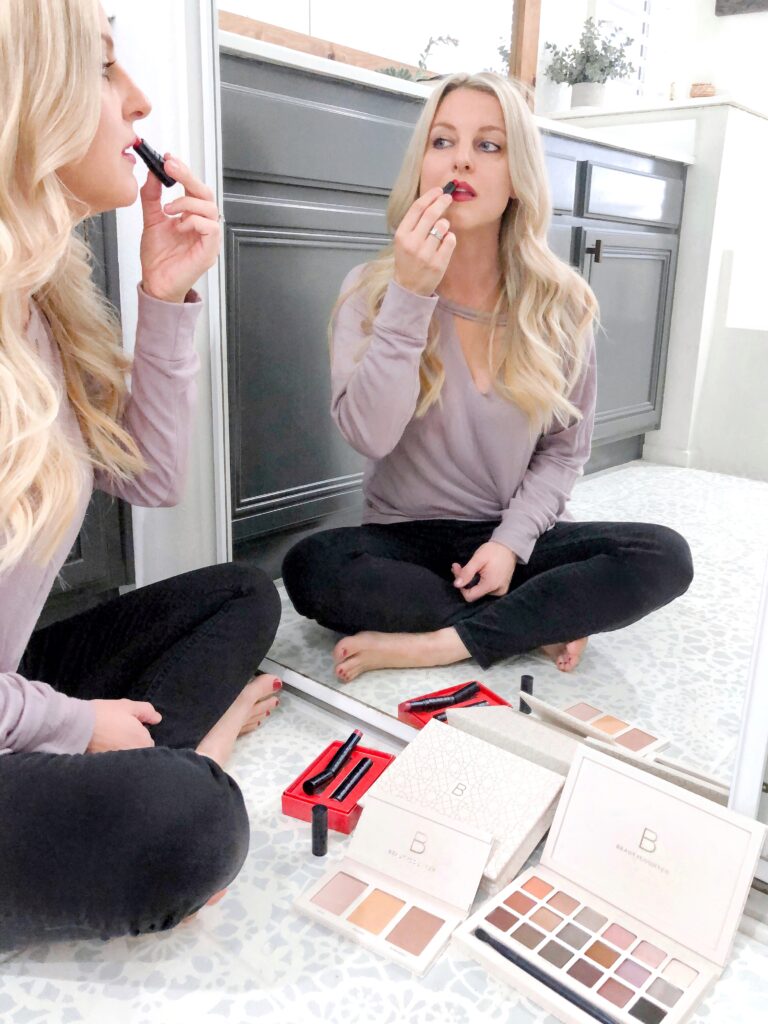 Go ahead! I'm not kiddin' they are going to love their Beautycounter gift! You will too, so get yourself a little Xmas gift while you're there.
Happy Holidays!
PS: Loving these Beautycounter gift sets? Click here now for more of my favorite gifts for her!!
XOXO,