This website may use affiliate links. When you purchase products from an affliliate link, I make a small commission.
This large, blank wall has been staring at me for the last five years that we have been in our home. I originally just threw some family photos up and called it a day. I think very high walls intimidate me when it comes to decor. Once I really started thinking about what I wanted to do with it, I knew it needed some texture and dimension to break up the empty space. Originally my mind went straight to shiplap because, well who doesn't want any excuse to have some shiplap in their house. But that just wasn't the right choice for this spot. Then I remembered Board and Batten! Yasssss. That's it. A board and batten wall can be sophisticated and modern in one style home, and can also look more lived in and rustic in another home. I knew it was the perfect choice. Sold.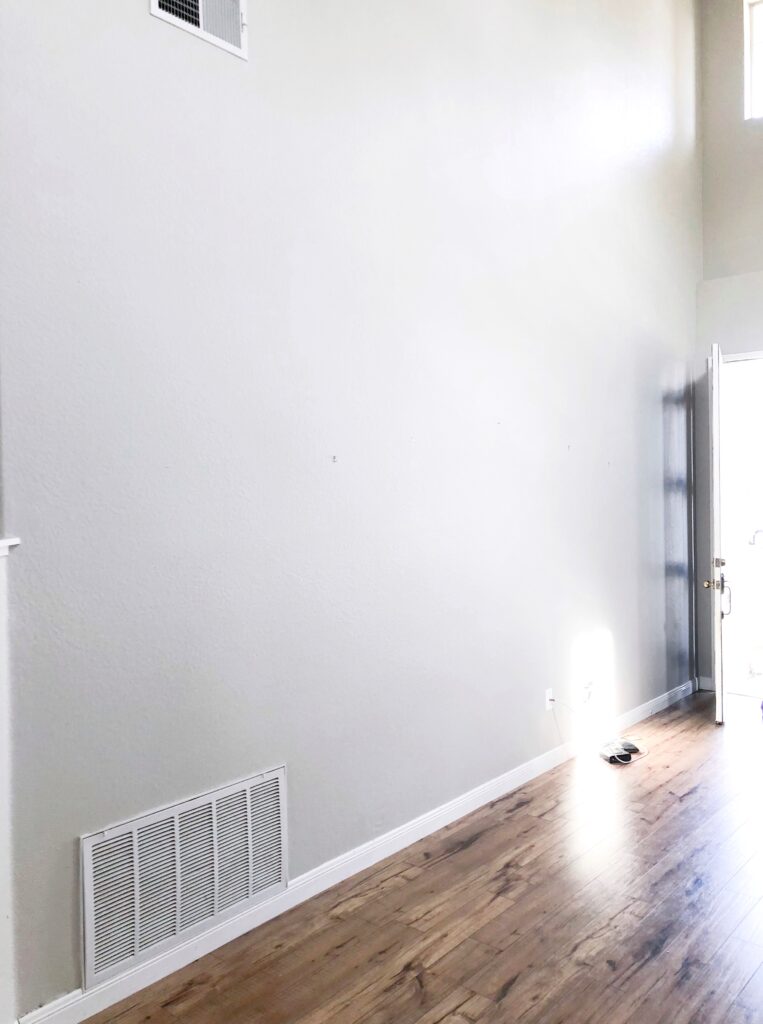 How to Make your Own
Board and Batten Wall
So let's get right down to how you can do this in your own home. A bedroom, living room, hallway, whatever your heart desires.
First of all, if your walls are NOT textured- this project is super easy for you. If you are from California, or wherever else they decided that walls need texturing on them- this project has some extra steps.
My wall is around 20 feet high. I decided to take my board and batten wall about half way up, it stops just under a wall vent so I wouldn't have to cut around it. Anything to make the job easier, is my motto.
This board and batten tutorial contains some affiliate links.
Materials needed for your board and batten wall:
1 x 6″ Pine boards – For thick trim at top and bottom
1 x 4″ Pine boards- For sides and interior trim
2 & 2-1/2-Inch 16 Gauge Finish Nails
2.7 mm Utility plywood (to cover the texture on walls before placing trim)
Spackle
Caulking
Primer
Paint of choice
Tools Needed to Make your Board and Batten Wall:
Jig Saw
16-Gauge Finish Nailer
Table Saw (optional)
Chop Saw
Level
That's the basic list, but of course your board and batten wall is not going to be the same dimensions as mine, so I am going to give you a basic step by step and you need to get your own measurements. Deal? Ok!
If you have textured walls, you'll want to cover them with a thin layer of plywood. If you choose not to do this step, your wall won't look like it is one solid piece, because you will see the texture through your paint and it will look like you just stuck some boards on your wall. Plywood comes in 4 x 8 foot sheets. The 2.7mm is thin and has a smooth finish that is ready to be painted so no sanding is needed.
I will not be discussing the electrical aspect in this post. I have no clue about electrical. My Dad did it all for me when he came to visit, while I had a cold beverage. You will have to find another blog post about that! So here we goooooo.
-I decided that I didn't want to glue my boards onto my wall, in case I ever decided to take this down, my wall would not be ruined in the process. If you are ok with gluing your plywood to the wall, that is great! This will be a less detailed project for you. You can follow my same tutorial and not be quite as particular about hitting all the studs. Since I did not want to glue my boards down, I needed to be sure to nail the sheets into the studs in the wall. Studs are 16″ apart- so a sheet of plywood (48″ wide) will line up perfectly to nail the edge of the sheet at every other stud. 16″ x 3= 48″ Make sense?
This is the worst illustration of all time, but hey, I don't claim to have any sort of artistic skills so… here ya go. The sheets will meet each other and thats where you will nail into your studs. I also nail around the entire sheet to prevent any bubbling, but this ensures it wont come away from the wall.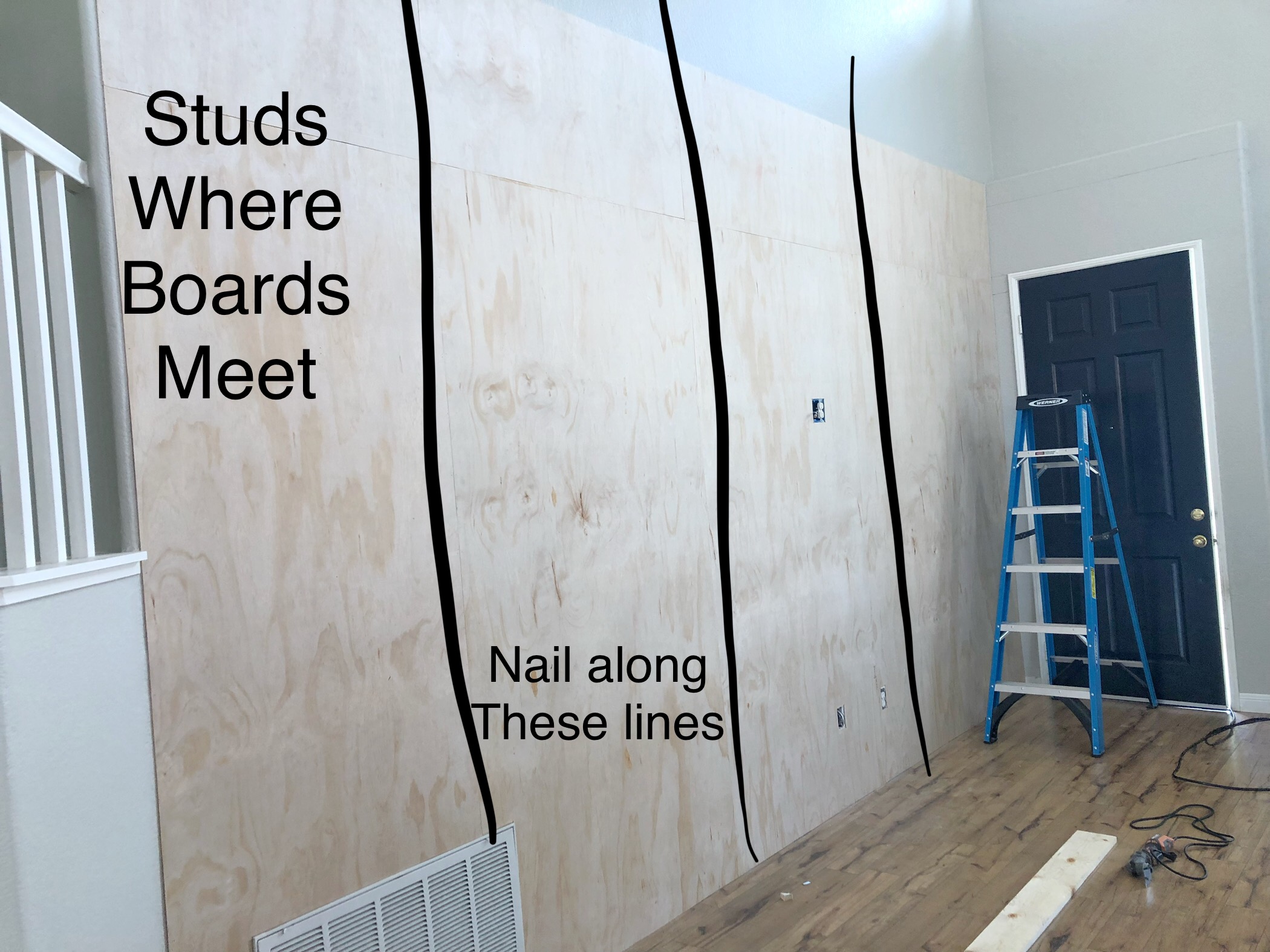 -Once your wall is covered in plywood, you will cut your 1 x 6″ boards to the length of your board and batten wall. This will create the outside (top/bottom) border. Nail the trim to the bottom (removing existing baseboard to give a clean, cohesive look) this will become the baseboard. Nail the other 1 x 6 to the top, lining up the top of the board with the top of the plywood sheet.
*Side note, if you've been doing the math, you may be confused. I added a 2 ft piece of the plywood right on top of the 8ft sheet which brought my wall to 10′ feet. That is right where I nailed my horizontal board. As you can see below, there is a line at the top where the wood comes together. You may need to do something like this as well if your board and batten will be taller than 8ft like mine is.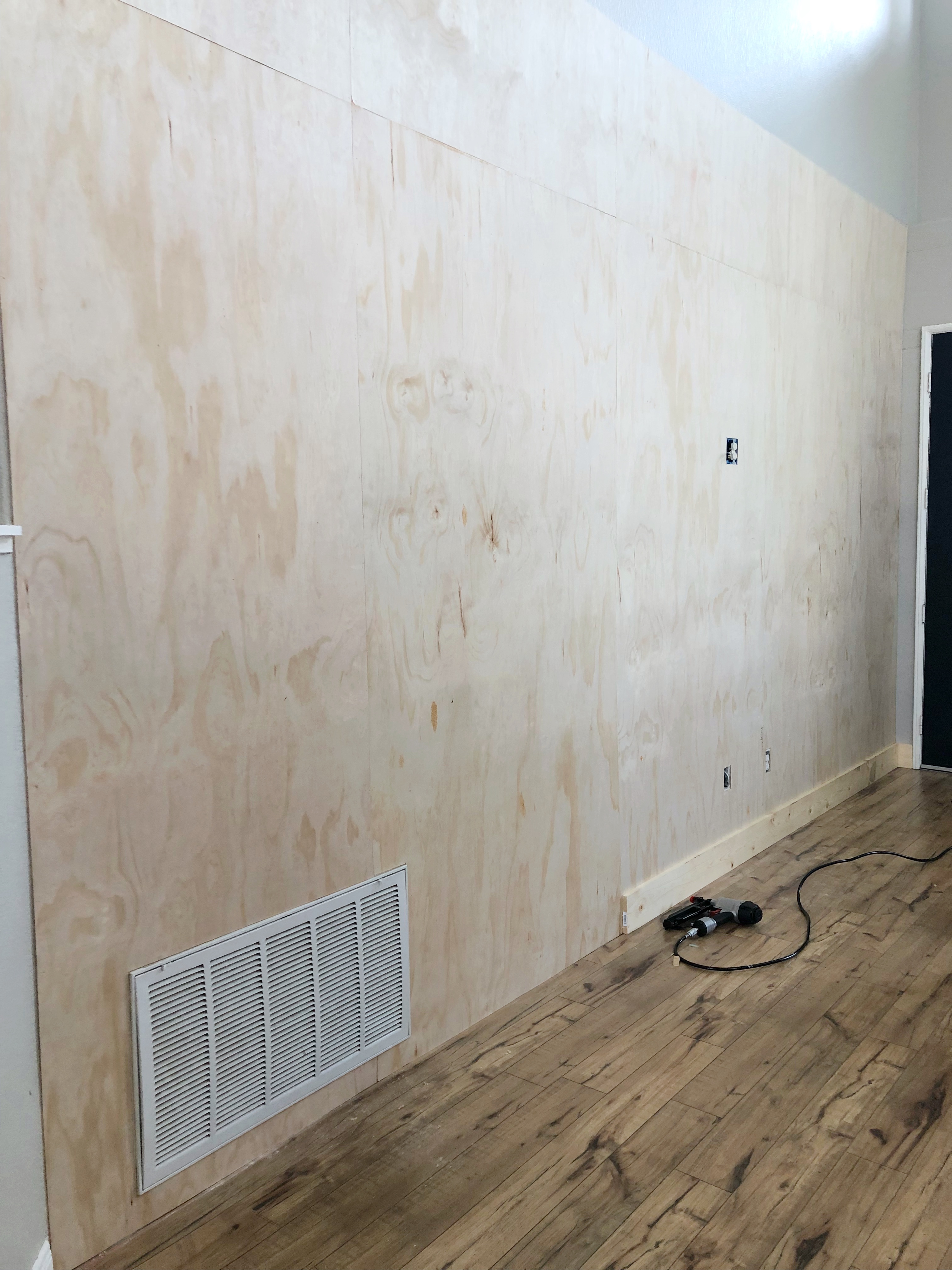 -Your 1 x 4″ boards will be used for the remaining detail. Measure the distance between your top and bottom trim at each point you plan to use a board. Don't assume the floor is level along the bottom board. Cut the boards to fit each spot and nail into place. You will nail a 1 x 4 at each spot that the plywood meets- to cover the gap. I only placed boards every 48″, because my wall is so large. If your wall is smaller, you may choose to nail your boards every 16″, so they run along every stud. Use your little jigsaw to cut out the holes around any outlet box or other obstructions.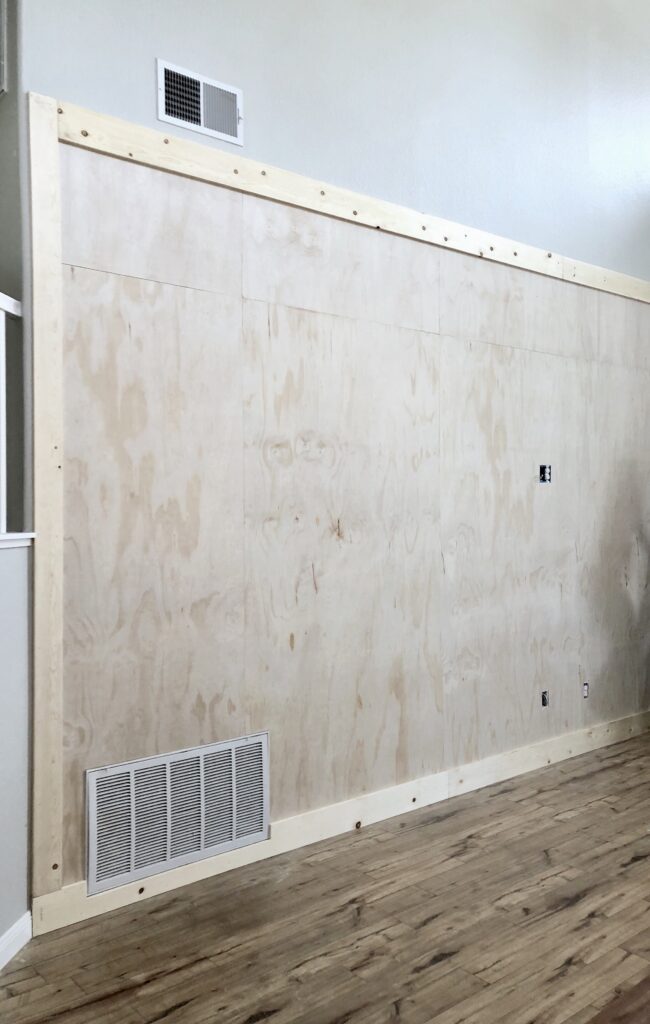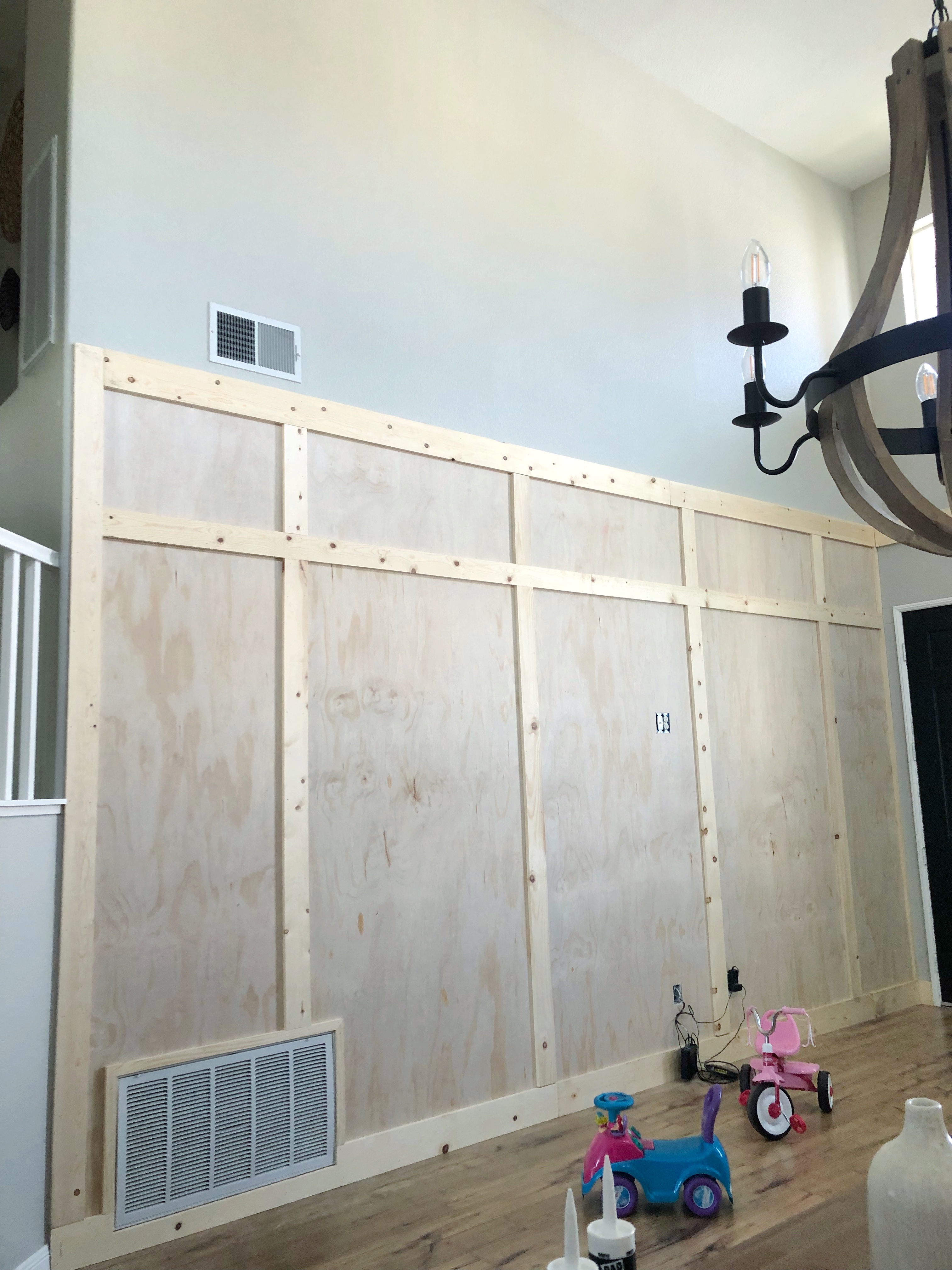 -Once all vertical boards are placed, measure each space between the vertical boards, cut and nail the horizontal pieces in to place. My squares are around 2ft high, as I said above. I also added a little box trim around the large vent below by cutting 45 degree angles on a piece of trim and nailing it in place.
-Sand any spots to ensure everything lines up smoothly.
-Caulk around all cracks/gaps, and spackle all nail holes (the worst part)
-Paint with a good primer. I recommend Zinsser 123, and then follow with your paint of choice. I used Oxford White by Benjamin Moore. This is the same color I used on my kitchen cabinets. It's the perfect white if you want a true white. No weird undertones, no warmth. I love it!! Also, the Advance Line by BM is the absolute best. It is self-leveling and even if you suck at painting, it will turn out fab.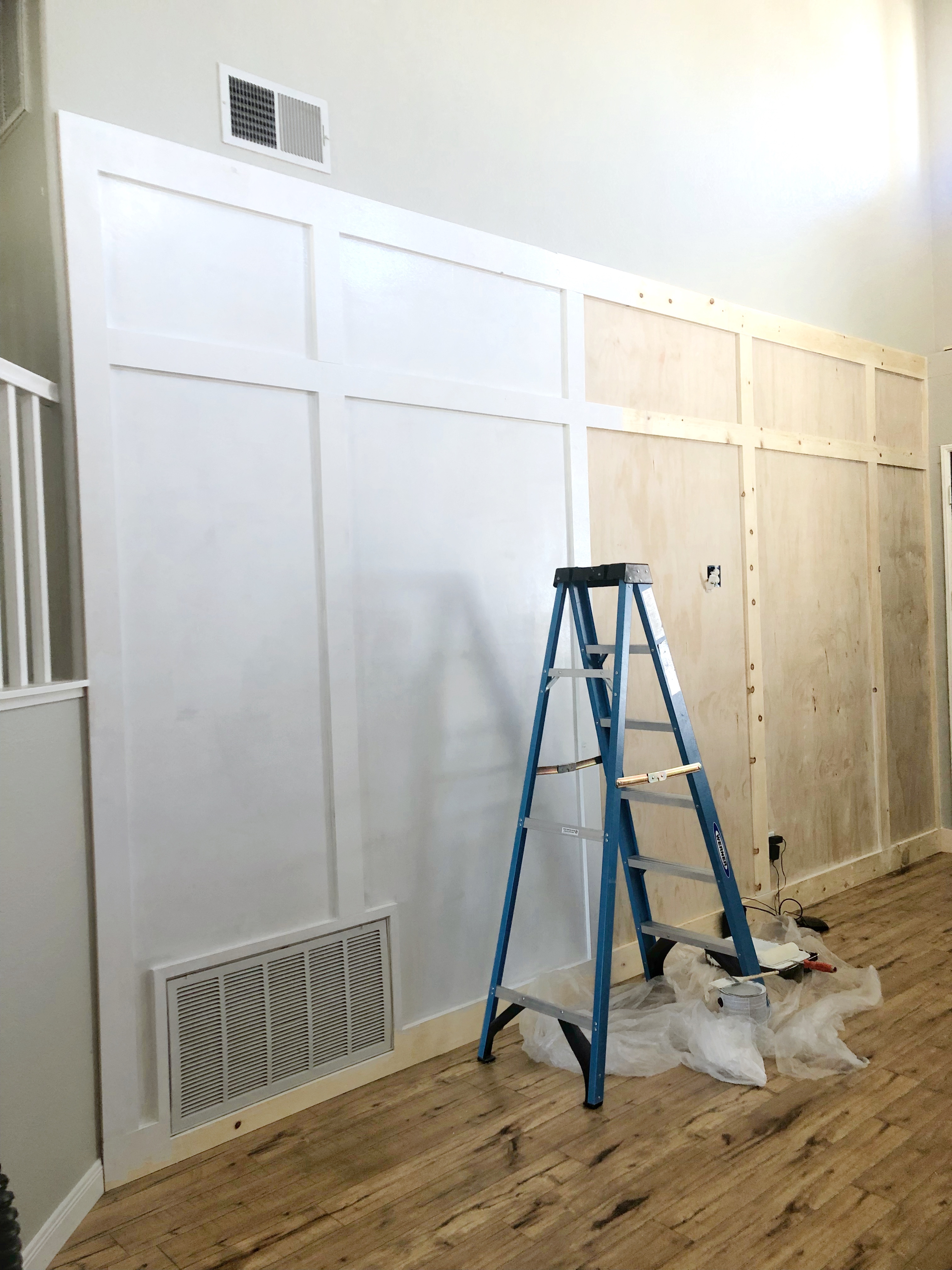 You will absolutely need to put one coat of primer on, then1-2 coats of the white paint to finish it off. Don't skip the primer! Stand back, look at your wall. OMG it looks amazing, right?? What a difference some wood can make. LOVE LOVE LOVE it!
And YEP, I put a TV right on it. My best friend gave me crap for covering it up with a television, but we love sitting in this room and cuddling up on the couch watching a movie. It feels like a cozy, and beautiful space that is LIVED in- and that's most important.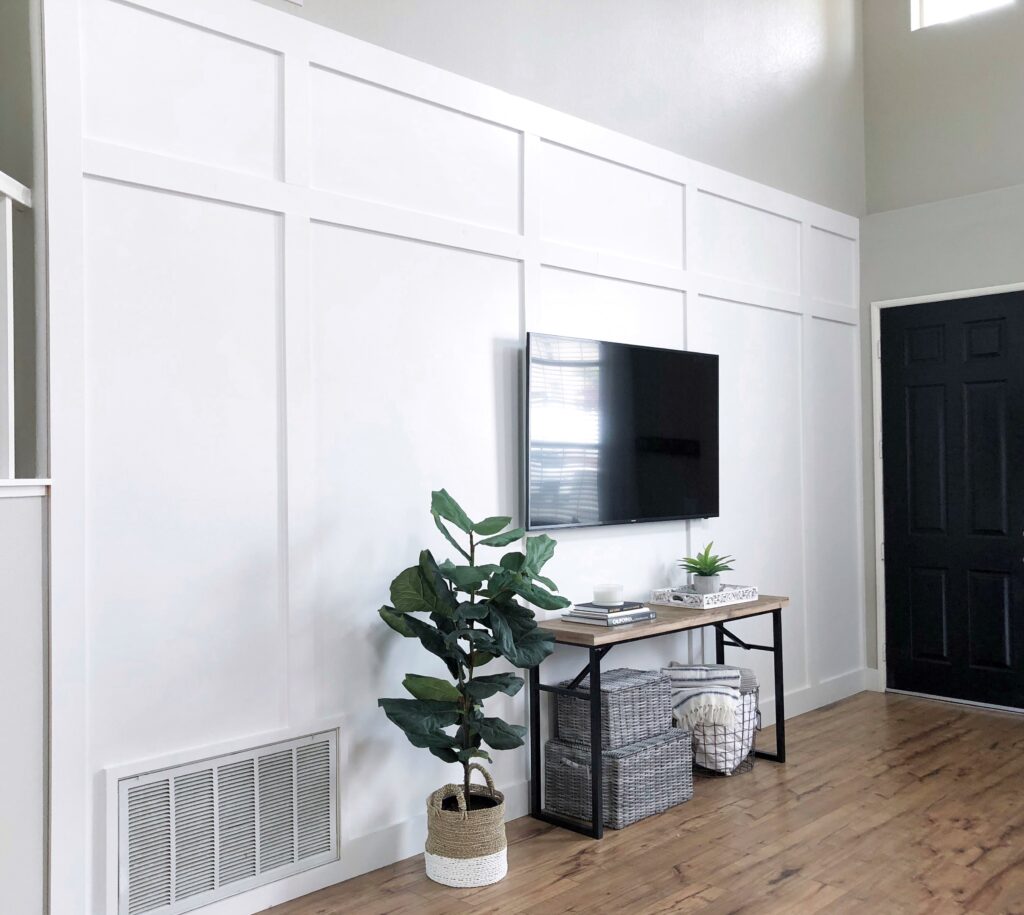 Let me know if you have any additional questions on this board and batten wall tutorial, I know I did a very breezy tutorial.
Happy Building!
PS: Loving this tutorial on how to make your own board and batten wall? Click here now for a step by step guide to make your own hairpin tables!
XOXO,
SHOP THIS BOARD AND BATTEN WALL POST:

img class="size-full wp-image-1031 alignleft" src="https://domesticblonde.com/wp-content/uploads/2017/10/kelly.png" alt="" width="255″ height="89″ />