A few years back, I created a diy kitchen island for our home. You can find that island design HERE. It saved us a ton of money! And we were able to design it to fit our needs. When we purchased our new home back in July, I knew I would be updating the kitchen right away, and planned to design and build an island again. This time, instead of seating on just one side, it would have seating surrounding one entire half, and would be much longer.
This is a project that truly anyone can do. Just have the proper tools and follow the steps. You will absolutely love the result. Let's get started!
Tools needed for kitchen island build
-Chop Saw
-Table Saw (optional, can be completed without one)
-Finish nail gun
-Screw gun
-Impact drill
Steps to building the kitchen island
The first step to designing your kitchen island is to tape off the floor with painters tape. This will give you a good visual of the sizing that would work best. A general rule of thumb for the distance from the surrounding countertops to the island top, is approximately 36-42″ walk through space. In this kitchen, I have about 42 inches around the entire island. On the side where the oven is, I gave myself about 48″ of space. If you have the extra room, take it! I love that the area in front of our oven is spacious, allowing the family to all pass through that area if needed.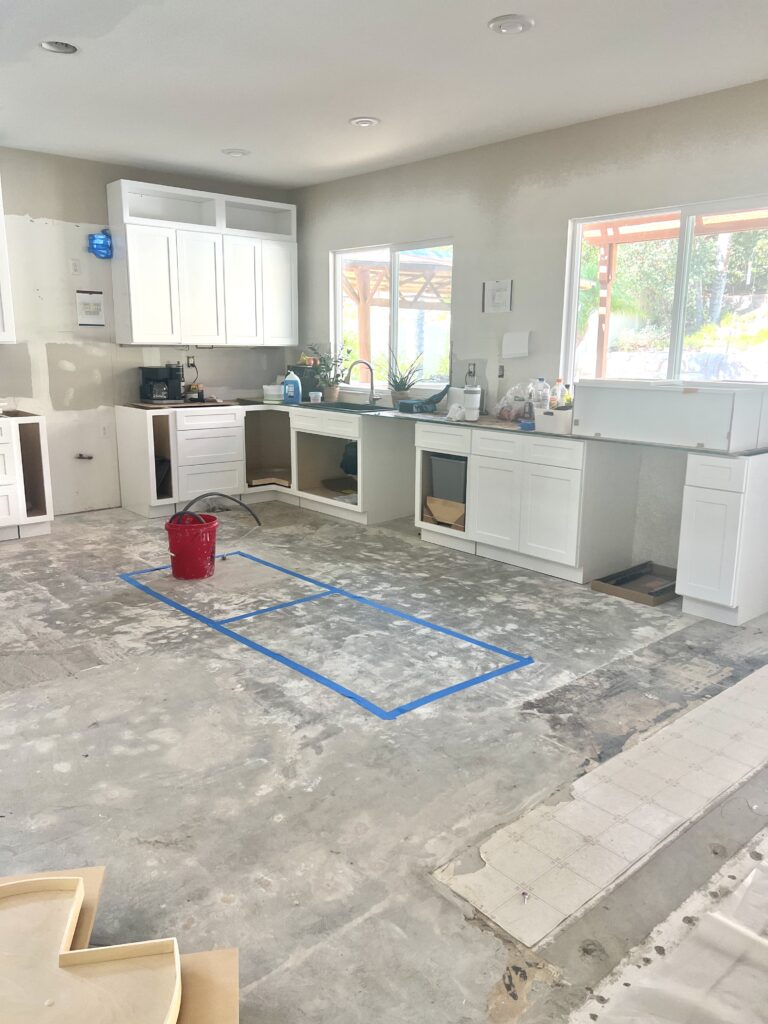 I ordered all of my kitchen cabinets from a place called RTA Store. The cabinets are delivered to your house in pallets and you have to put them together yourself. I chose to also order base cabinets from them to use for my island as well. This is something you cam also do for yours.
I ordered 2 base cabinets. (Here are two very similar options)- A 15 inch wide one with drawers, and a 30″ microwave base cabinet. So, my island base is 45 inches wide.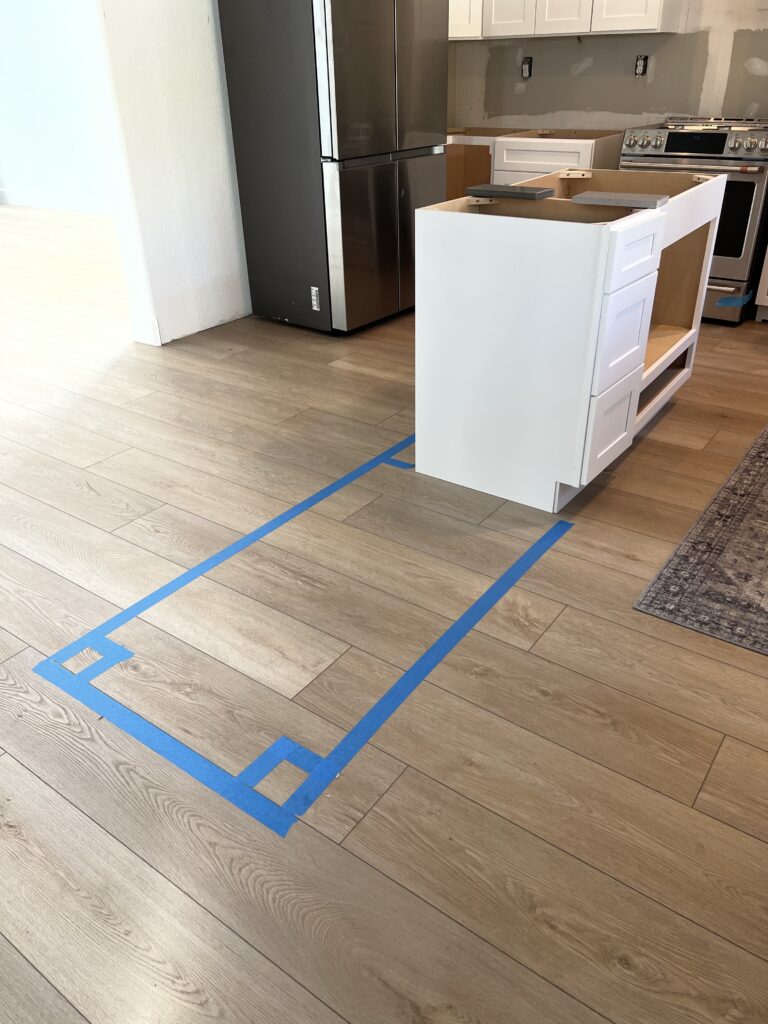 To attach your cabinets together, use a small piece of scrap wood and screw through the insides of the cabinets to connect. Do this at the top and bottom of both sides of the cabinets. They should naturally have about a 1/2 inch gap in the back, so that should be the size of your scrap wood.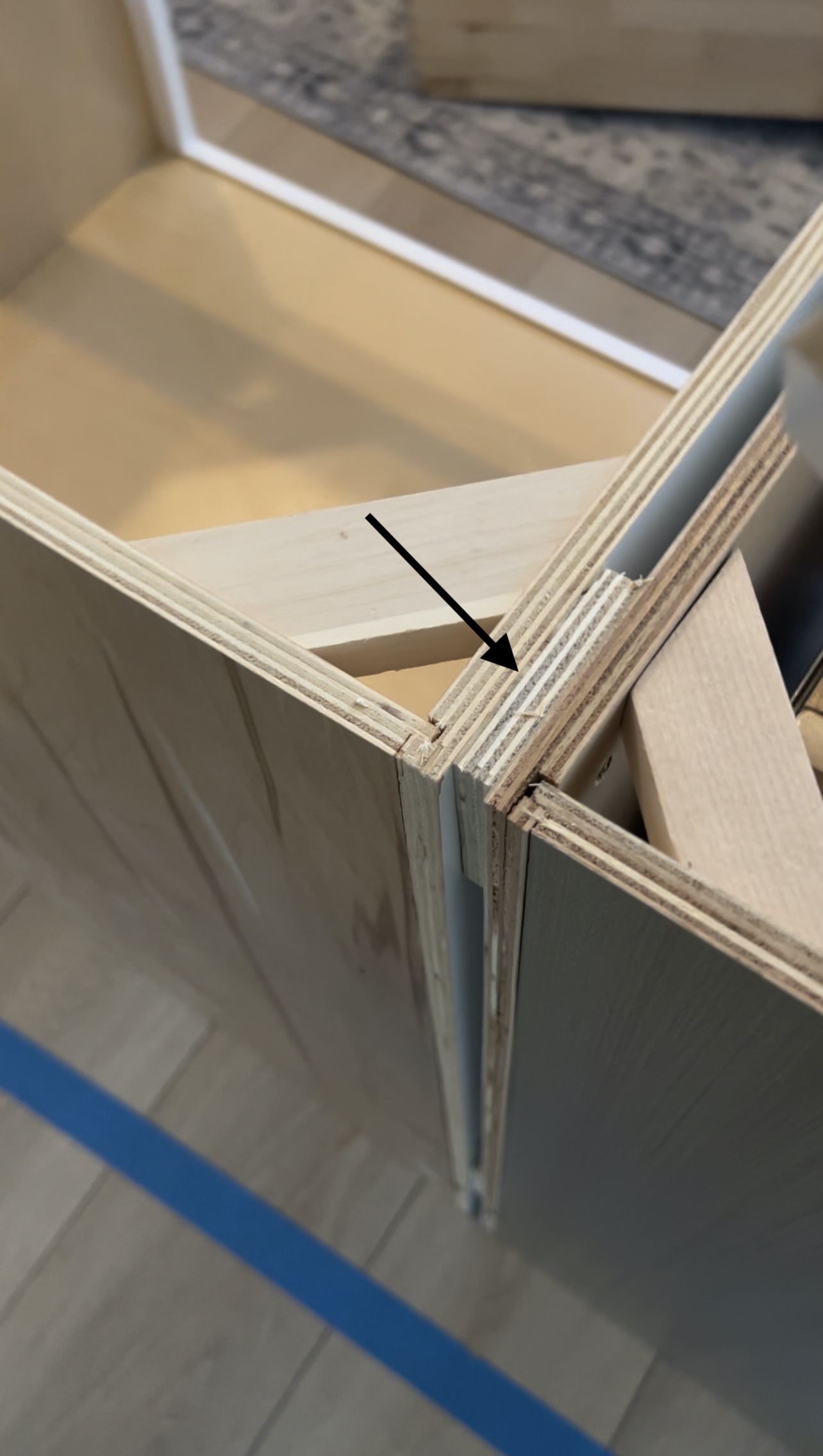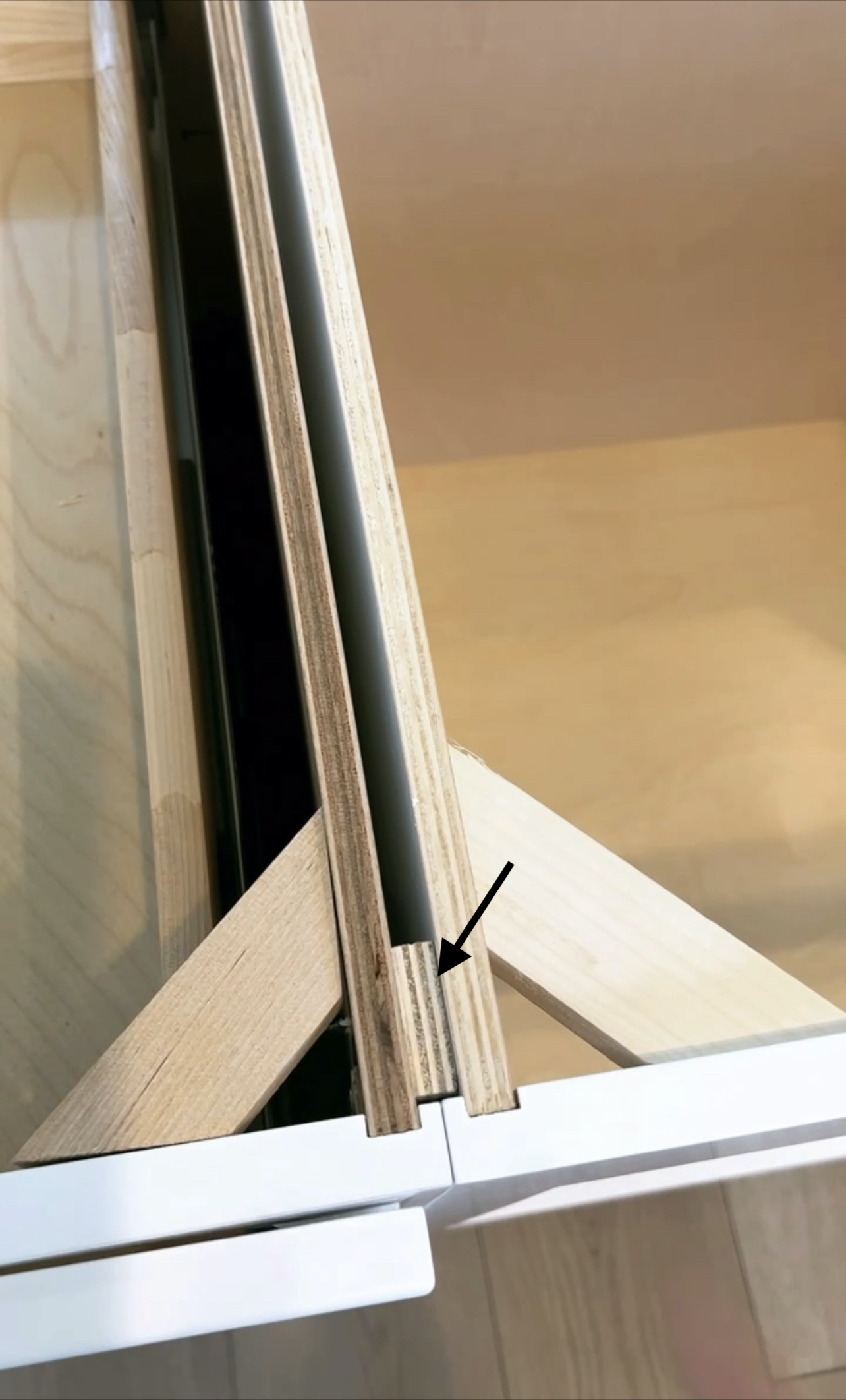 We cut the flooring out to allow the island to sit at the same height as the surrounding countertops. If you have LVP, it is fairly easy to cut with a skill saw that is adjusted to the depth of the cut you need to make, which was actually TERRIFYING because we just put these floors in!
Another reason we decided to cut out the flooring, is that you aren't really supposed to have anything affixed to floating floors (like LVP). These types of floors are made to float as the temperature changes.
Side note– The kitchen island I built in our previous home WAS sitting on top of the floating floor, and we never had an issue with it. Although, I cannot speak to long term if there could possibly be an issue. I personally wouldn't be worried about it- but the correct way is to cut around it.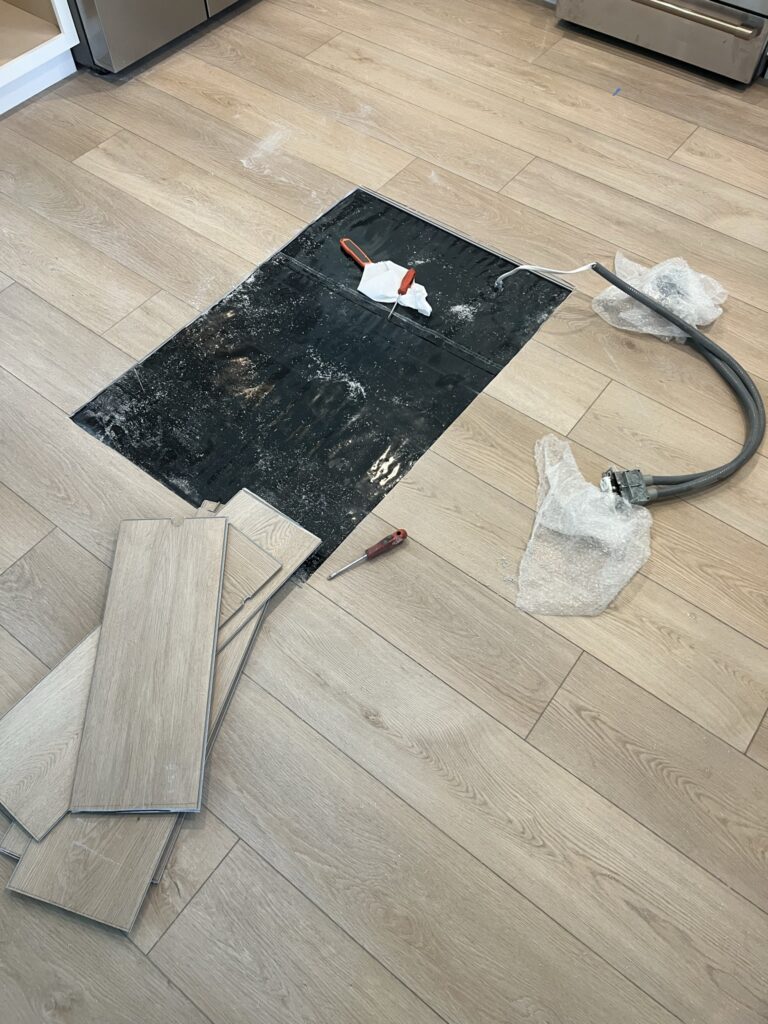 Once the cabinets are attached to one another, I added 2 x 8″ boards to the back side to create a frame. I wanted the entire island to be wider that the 24″ depth that base cabinets come in. This makes the island look more substantial and custom made. The center board shown was cut too short but I replaced it.
Essentially you will just create a box out of the boards, with a center support board. This will eventually be covered with plywood and the island backing. Screw all boards together and then screw the frame to the cabinets from the inside.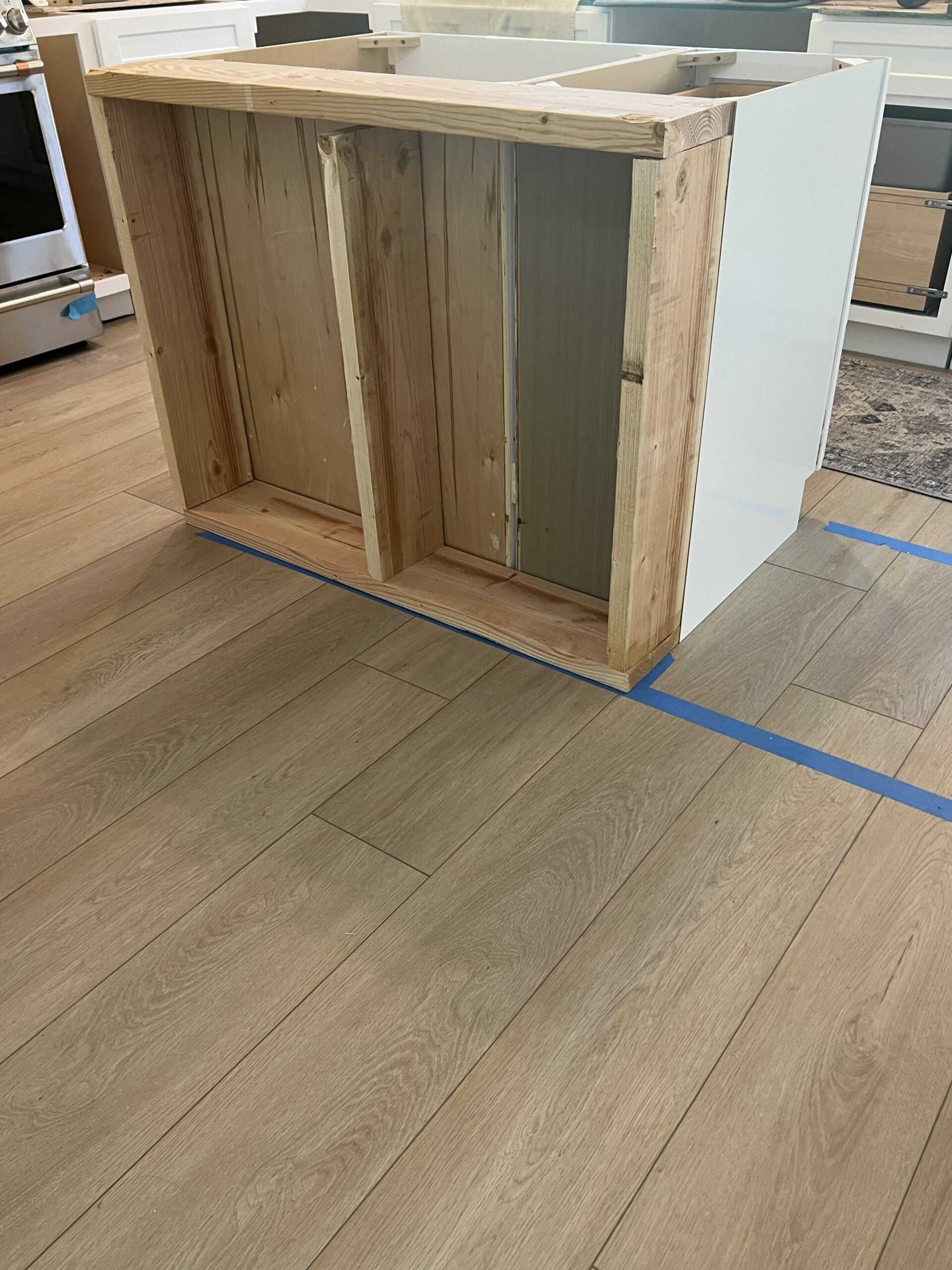 To secure the island to the floor, you will need to use concrete screws and an impact drill, and screw through the bottom board of the frame. The screws should be about 4 inches long. Two screws should be fine and will keep your island from shifting in any way.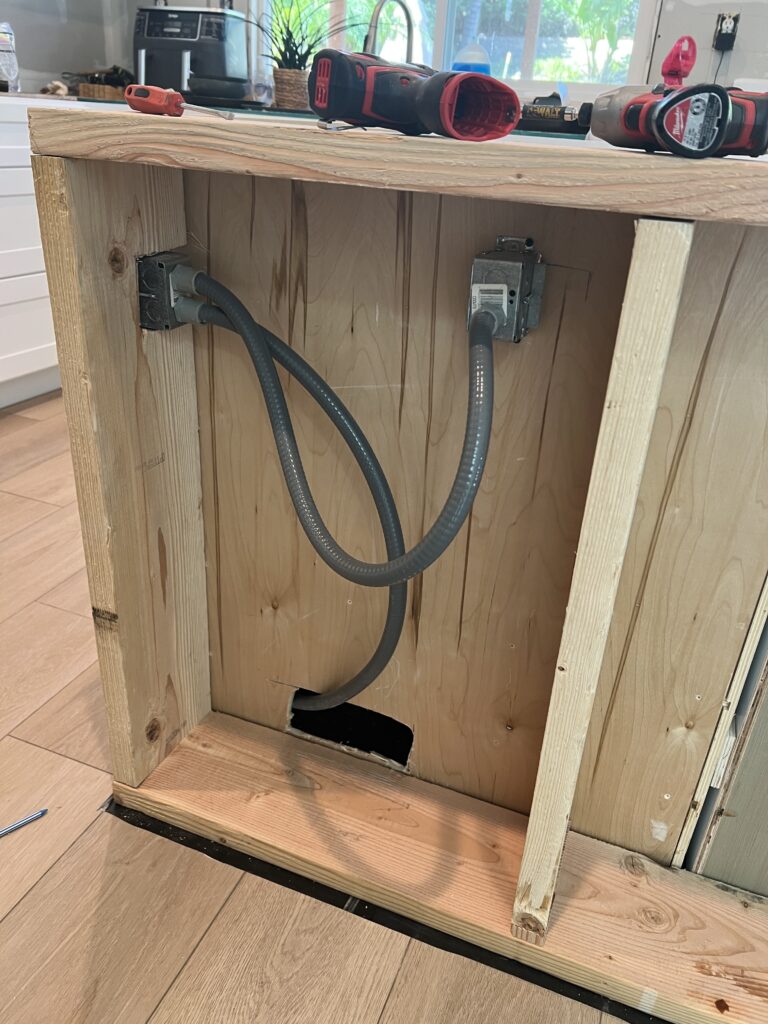 These outlets were already in place in the floor from the previous island, so I cut holes and fit them in. One inside for the microwave, and one on the outside for everyday use. (You will need to consult your electrician/ or handy electrical friend for how to tackle your own electrical situation)
Just ignore the massive mess.. my entire house was a mess for about 5 straight months. No real way around that with kids and a construction zone. Yikes. Anyway…

I attached a piece of 1/4″ plywood to the back opening. Then, covered all three sides with 1/4″ MDF panels. You will need to prime first and then paint these panels. I recommend this primer. Most primers are water based, and if they aren't quality, thick primers, they can cause the MDF to slightly bubble. This primer is excellent for MDF. I would do all the painting before you install- so much easier.
As you can see, I didn't get around to this step until after the countertops were installed.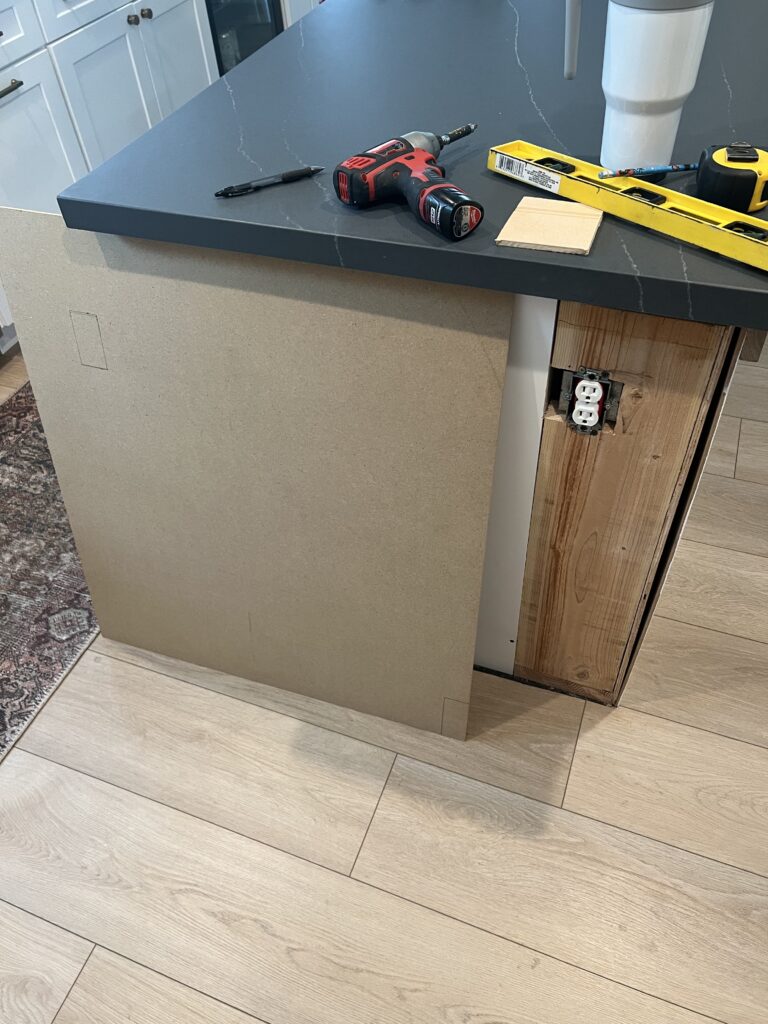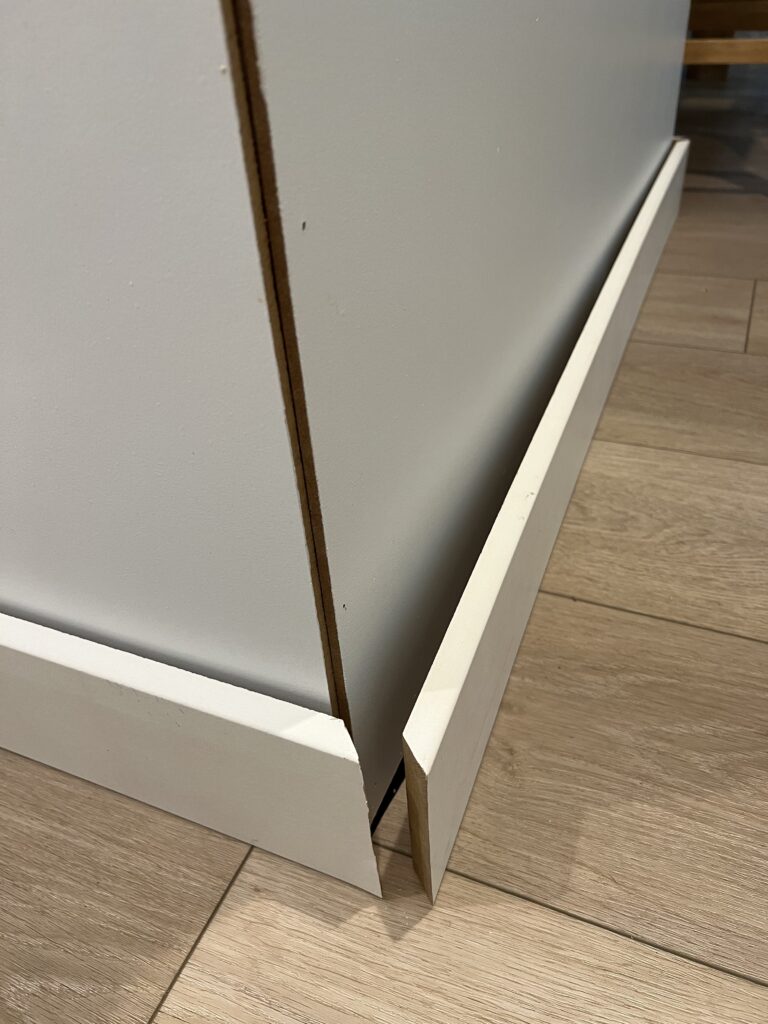 Once the painted MDF is glued and nailed into place, I attached 1×5″ boards around all four bottom edges. Mitering the edges first with my chop saw at 45 degree angles.
TIP** For the corner edges on the sides of the island. I found these corner pieces of treated MDF in the trim section at Home Depot, and I had to try them out for the corners. They worked so well! I would call this a shortcut trick for sure! Not having to miter these corners saved a lot of time.
Here is a photo below- I just primed and painted to finish.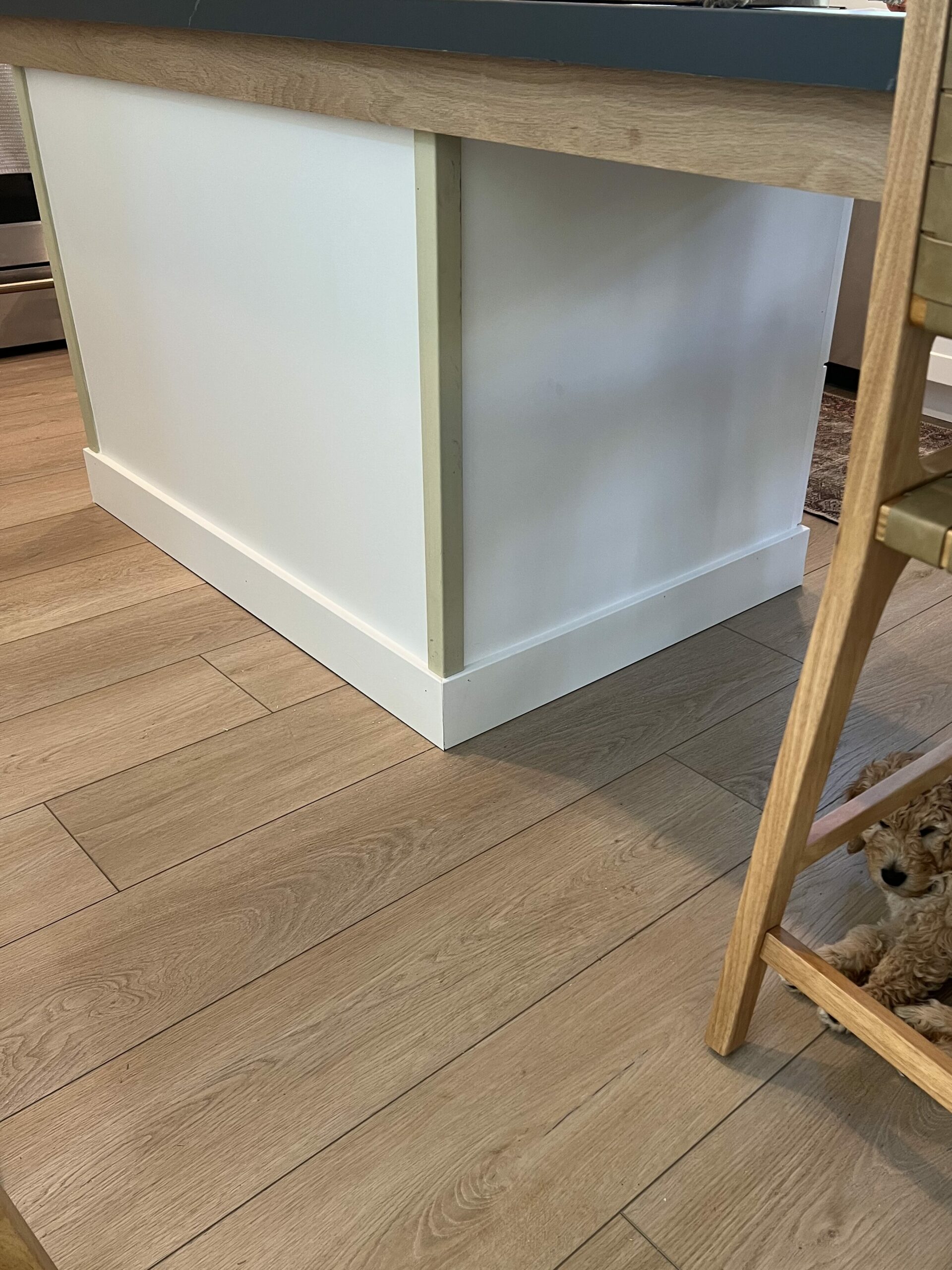 Caulk and touch up paint all over the island. Add any other detailing with trim that you chose. I haven't added anything yet. Not sure I even will!
That is all you need to know to create your kitchen island. Just adjust cabinet sizes to fit your individual space. For the island overhang, I decided to order solid white oak leg posts, and apron trim pieces to add some warmth to it.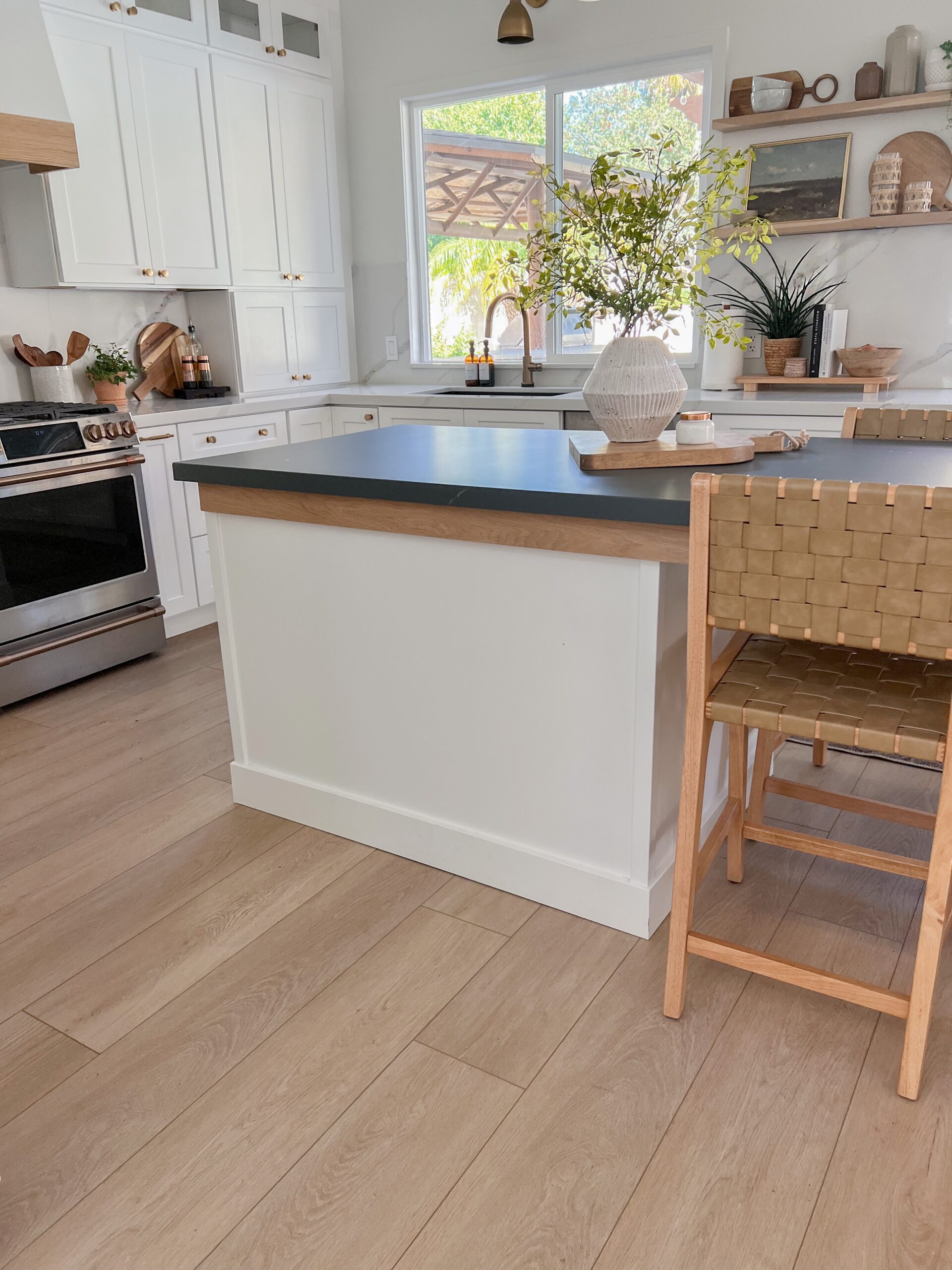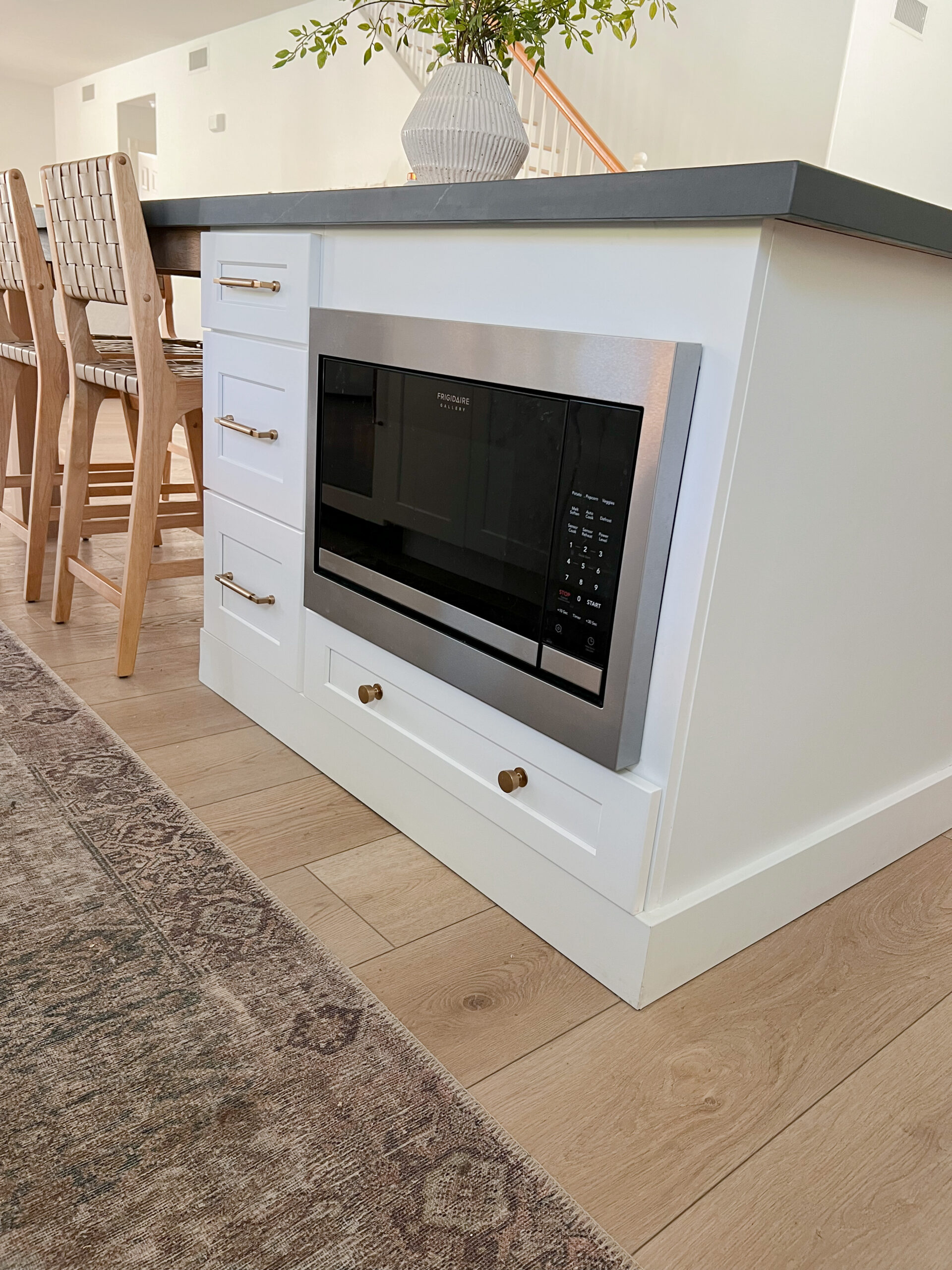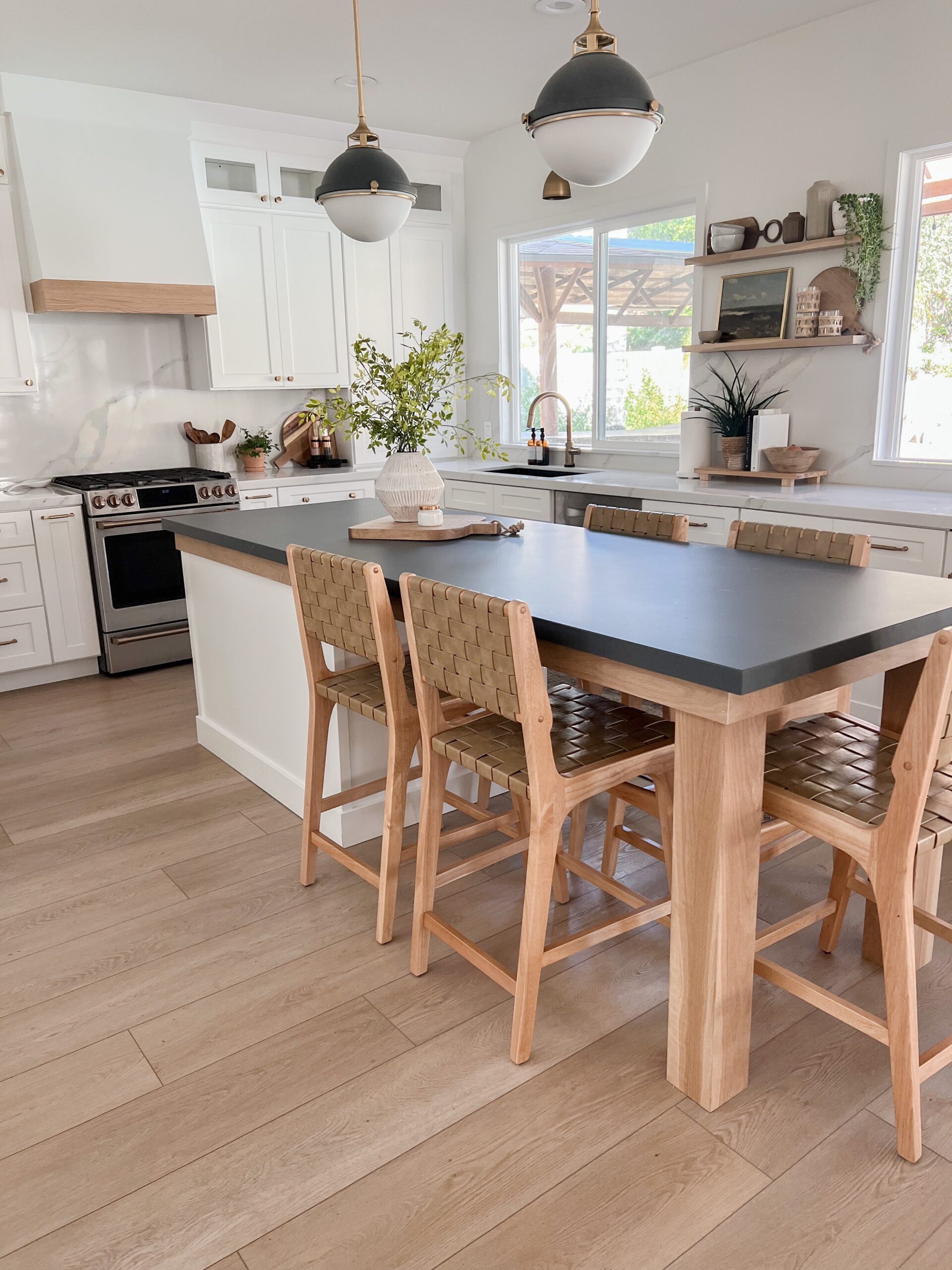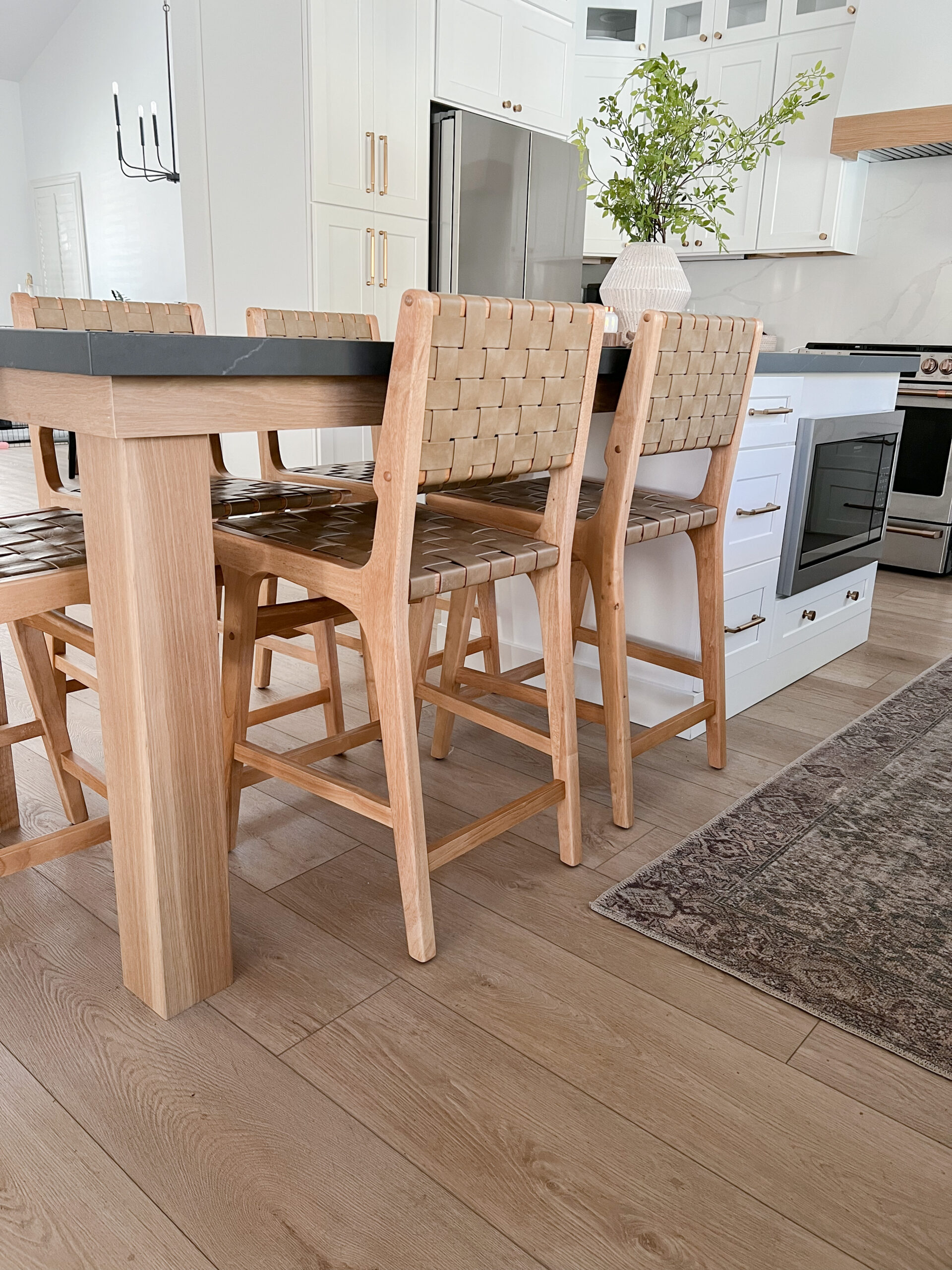 These are the Table Legs I ordered (obsessed). And these are the Trim pieces I ordered.
It can be a little daunting to take on a project like this, but in the end it is so worth the results. Can't wait to see what you come up with!
XO,