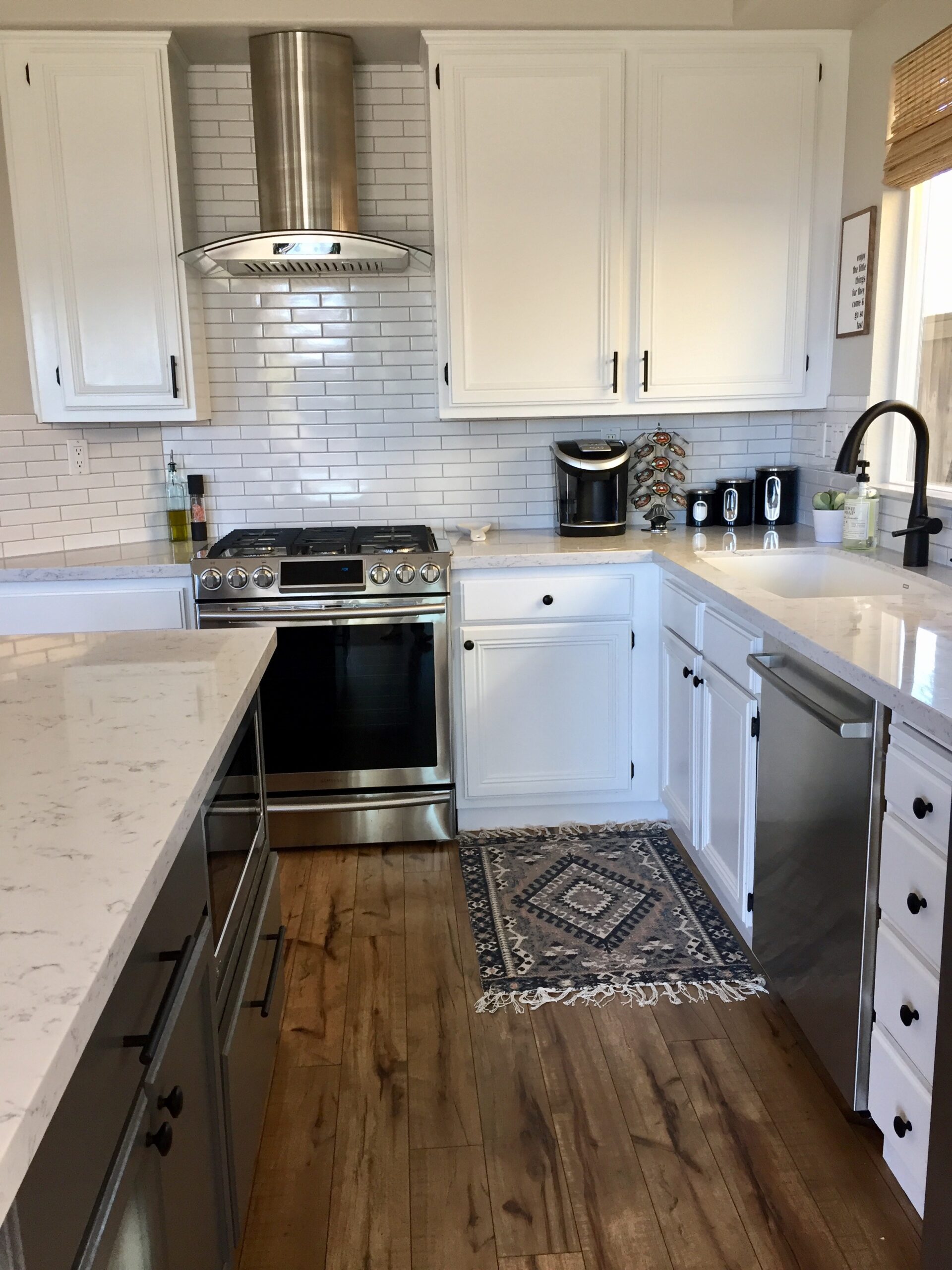 This website may use affiliate links. When you purchase products from an affliliate link, I make a small commission.
Happy Saturday ya'll! It's the weekend, which means project time… why not refinish your kitchen cabinets?? I'm pretty pumped up about this blog post for two reasons- #1 because I can't wait to tell you how very possible it is to refinish your kitchen cabinets and make them look fabulous! #2 Writing this post means mine are done. Which means no more work for me. Done.
I actually sort of agonized over attempting this task for a looooong time. I stared at about 10 different white paint samples for close to a month 'deciding on the perfect white undertone'. When in reality I was likely just terrified to screw it up, and then our beautiful, new countertops would be surrounded by some funky DIY cabinetry. That would have been awful! After much research and lip biting, I decided I was going to go for it and pray. I really wanted a fresh, cool white for the kitchen to compliment the quartz we were installing. The paint color we had painted when we purchased our home, was an off-white. It almost had a yellow hue. It had to go! So, in order to save the big bucks- I took on the task myself. Very happy I did, and here is how you can do it as well. Let me just add WITHOUT SANDING A THING.
These are the items you will need for the job (affiliate links included):
Sander Deglosser (your new best friend)
Rubber gloves
Lint-free cloth (nothing too soft)
Benjamin Moore Advance line, Self-leveling paint in semi-gloss
1/4 inch nap roller NOT A FOAM ROLLER
Good quality angled paint brush
This is all you need for the cabinets- we will have a little extra piece about updating your hinges at the end.
I would recommend taking your doors off in a very organized way. I had this ongoing nightmare that I would attempt to re-install all my doors again, and none of them would line up evenly. Where I just couldn't find the exact spot the hinges were placed before, and everything was slightly off. So, in order to calm my own nerves and make sure each door was back in its exact spot, I put a tiny little mark on the edge of the inside hinge attached to the cabinet.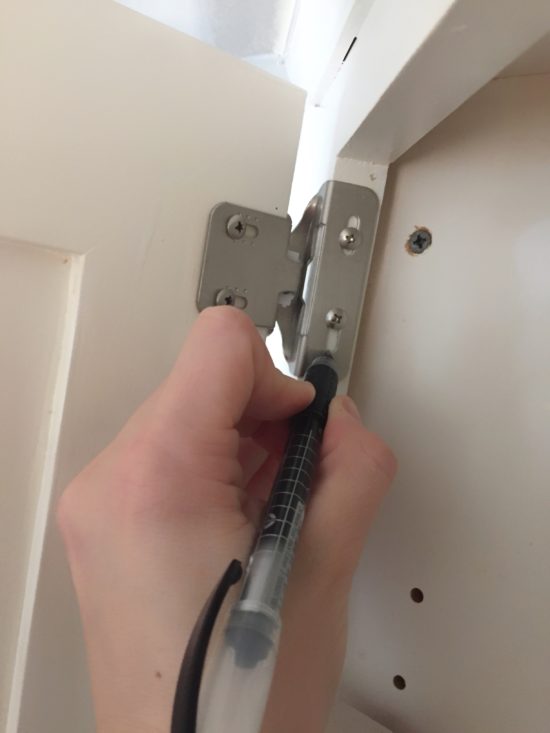 I was able to do this because I did not paint the insides of my cabinets. Figured no one would ever notice my different shade of white when they went inside to grab the cereal. I Still don't regret that decision, it never has bothered me and also saved me a ton of time.
In addition to the little pen marks, I also made little post it notes and numbered each door as well as the cabinet opening, so I would never have to guess which door belonged there. This made re-installing SO much easier on me.
Now that you've got those doors off, let's get busy!
Take your doors/drawers and lay them out on a couple 2 x 4's, I did my kitchen a few doors at a time at first, so the whole place wasn't totally torn apart.
Put on your gloves and grab your lint free cloth. Pour a little deglosser on the door and start rubbing in a circular motion. Use a good amount of pressure, and don't miss any of the grooves or edges. Put some muscle into it. You will know it's good to go, when you feel the door and it has a matte finish to it. Let completely dry, maybe 15 mins.
Now listen to me, DO NOT cheap out on the paint! I am the queen of color matching for a more affordable brand, but your kitchen cabinets are not one of those times. Buy the Benjamin Moore Advance Line. This stuff is amazing! It coats so well, I only did ONE coat (and touch-ups), and it is self-leveling. So all those little mess-ups or lines that you leave behind will magically be smoothed out. It's just sooooooooo good. After much white paint debating, I ended up going with Benjamin Moore in Oxford White. I am telling you, white is THE hardest paint color to choose. Check those undertones, friends.
Use your 1/4" nap roller (wipe it off in your hand first to get rid of any loose fuzz), use the roller for as much as you can, and then your angled brush for hard to get to spots. The roller will give the smoothest finish. Did I mention the paint is amazing??
Even my own Mother was saying 'Kelly, are you SURE you want to do this. Just hire somebody please. I cannot deal with the freak out once this idea goes south.' Mom, we're good. We came out of this alive and well. Thank you for the vote of confidence though. Lol
Ok, the deglosser works wonders. It will make any previous finish paintable. Even if your cabinets are now wood stained and clear coated. I promise, I was blown away. And the fact that I didn't have to sand ONE thing, cherry on top!
Let dry at least 4-6 hours and then do another coat as needed. I loved my coverage and opted to only do some touching up to my doors. This type of paint takes a longer amount of time to fully harden, so waiting a couple extra days to hang your doors is ideal. While my doors were all drying the last 2 days, I went in and deglossed and painted the cabinets in the kitchen.
Done! Put your hardware back on and put those bad boys back in your new, fabulous kitchen. Do you see a streak? =)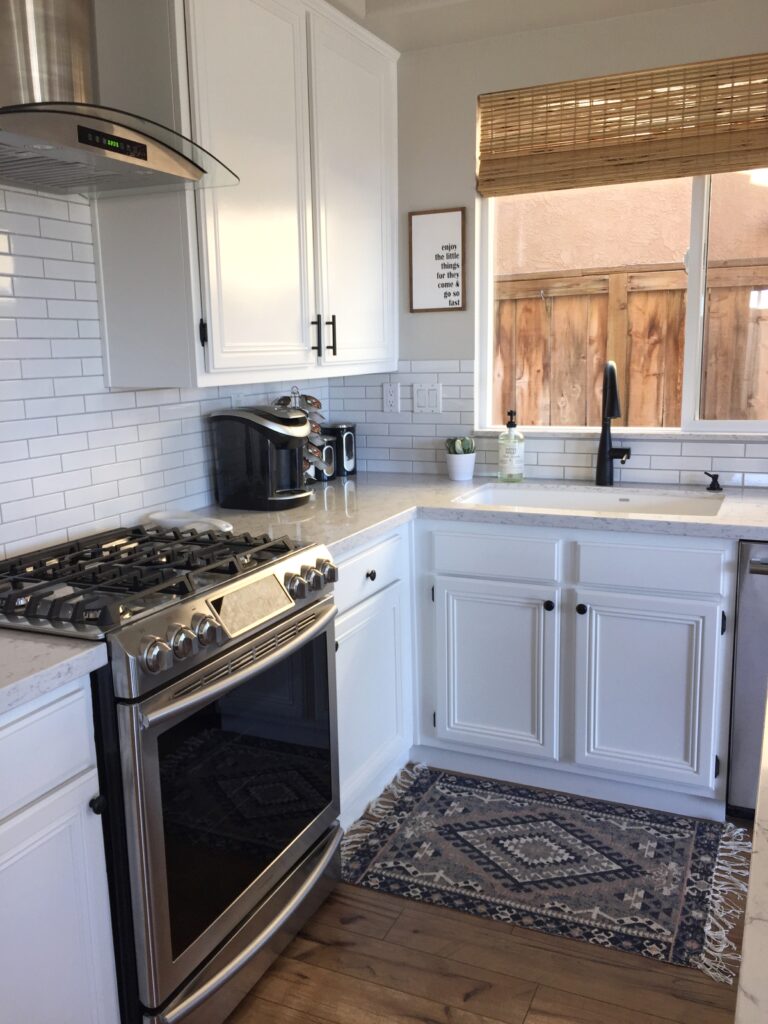 Updating hinges–>
I couldn't find the exact same hinges that I had on my doors, in a black color, so I went ahead and spray painted them myself. As I said above, I was scared to death to move any hinge or screw hole a millimeter in any direction. So the hinges needed to stay the same. This is another way for you to save some dollars. I used Rust-Oleum Enamel Spray Paint
and coated my hinges and screws a couple times. I purchased all new black door pulls
and knobs
to match. The knobs were great, the pulls were not the very best quality, but once on the door, who can tell that they are lighter weight material. So I kept them and am happy.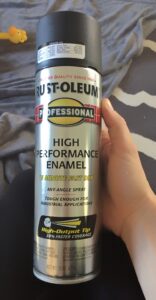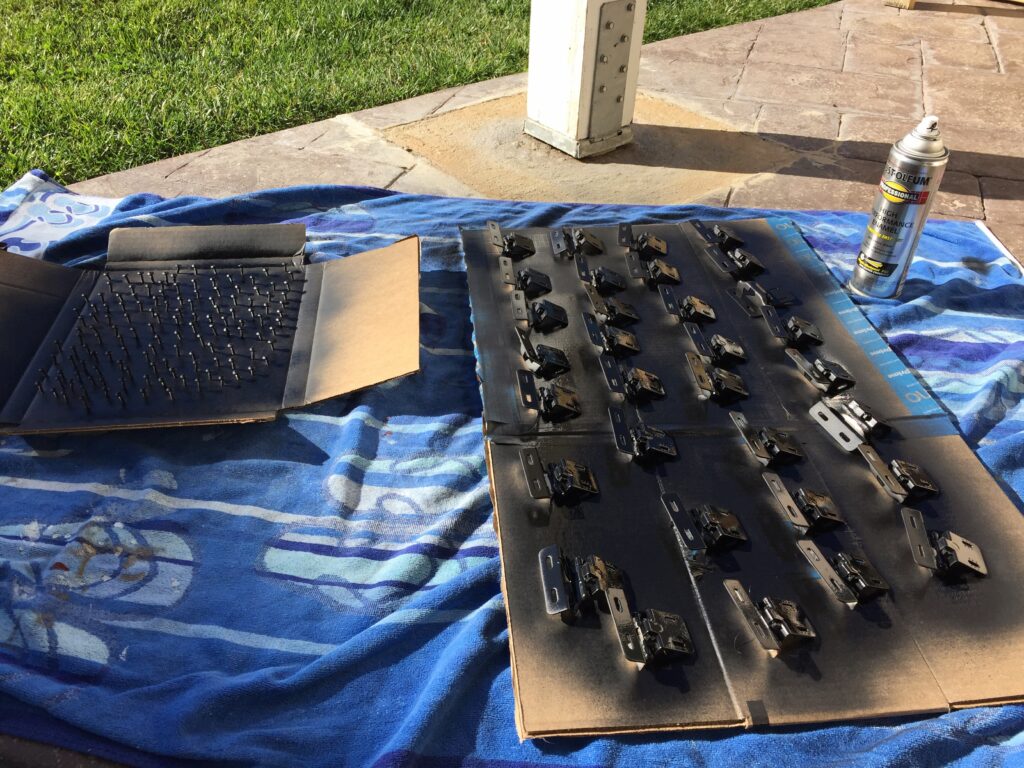 These are all things you can absolutely do on your own to make a HUGE statement in your home. What a difference a coat of paint and new pulls can make! Good luck with your cabinet refinishing, I would love to see your results!!
XOXO,
Kelly
Here are some photos of our home when we moved in in 2012. I guess you can say we have been busy since then! What a difference 4 years can make!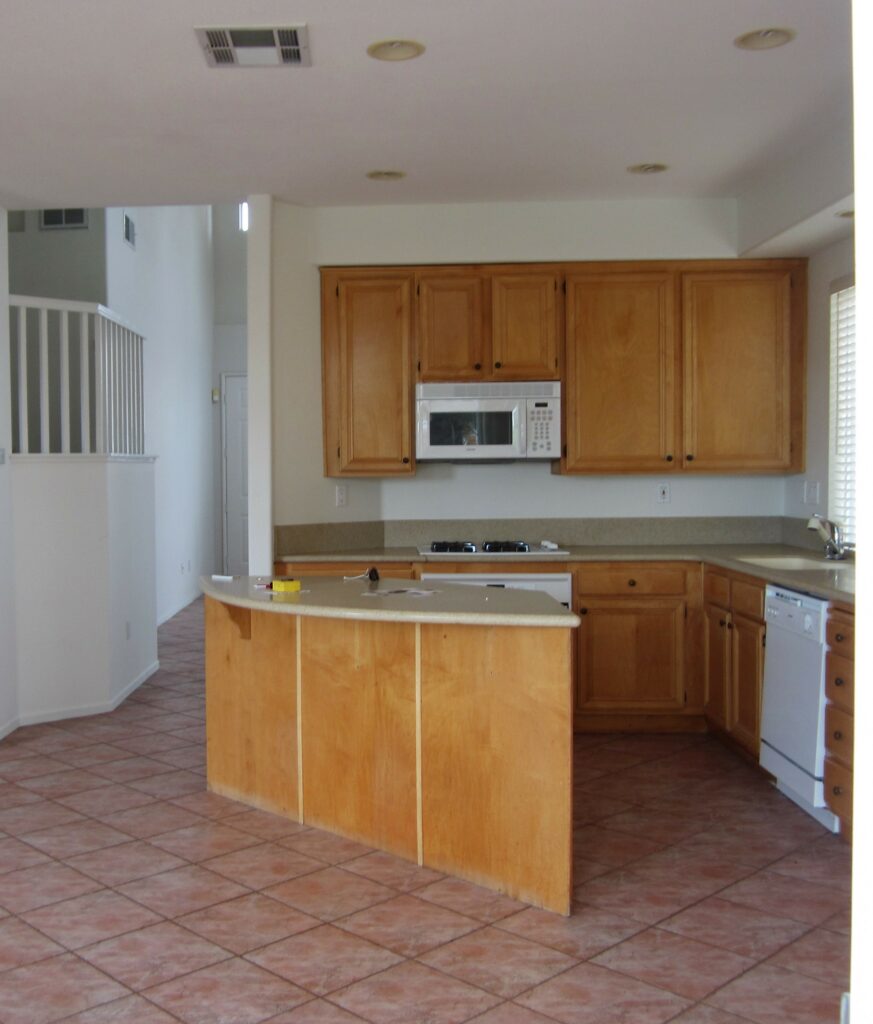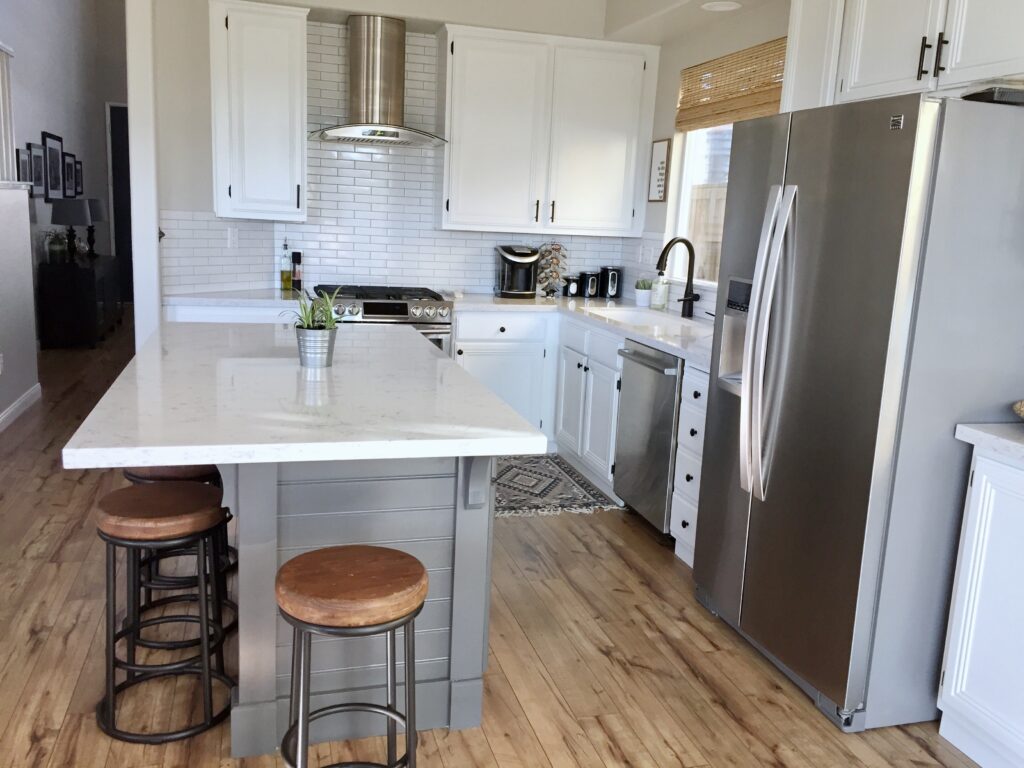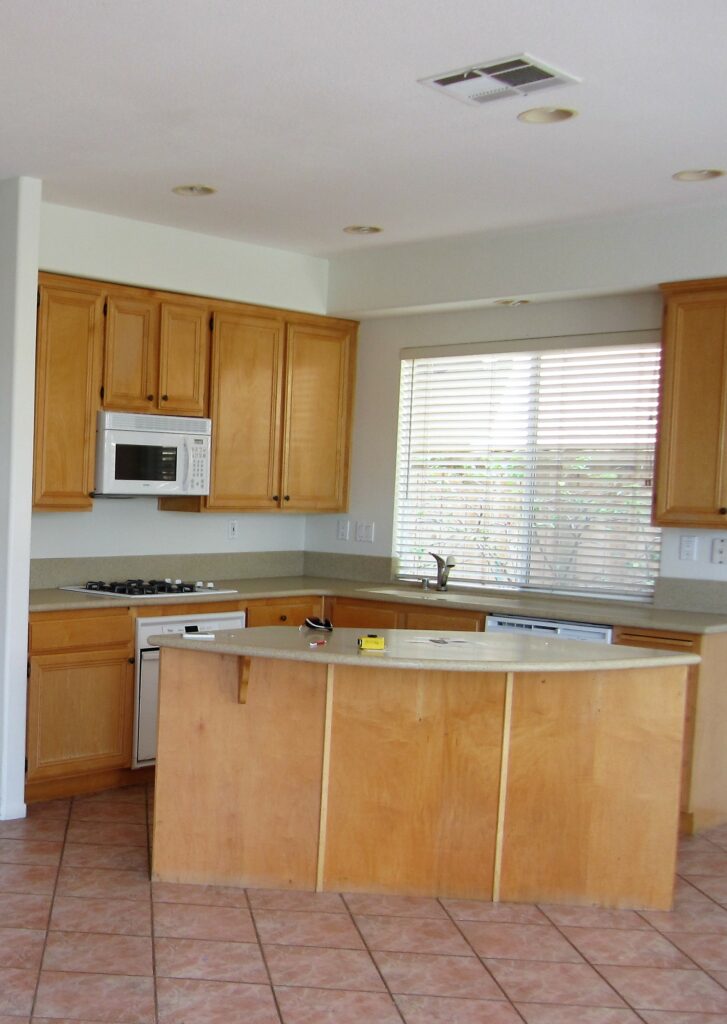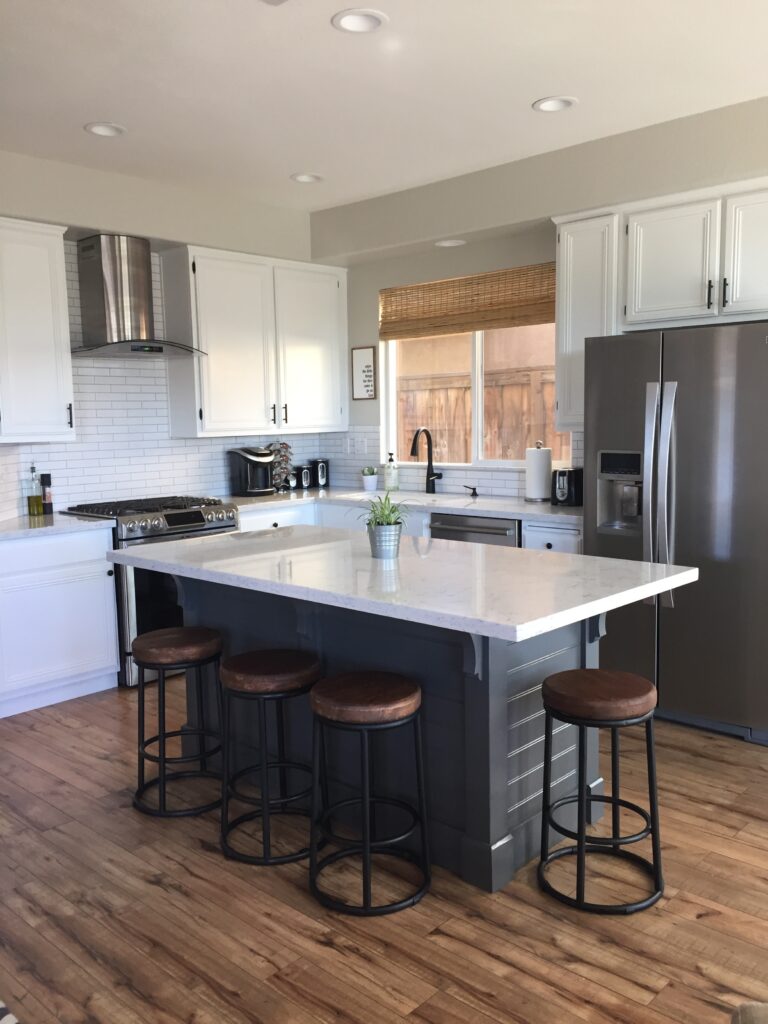 Find these bar stools HERE!! Looooove these stools!