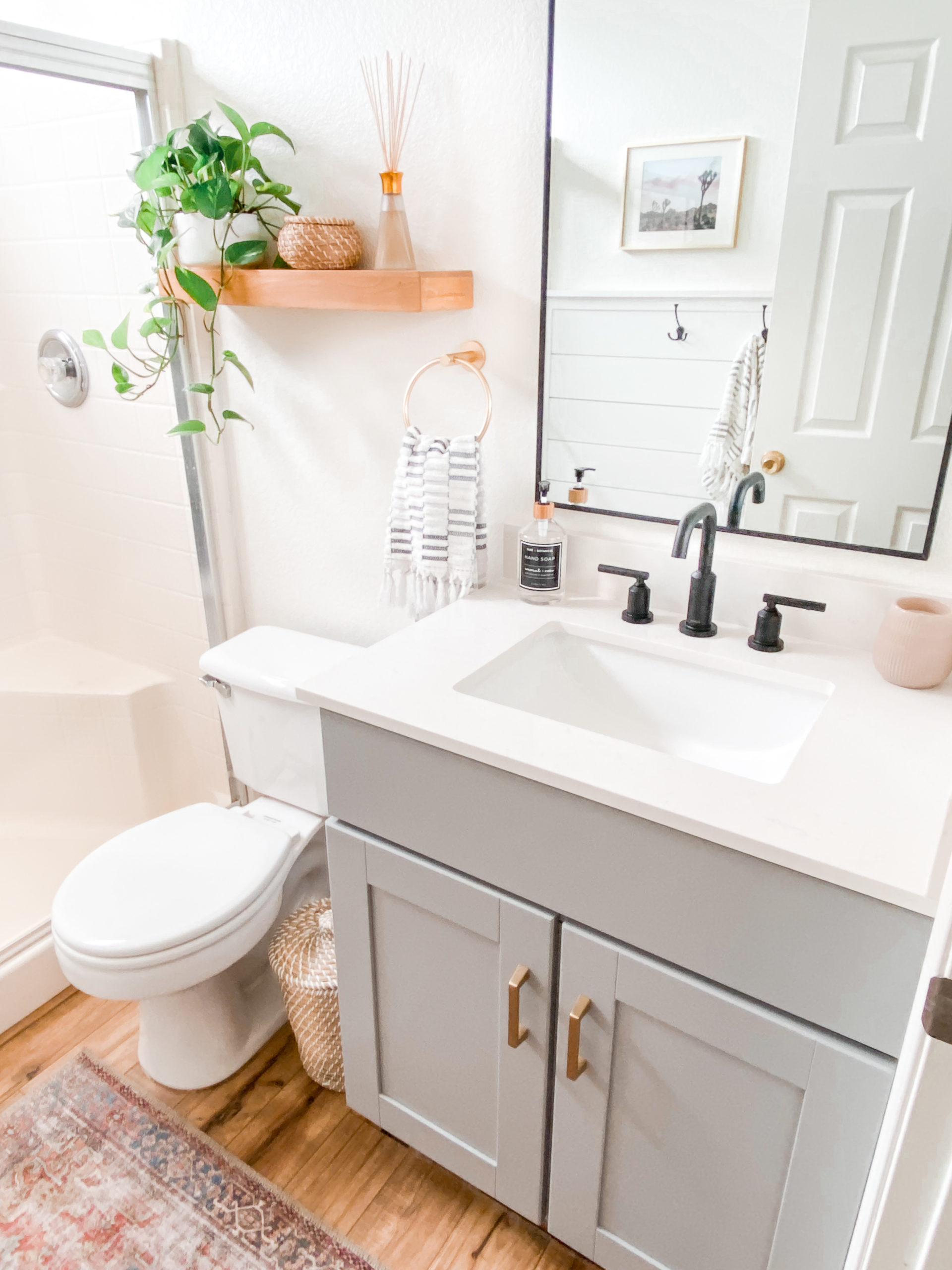 This website may use affiliate links. When you purchase products from an affliliate link, I make a small commission.
It may just be the little bathroom downstairs, but in reality it's the bathroom our family uses the most. It is the only downstairs bathroom, so we are in and out of it ALL day long. It didn't match the rest of the living area, and when my husband even says the room is a hot mess – you know it's time for an update.
I wasn't sure what my plan exactly was when I started. I just knew the feeling I wanted the space to have.. Cozy, yet modern. Fresh, bright and inviting.
Here is our small bathroom before I started tearing it apart like it was demo day on Fixer Upper. I love a good demo day..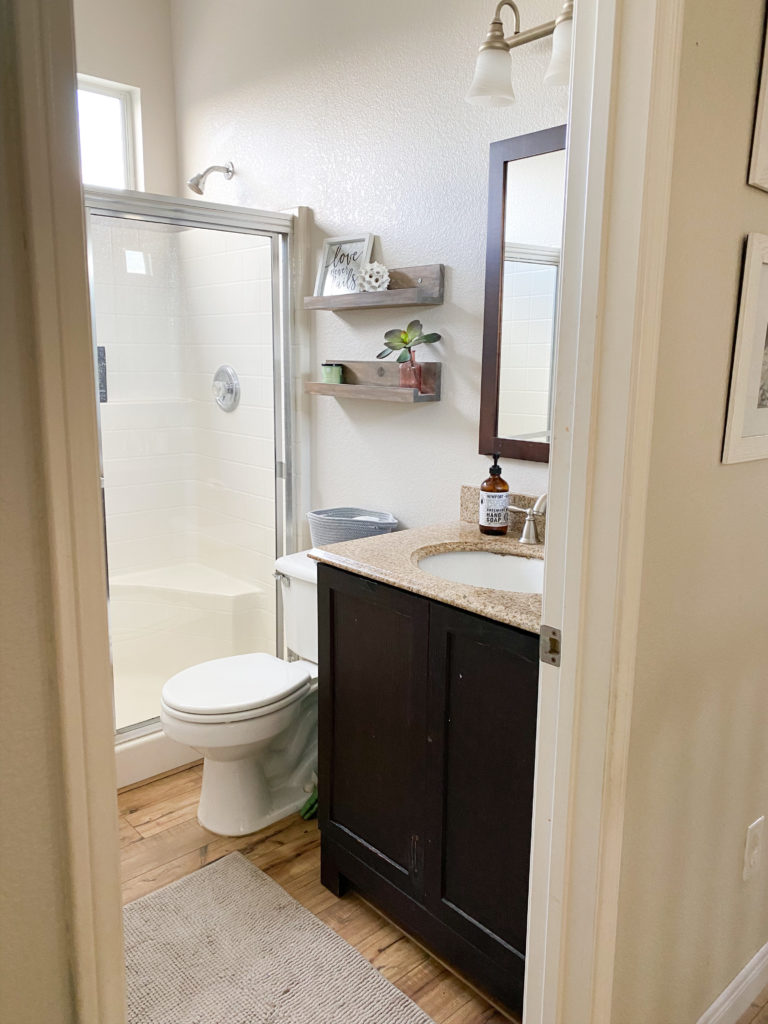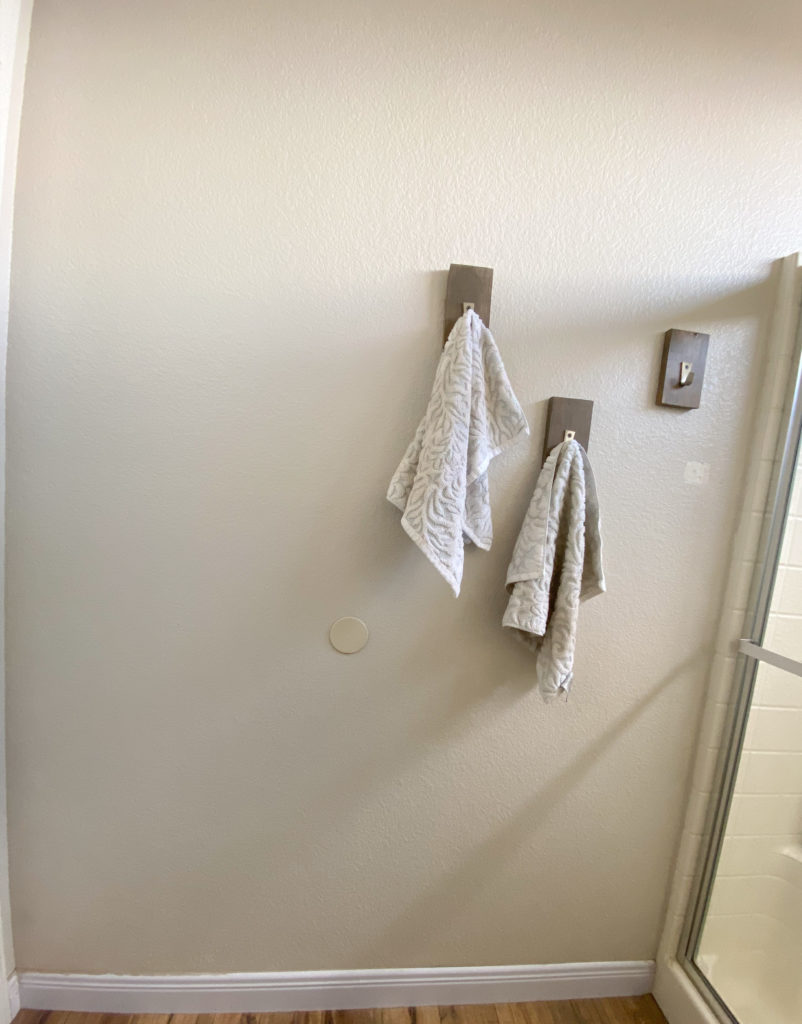 Why are there 3 random chunks of wood on the wall like that, you ask? No idea. For some reason I thought it was a good use of some scrap wood about.. 5 years ago. It just stayed there.
Here are the changes I made in the room, and I really do looove it all.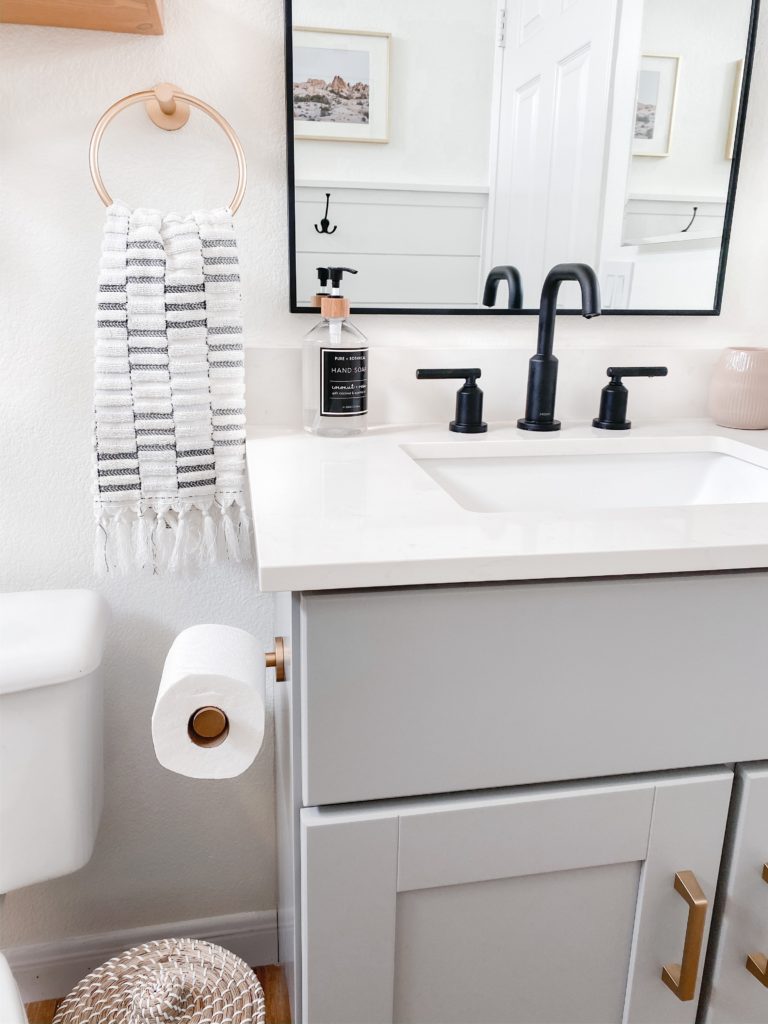 ITEMS FOR BATHROOM UPDATE:
I started with a fresh coat of paint – Simply White by Benjamin Moore. Just this step alone completely changed the room.
I went with a mix of matte black and brass for the fixtures and hardware. Although I really wanted to go with brass for the faucet, I ended up deciding on black. While looking at other gold faucets, they seemed to show spots and fingerprints so easily. With the amount of times we use this sink in a day, the last thing I want to worry about is a messy looking faucet.
You couldn't keep me away from the gold though, so I mixed it all together and gotta say, I like it better than if it were all the same color. And the vanity light is a fun, modern touch.
The vanity is solid, with soft-close doors, and it came fully assembled in this gorgeous light grey color. I ordered the countertop separately- and LOVE it. It's a white quartz with grey vain throughout.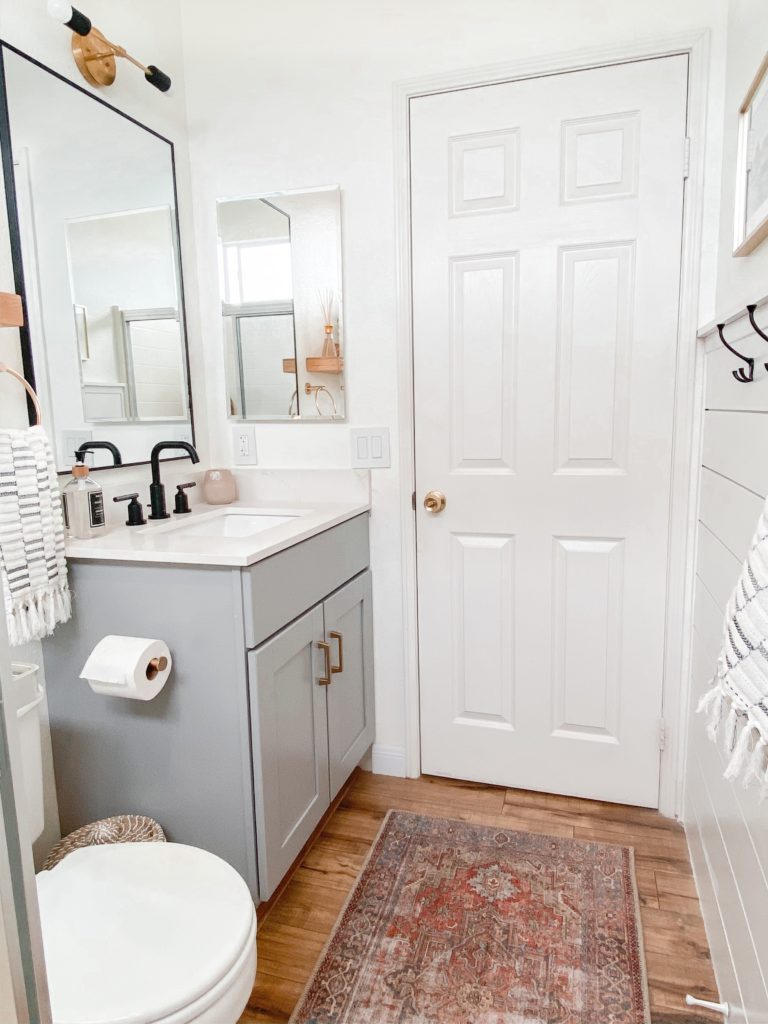 I decided to add this half wall of shiplap on a whim one day, I feel like it was a great decision, it completely tied the space together. Not only does it make the room feel cozier, it turned a boring wall into a little feature spot.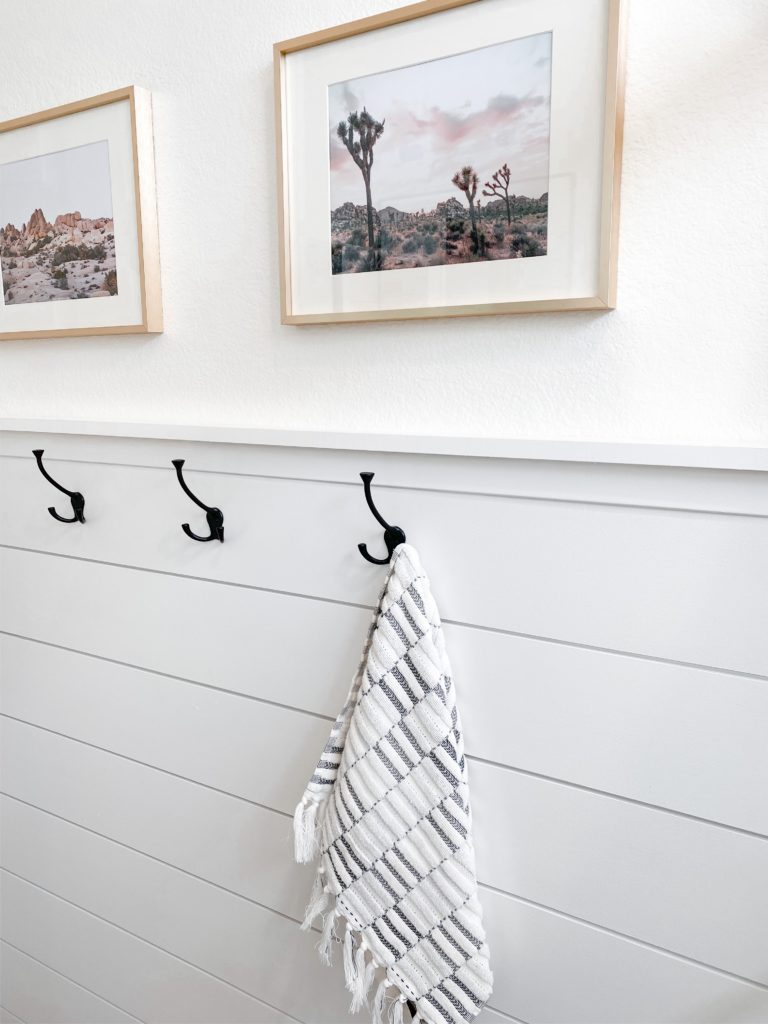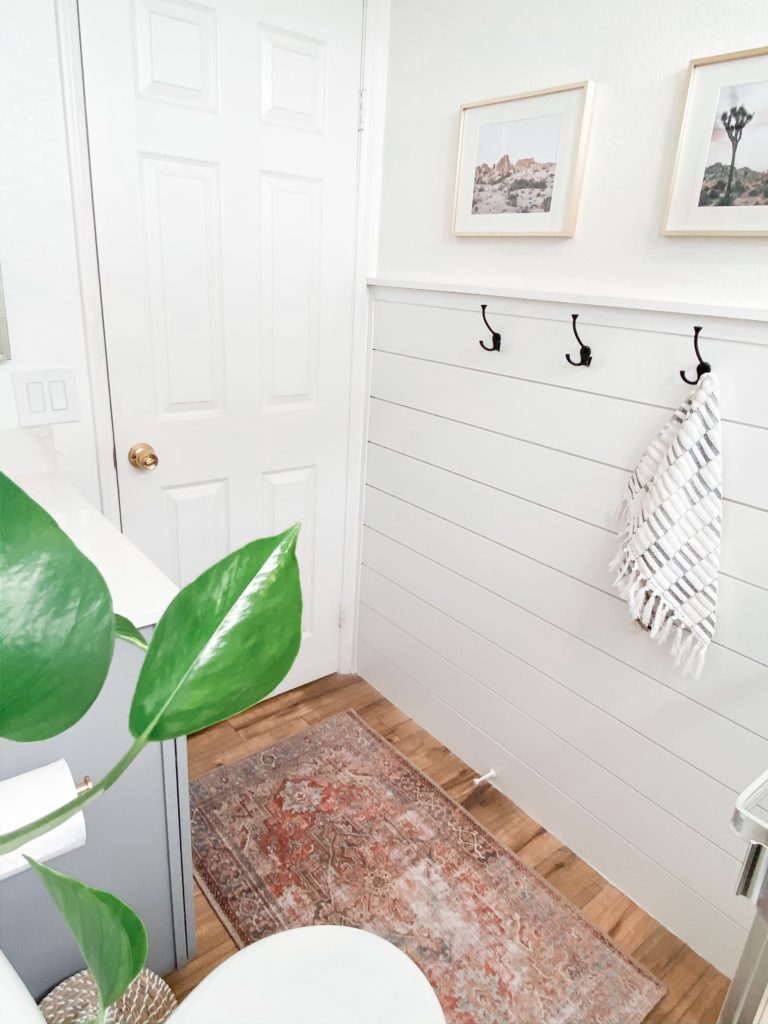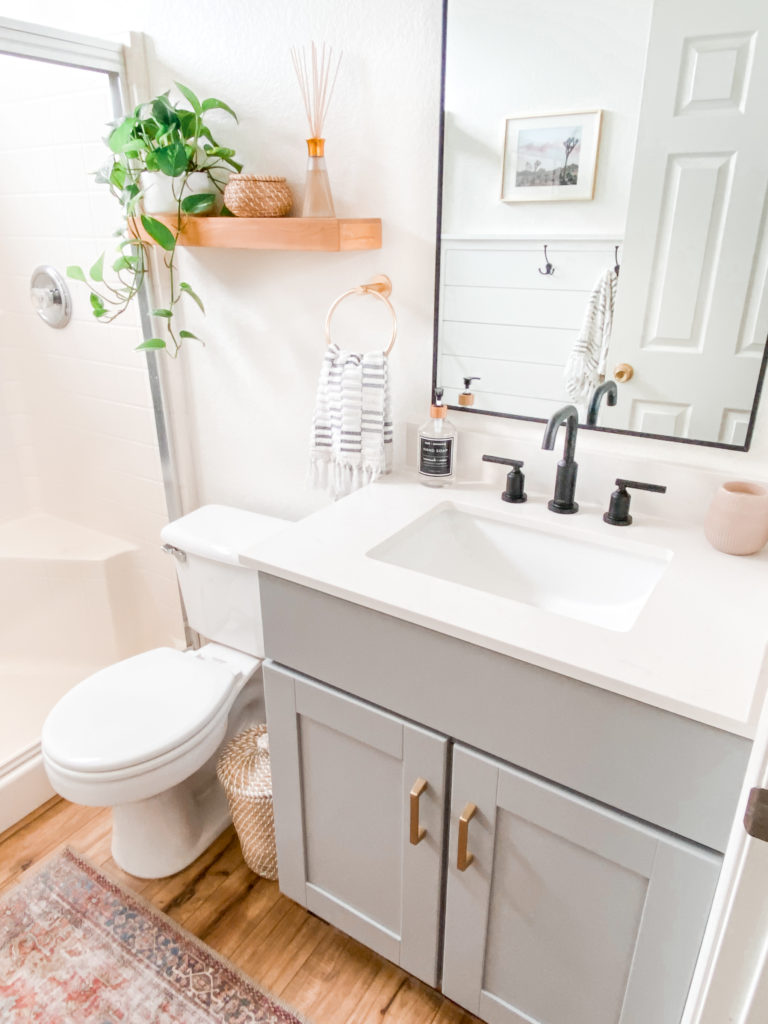 I may just hang out in this room now, because I love it so much. I will link up all the items I used, including the rug, which has become my most favorite rug of all time.
If you want to add a stenciled floor to your bathroom, check out my post with the step-by-step guide to a gorgeous (and affordable) floor.
SHOP MY SMALL BATHROOM UPDATE ESSENTIALS:

Thanks for stopping by!
XOXO,