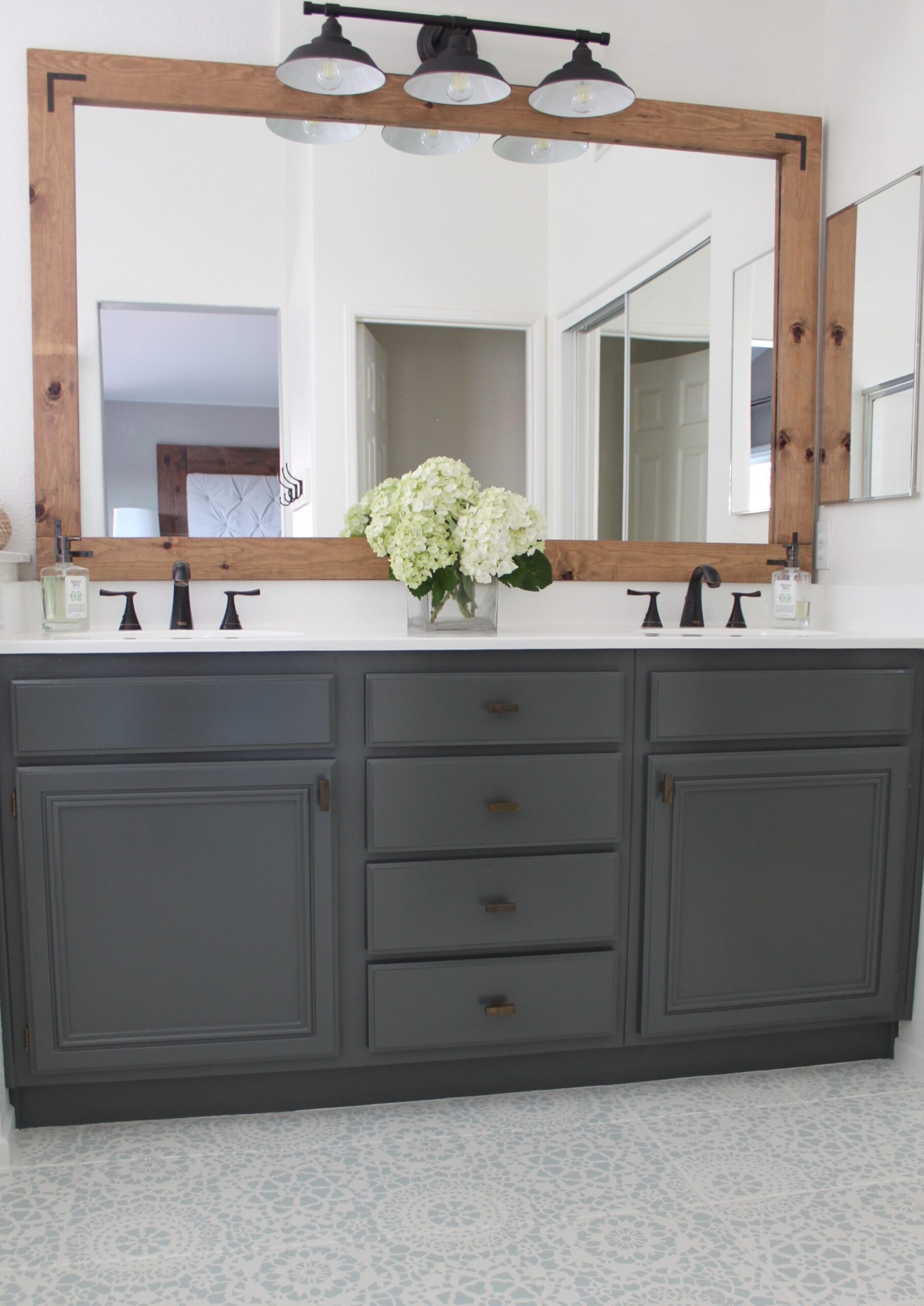 This website may use affiliate links. When you purchase products from an affliliate link, I make a small commission.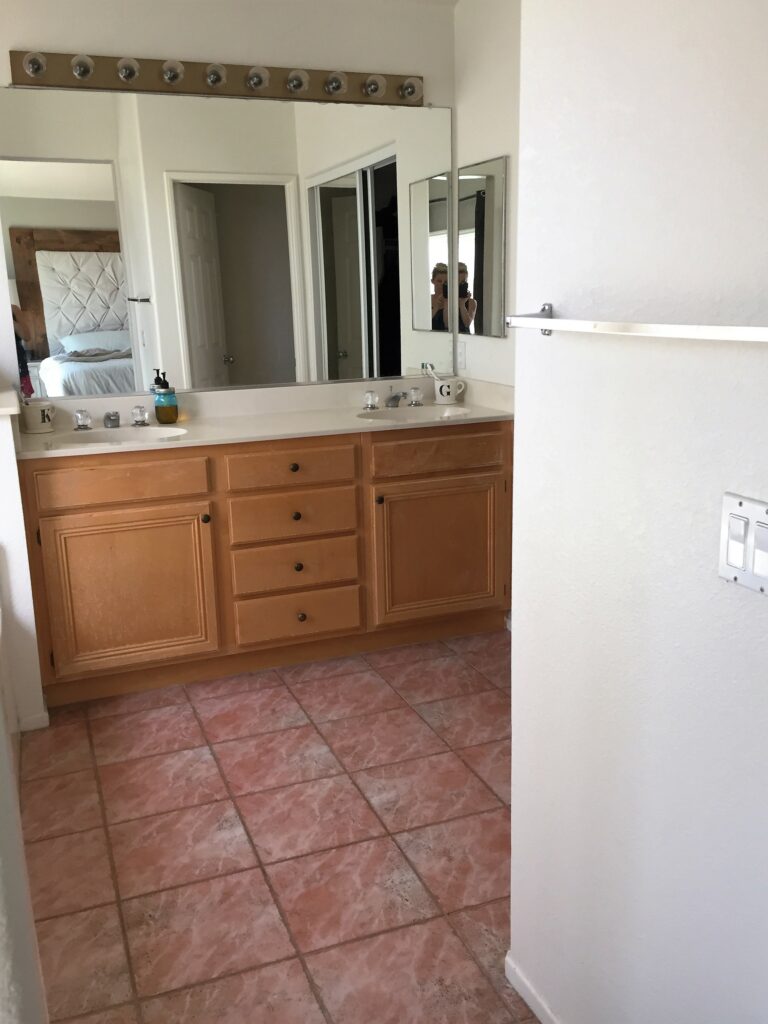 My master bathroom makeover sort of happened on a whim. I was staring at it from my bed thinking, 'Wow. That is just HIDEOUS. I really should redo everything.' And literally that day I started to brainstorm ways to update each part. I have patience issues, so when an idea pops into my head, it MUST happen somehow. I knew that if I thought about it long enough, I would surely come up with ideas that wouldn't break the bank. Probably my biggest job to tackle was painting the floor tiles.
I considered installing new tile myself, over the gorgeous pinky salmon delight we already had (barf). But, honestly that just sounded like a lot of work having to cut tiles to fit around the many little corners I have. Also, I didn't want just some generic Home Depot tile that everyone has. I needed some personality up in here! Once I discovered that it is possible to PAINT floor tiles, I knew this was the perfect option for me.
I must admit, it scared the living daylights outta me to attempt this. I love DIY… but no one wants their master bathroom looking like a DIY project. When I told my husband that painting floor tiles was my plan, I'm pretty sure he thought I was totally insane, and was likely thinking of what flooring to cover it with after I finished.
Painting Floor Tiles: a Step by Step Tutorial:
Here is how I went about making our floor SO amaze! These are the items you will need (affiliate links are included)—->
(Also, if you are searching for this light fixture, you can find it HERE
)
First off, be sure to clean your floor very well prior to painting. Any residue left behind on the floor will not allow the primer to adhere properly, which means your hard work won't last.
After your floor is swept and scrubbed and completely dry, apply 1-2 coats of your primer with your paint roller. I had to squish the roller vertically into my grout lines to get the paint in there. You may also do your grout lines first with a paint brush and then roll over the area. I just thought this was easier and worked great for me. I only applied one coat. I felt that it covered very well, but if you would like that extra protective coating, by all means do another!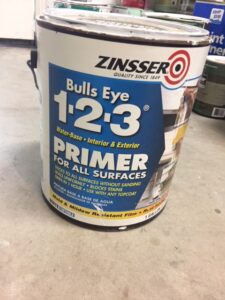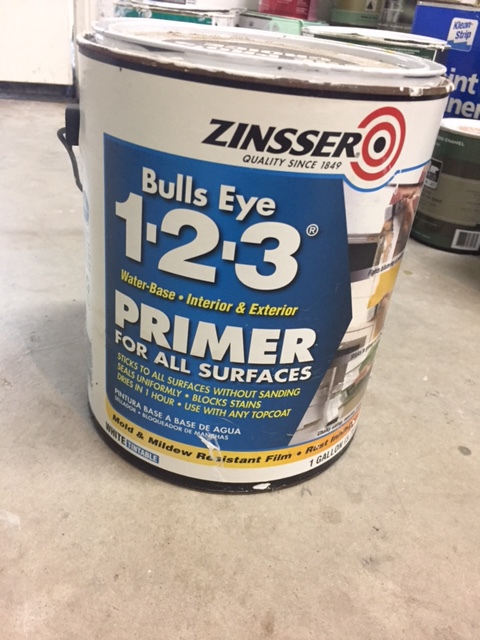 Even just priming my floor gave me so much joy, because I never had to look at that pink tile ever again! Yes!! I mean, do you SEE this bathroom pre-update?? Cringe.
I waited half the day to paint over the primer. It dries fairly quickly (good for my patience issues).  Next step was to paint the base color. When I began my bathroom makeover, I started from the top and worked my way down (which I don't only recommend for you, I demand you do that too!) That way I had less of a chance to mess things up. I painted the entire bathroom first. Ceiling and all. The color I chose was Dove White, by Benjamin Moore. Very nice, soft white. (great for south facing, super sunny rooms)… I say this to tell you I color matched my paint for the floor to match my walls.  Yes, you can do that! The paint I went with was an outdoor Porch and Patio paint by Behr. I wanted something very durable, that is meant to hold up to moisture and traffic. This seemed like a perfect choice! it's available in a low-lustre, so it's not shiny at all. I applied one coat of the paint and then some touching up after it dried. It looked so great. This paint is self-leveling, so it goes on smooth and pretty.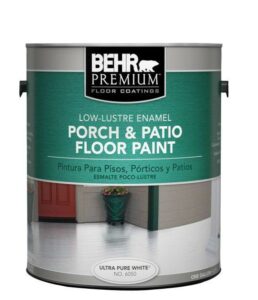 Once this had dried very well.. I believe I waited 24 hours, I got out my absolutely amazing stencil from Royal Design Studio. It creates a big flowing pattern, so it almost eliminates the choppy feel of tile. I also color matched the paint for my pattern with Rainwashed by Sherwin Williams. Love!
I suggest beginning from the top-center of your floor. The stencil comes with a "ceiling piece" that will finish the gap in between the original stencil and the cabinet.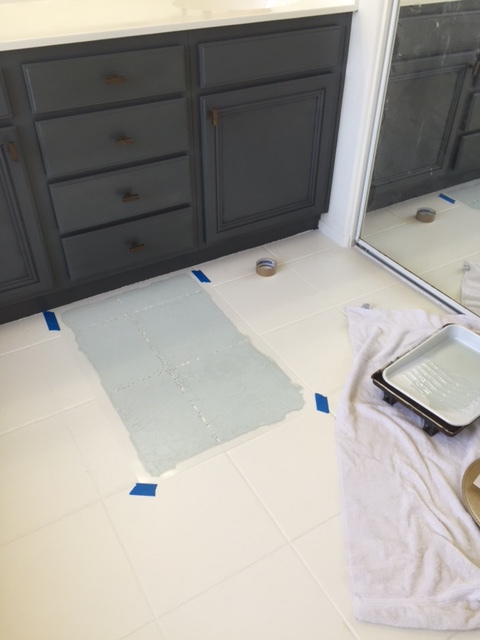 Now, wait a second! Don't just go rolling away with that paint! Grab a small stencil roller, and a tray or something with paper towels in it. Roll off a LOT of the excess paint each time before painting. You would rather do 2,500 coats to your stencil, then have a runny mess when you lift that thing up. Your grout lines will remain white, but that's ok! Do NOT do what I had attempted at first, and Leonardo Da Vinci the pattern by HAND in between the grout lines! No one cares that the grout lines are white, not even you! Believe me! Ha… I'm nuts, seriously. Who even does that?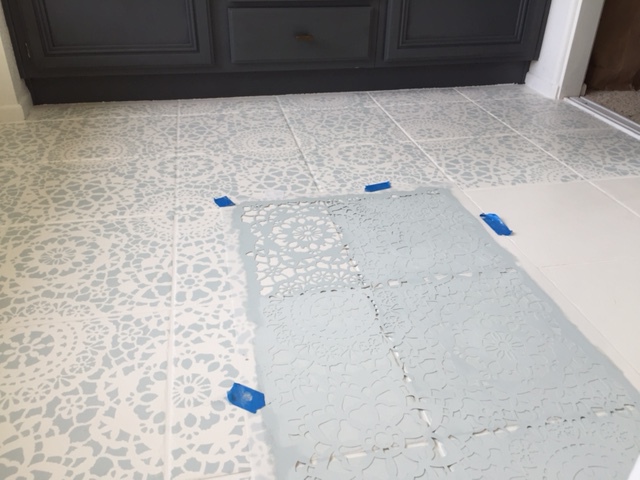 You will need to wait maybe 10 minutes in between each stencil, or move to another spot that doesn't directly touch your previous spot. Again, we don't want a mess. Doesn't it make you so giddy to see this transforming??  Now you think this looks like a piece of cake, right? Well, when you get to the little corners and edges where you cannot place the entire stencil flat, it gets tricky. I had my stencil in some strange positions for sure.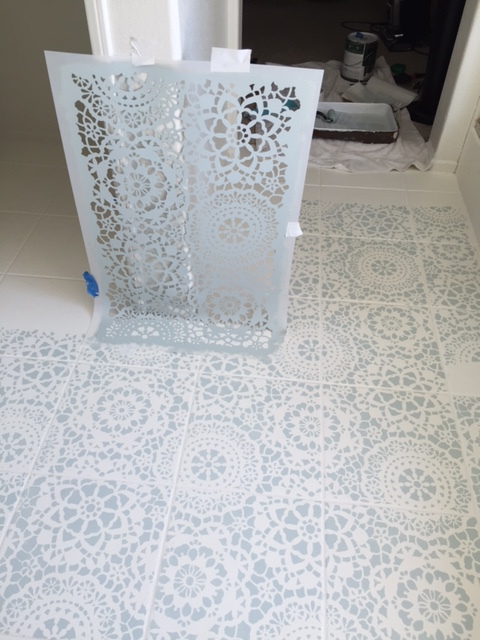 Going around corners takes some figuring out, but the material will bend whichever way you need it to. Just secure the area you're painting with tape and bend the remaining parts of the stencil to accommodate that section.
**I want to add a side note. DO NOT BUY A CHEAP STENCIL. You  want a nice, thick stencil for a project this size. A thin stencil will loose shape and run. This stencil I used was thick and very well made. It will last your entire project and then some! HERE is the stencil I used.
Another great thing about using such a busy pattern, is that It's very forgiving. If part of the shape doesn't turn out quite right, it's so hard to tell. You really would have to examine the spot to find something that isn't perfect.


This project takes a little time and patience, but it's so very worth the end result! Especially when you see your husband's expression.. and he realizes how fabulous you are. And, no, you did not destroy the bathroom. You ROCK.
Any questions??? =)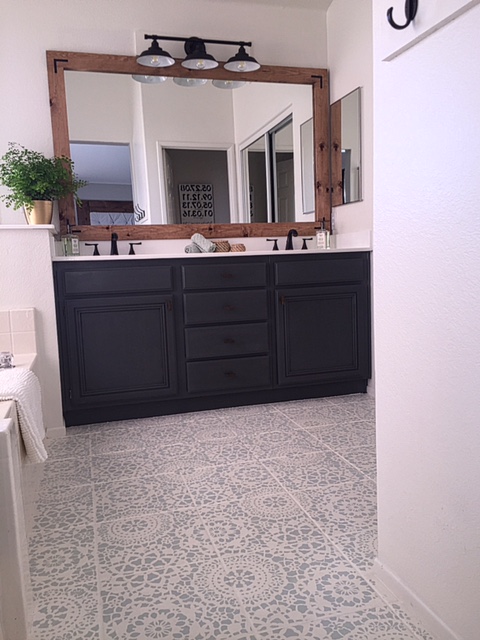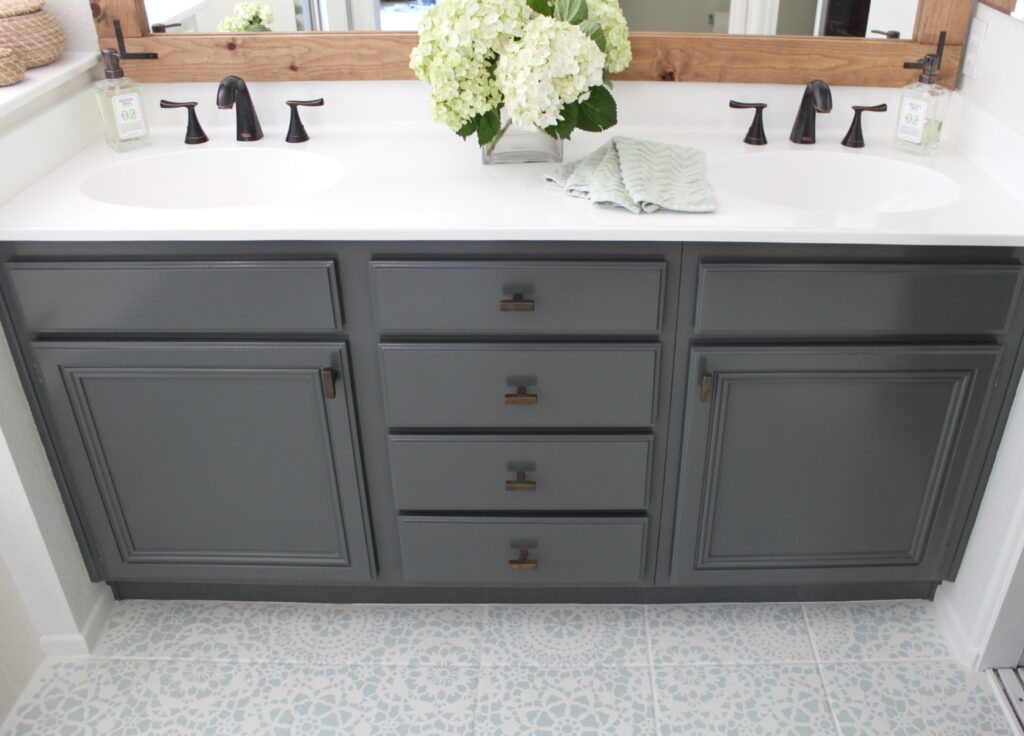 Loving this tutorial for painting tile floors? Click here now to find out how to refinish your bathroom cabinets like a pro!
** You can find this gorgeous light fixture HERE
You can find the faucet to match HERE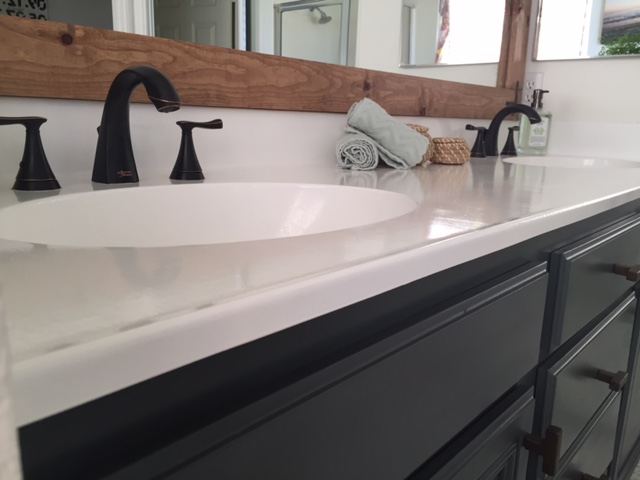 xoxo,
Kelly