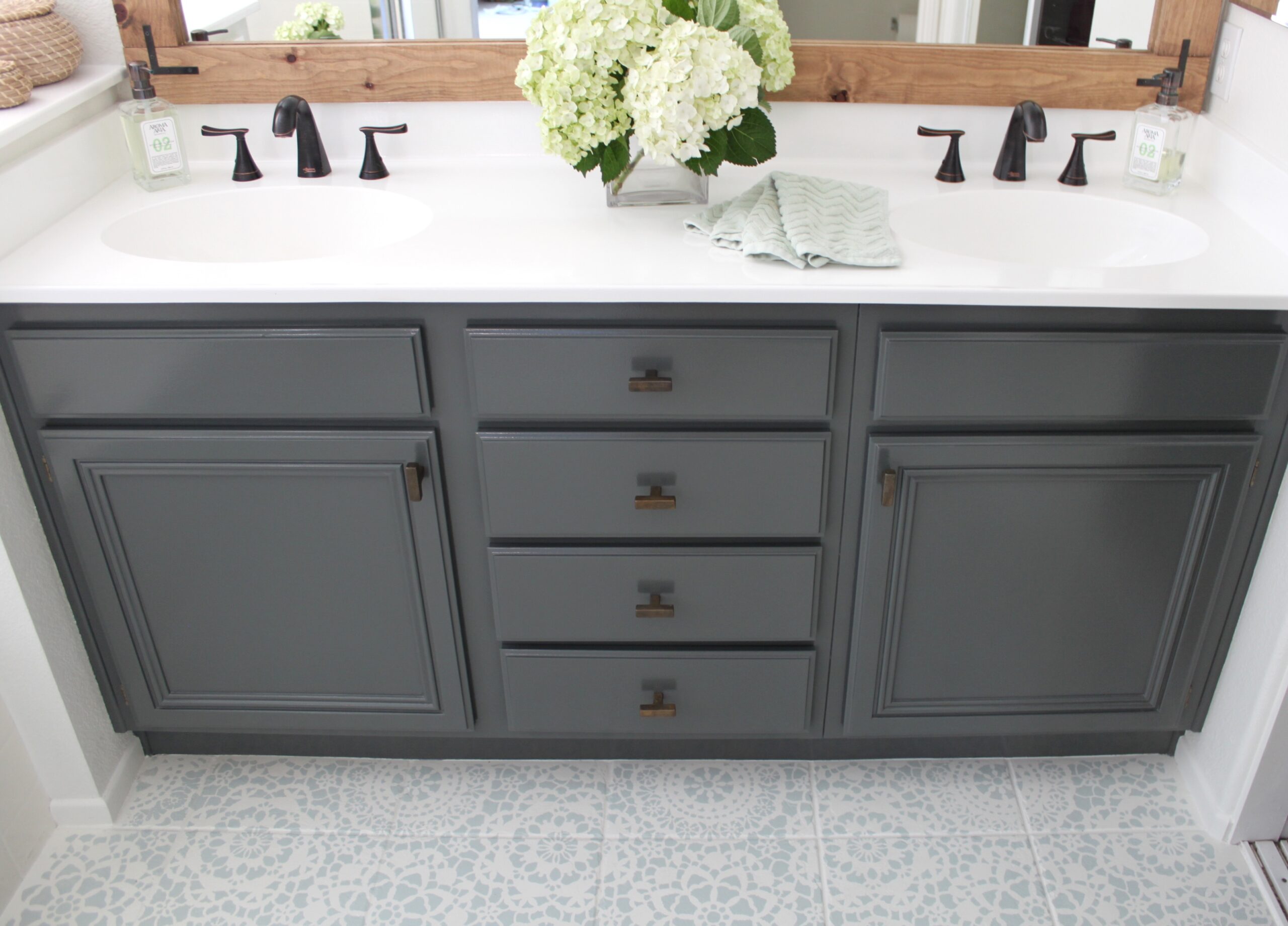 This website may use affiliate links. When you purchase products from an affliliate link, I make a small commission.
Well, if you have never seen it before, you are seeing it now. A DIY blogger who is telling you NOT to do your project the way I originally did it!! So many times we look for projects to do, totally trusting that the info we find through a blogger or Pinterest is THE way to do it. I'm here today to tell you, that is not always the case!
Here is a photo of my bathroom before I updated it. Brace yourself.–>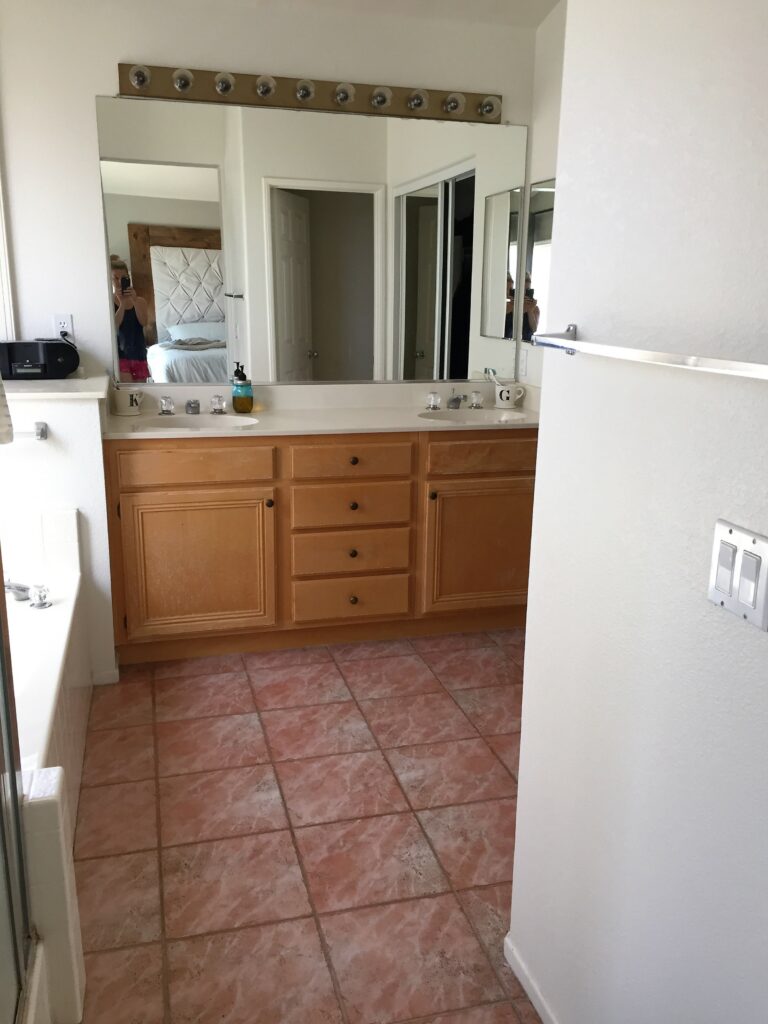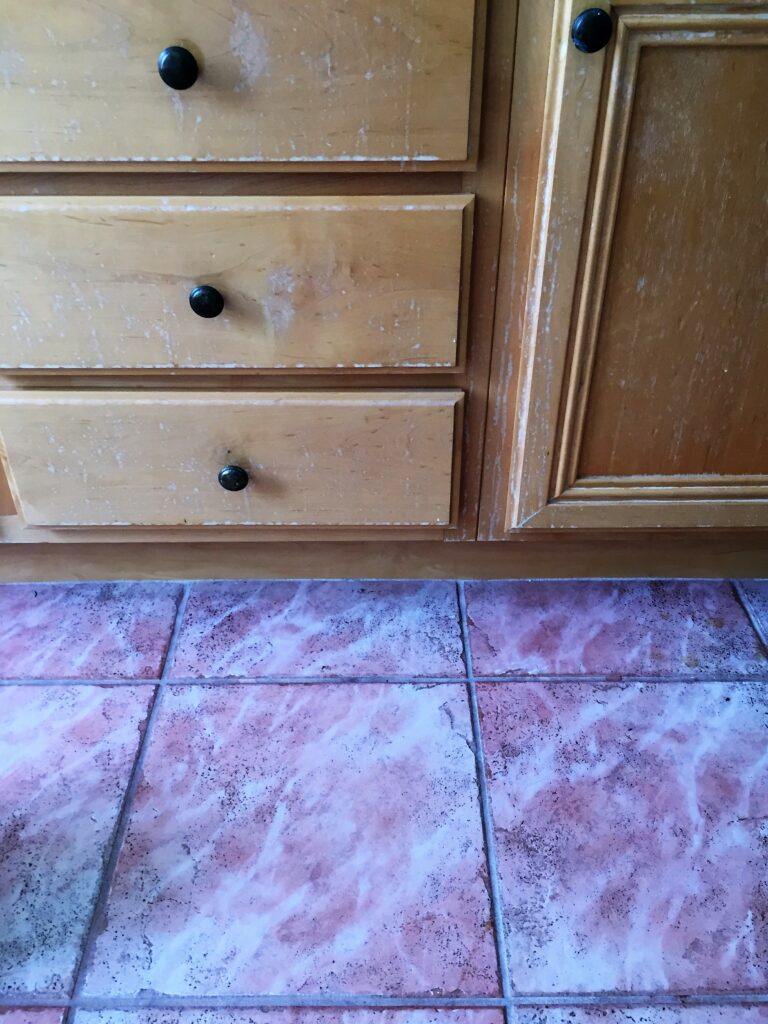 I refinished my bathroom cabinet about a year ago now. You may have seen the stenciled floors, the countertop and the framed mirror…etc. I refinished/updated all of the items myself. It was the first time attempting many of these specific projects. (all other parts of the room are holding up wonderfully, and I recommend them all) When I decided to refinish the cabinet, I used a spray paint to do it. Don't get me wrong, most of the cabinet held up great. The issue was the doors; the spray paint wasn't holding up well in the center area of the doors. I assume that is a spot that gets the most abuse from knees, babies, and other things bumping into it.
Better Homes and Gardens was scheduled to come to our home to take pictures of the bathroom and kitchen. I just kept looking at the door on the cabinet, thinking I wasn't happy and wanted to touch it up before they arrived to photograph the space. So, I tried. Guess what people? YOU CAN'T TOUCH UP A SPRAY PAINTED SURFACE. I am telling you, I tried multiple times to touch up the door, and it just wasn't happening. Spray paint, unlike regular paint, will not look the same when trying to touch up an area at a later time. It dries differently and the color match is not guaranteed once the paint has been sitting on a furniture piece for a while. Look at the blotchy-ness that was going on by trying to touch it up! (also I had sanded it lightly)–>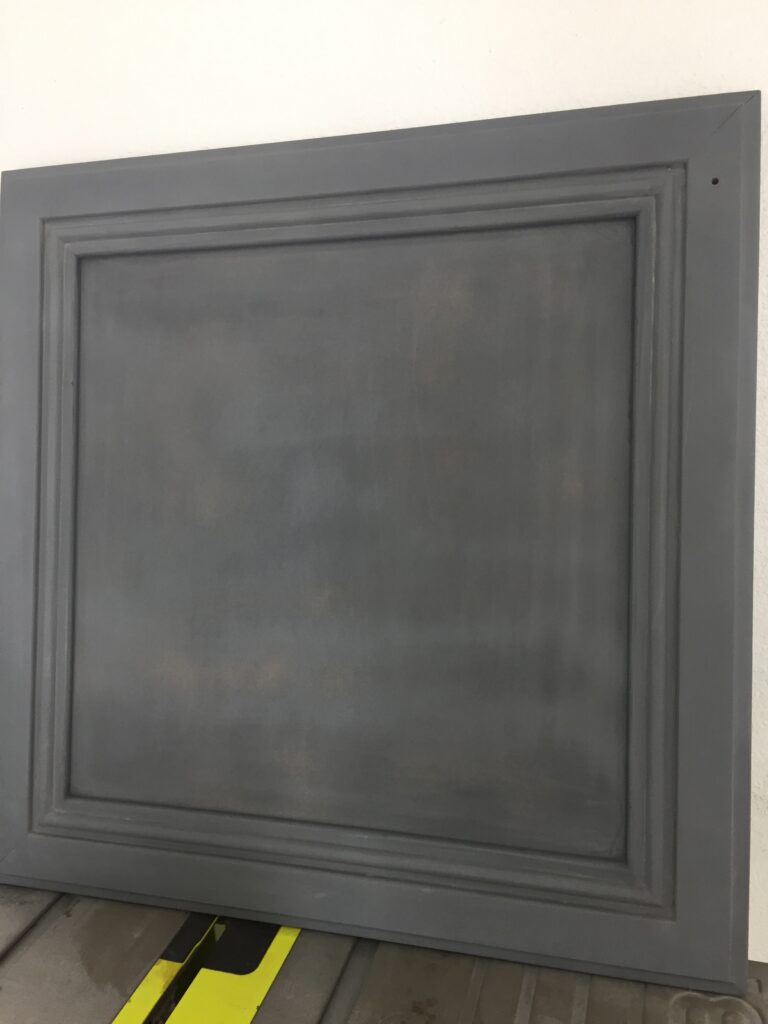 YIKES!!!!! Well, needless to say, I was pretty terrified that I was going to have to call Better Homes and Gardens and tell them our photo shoot was a no-go. After much thought and time spent trying to match what was never going to match again- I realized something. WHY am I driving myself crazy trying to fix this? If this is so complicated for me, won't my readers want to know that? I don't want to put them through this! It was so obvious what needed to be done. I refinished the entire double vanity. Using the paint that I used on our kitchen cabinets.
THIS is the way to refinish a cabinet. My kitchen looks amazing and now my bathroom cabinet looks even better than before. If you want professional results, you can trust this tutorial. (affiliate links are included)
Spray paint. I loathe thee.
Here are the Items you will Need to Refinish Bathroom Cabinets:
Liquid Sander Deglosser
or handheld electric sander
Rust-Oleum Zinsser Bulls Eye 1-2-3 Primer
Benjamin Moore Advance Line Paint (in color of choice)- Don't buy cheap paint!
1/4 inch Nap Roller
(NOT a foam roller)
Angeled Trim Paint Brush, 1 or 1-1/2 inch
Once you have your items, this is not a complicated project. Just takes a little time. Totally worth it!
Refinishing Bathroom Cabinets:
a Step by Step Tutorial
Begin by removing all doors and drawers from the cabinet. Remove all hardware and hinges as well. Bring them outside or into the garage and either use the deglosser or your handheld sander to remove glossy topcoat. Do this on cabinet as well. (You do not have to sand all the paint off, only sand until shine is dulled).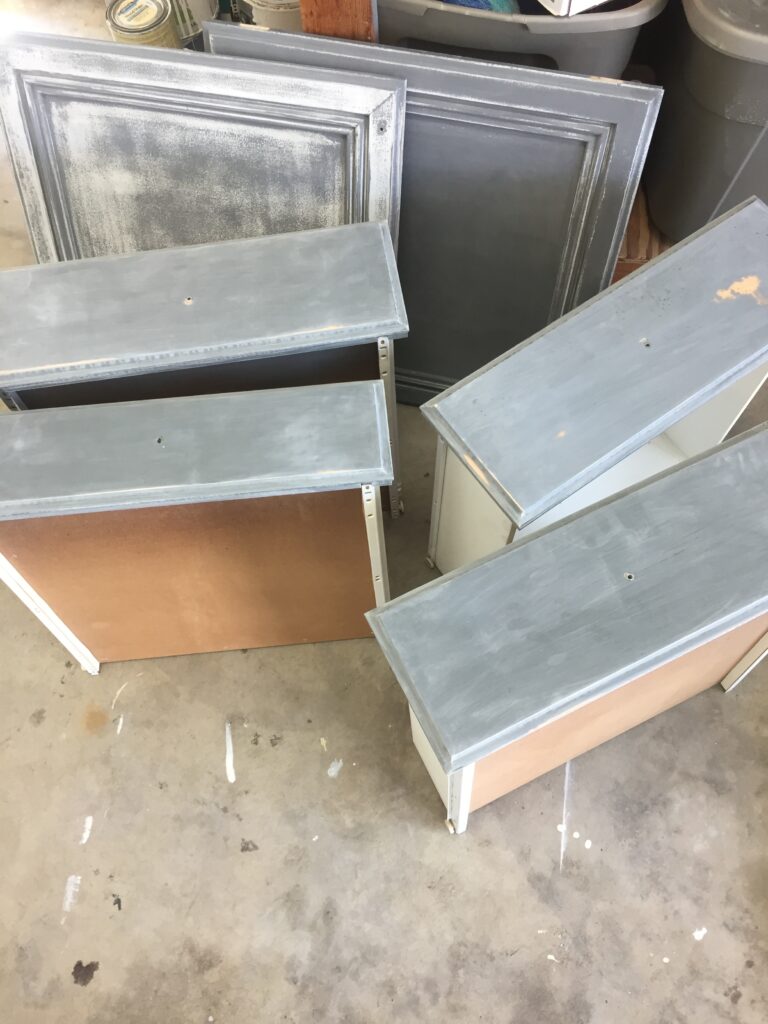 The deglosser should work just fine for you, I used this on my kitchen cabinets instead of sanding and it was ah-maz-ing. The only reason I chose to sand this cabinet, is because I wasn't sure if the deglosser would work the same way on a spray painted surface. I just wanted to be safe in this case. But, I highly recommend the deglosser for all other surfaces!
Wipe down to remove dust if you had sanded, or allow deglosser to dry. Apply one coat of your primer to all doors, you may need another coat just depending on the previous color of the cabinet. Take your time and apply this nice and even, using the angle brush first and then your nap roller.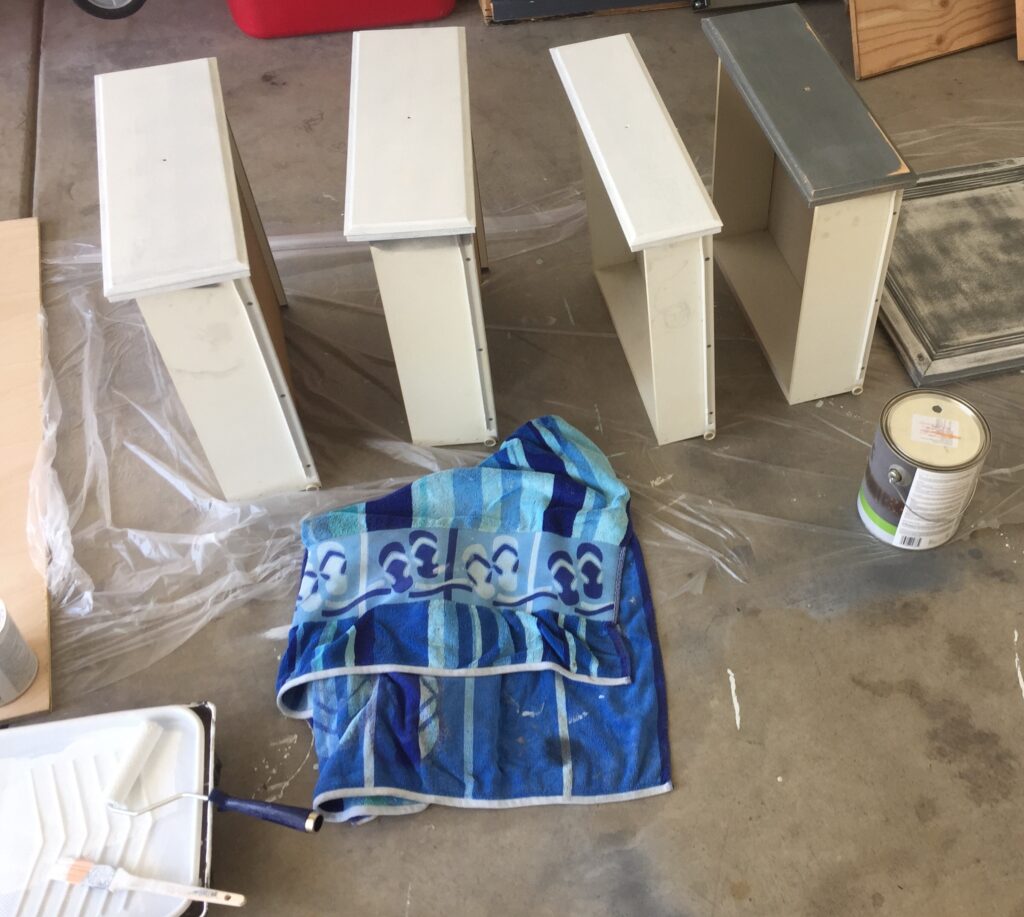 Once the primer has fully dried (at least 4 hours) Apply your Benjamin Moore Advance Line paint. Again, using your angled brush to first paint in any detailed trims or hard to paint areas. Then go over everything with your ¼" nap roller. This paint is soooo good. It's self-leveling so even if you don't catch a little mess-up, the paint smooths itself out so nicely. It's also very thick paint, you may only need one coat and a little touching up. It will dry rock hard within a couple weeks, and will last for many, many years to come! Feel free to put the doors and drawers back in after a couple days, just be very gentle with that area while it fully hardens.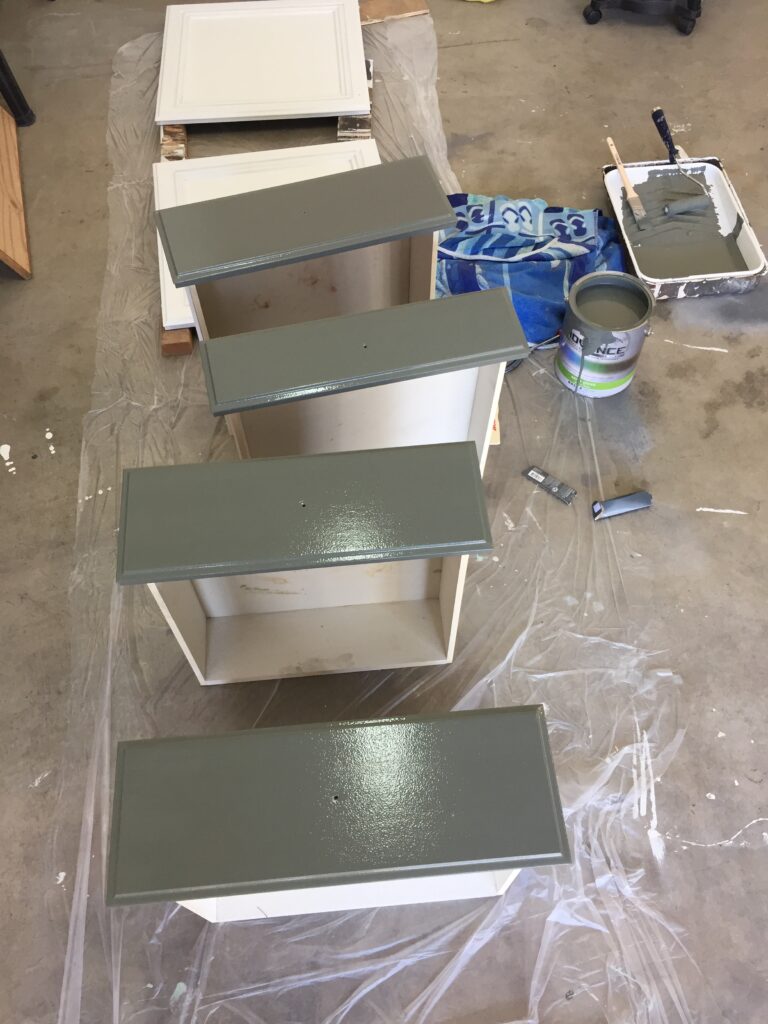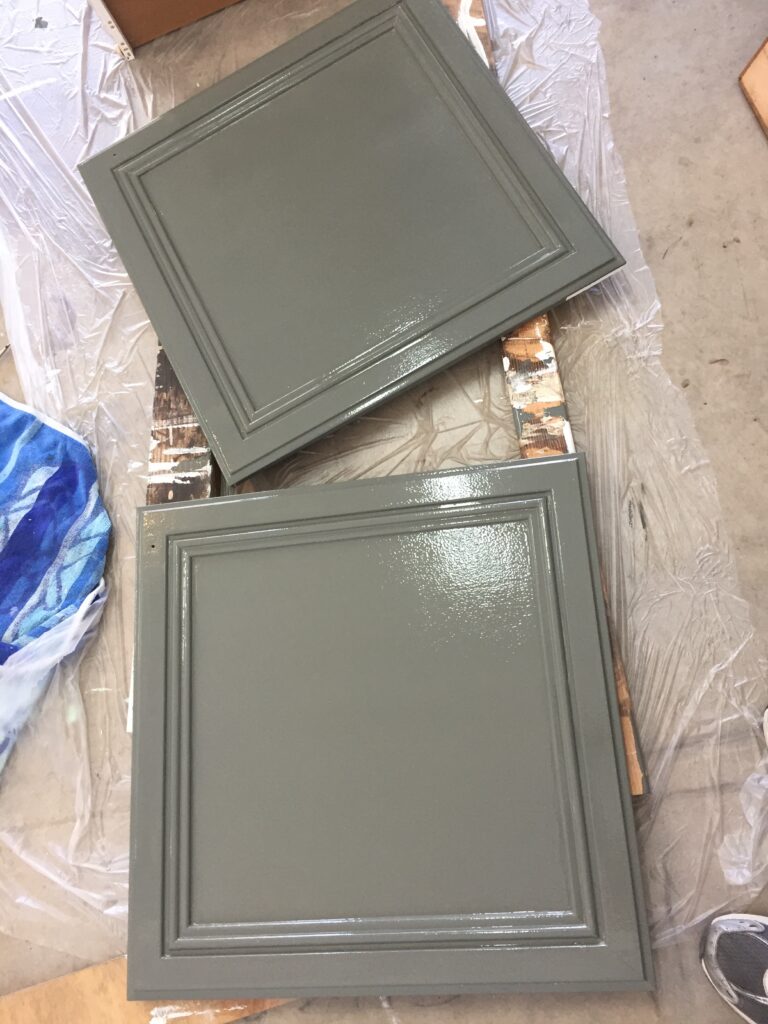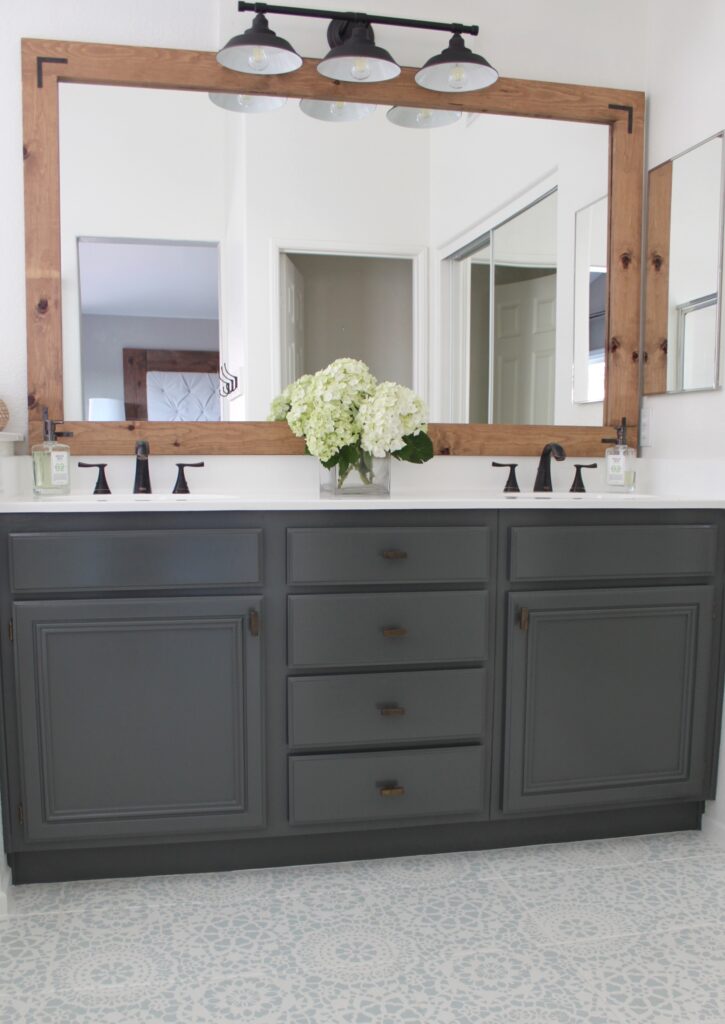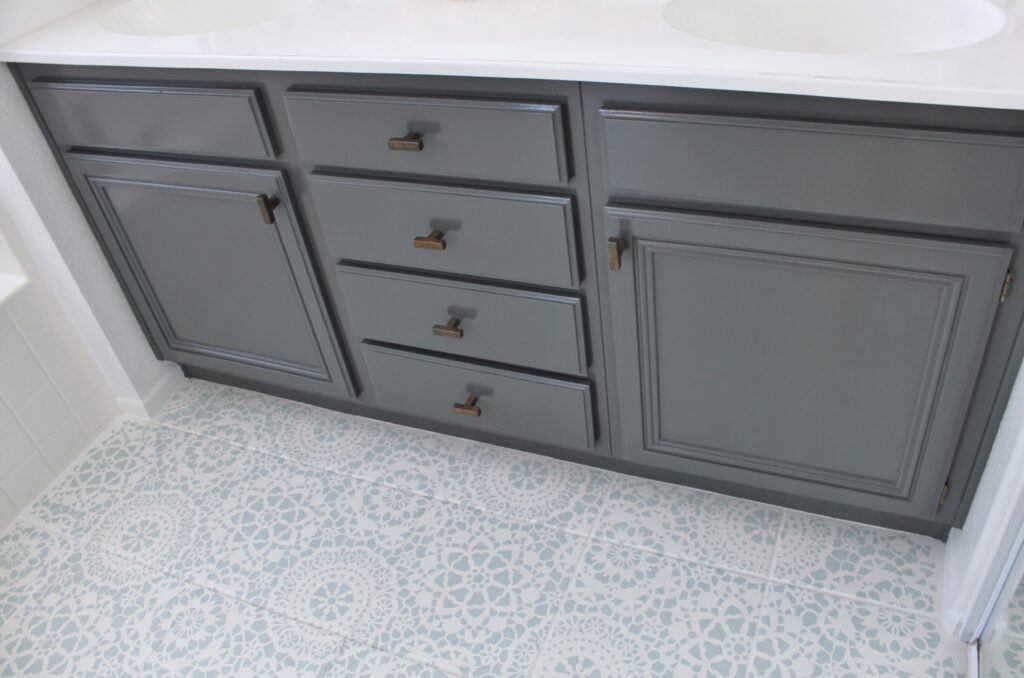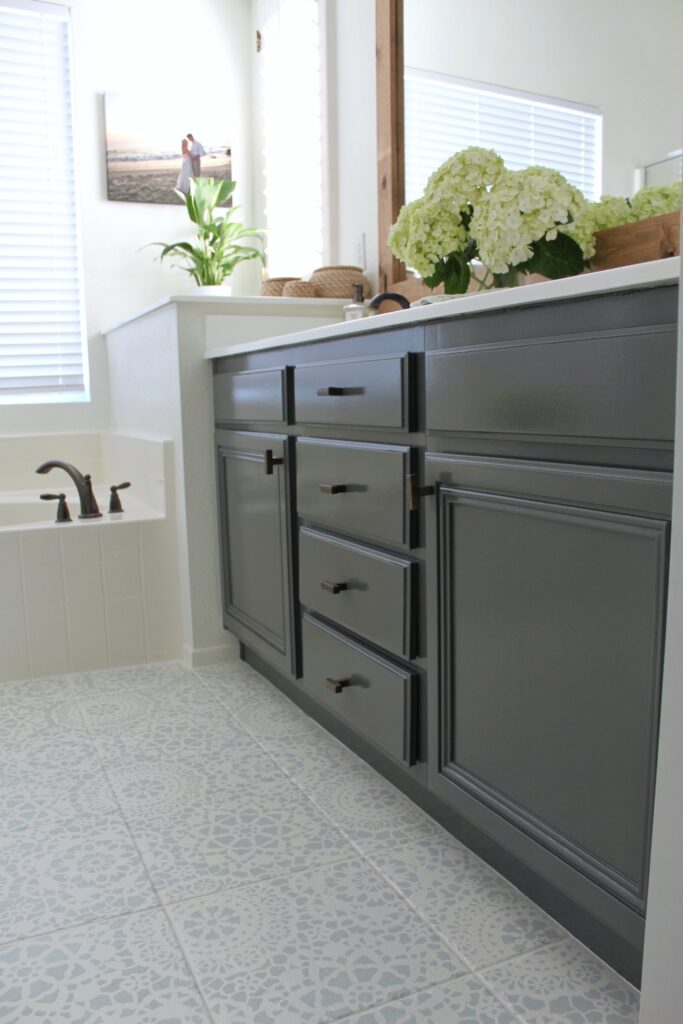 Find the bathtub faucet HERE
Find this gorgeous (and affordable) light HERE
Find the Sink Faucets HERE
For those of you who previously completed my spray painted cabinet, I hope you love it! I am not saying that spray paint cannot be used, but as far as touching up any future mishaps, it is very difficult. I will always be very honest with my readers, sharing my experiences and giving the best advice I can give.
Love you all.
XOXO,