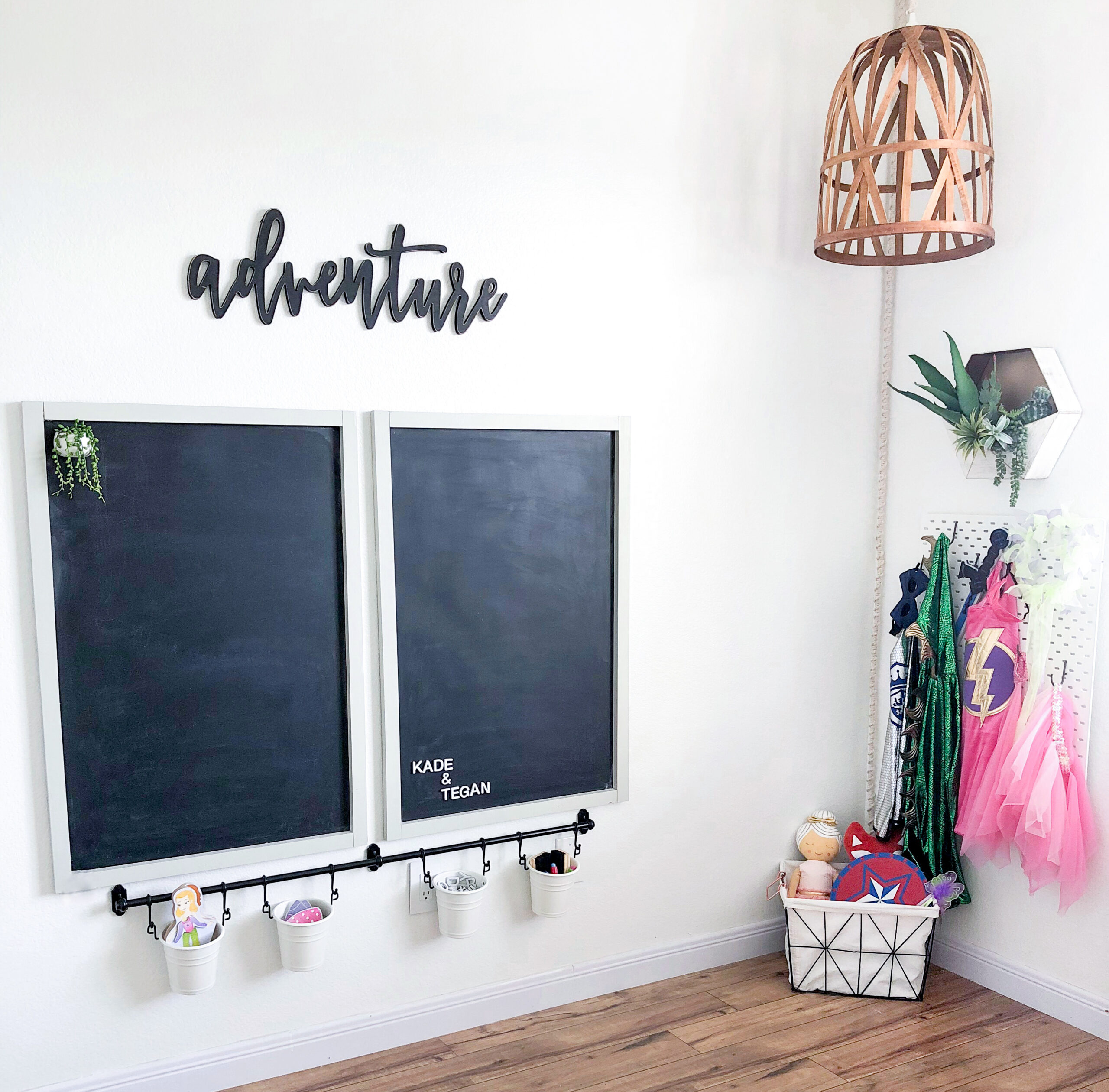 This website may use affiliate links. When you purchase products from an affliliate link, I make a small commission.
Happy Holiday Season to ya'll! I gotta say, it's been so fun prepping for the Holidays this year. I think it's because the kids are both at ages where everything is exciting and they can participate in all the fun. Tree decorating, lights, music, all of it.
We just had Black Friday, and I'm guessing you're going nuts buying whatever deals you can scoop up before sales end. But, I've got a Christmas gift that you can't buy in the stores. (well actually you can) Why not make your kiddos, or even your partner a magnetic chalkboard for the house?? Your kids will love the versatility of it- writing with different colored chalk and using all types of magnets. Your significant other would love this too, for grocery lists, tacking up reminder notes, etc! Plus, you made it with love. Such a great gift. Woop!
I recently updated the kid's playroom downstairs and made two of these boards (because sharing is an issue in this house) one for each of them. They have been a hit. So I totally recommend! Let's get to it shall we?
Here's the step-by-step to make your own DIY magnetic chalkboard:
This post contains affiliate links
Items/tools you will need to make your DIY magnetic chalkboard:
Sheet of plywood (approx 1/8″ thick)
Step 1– Paint a light coat of primer on your galvanized sheets.
This will help the chalkboard paint adhere so much better, I wouldn't skip this step. Once dry apply 2-3 even coats of the chalkboard paint with a nap roller, allowing the paint to fully dry in between each coat. This particular paint needs to sit for about 3 days without use, so set the boards aside while you work on the rest!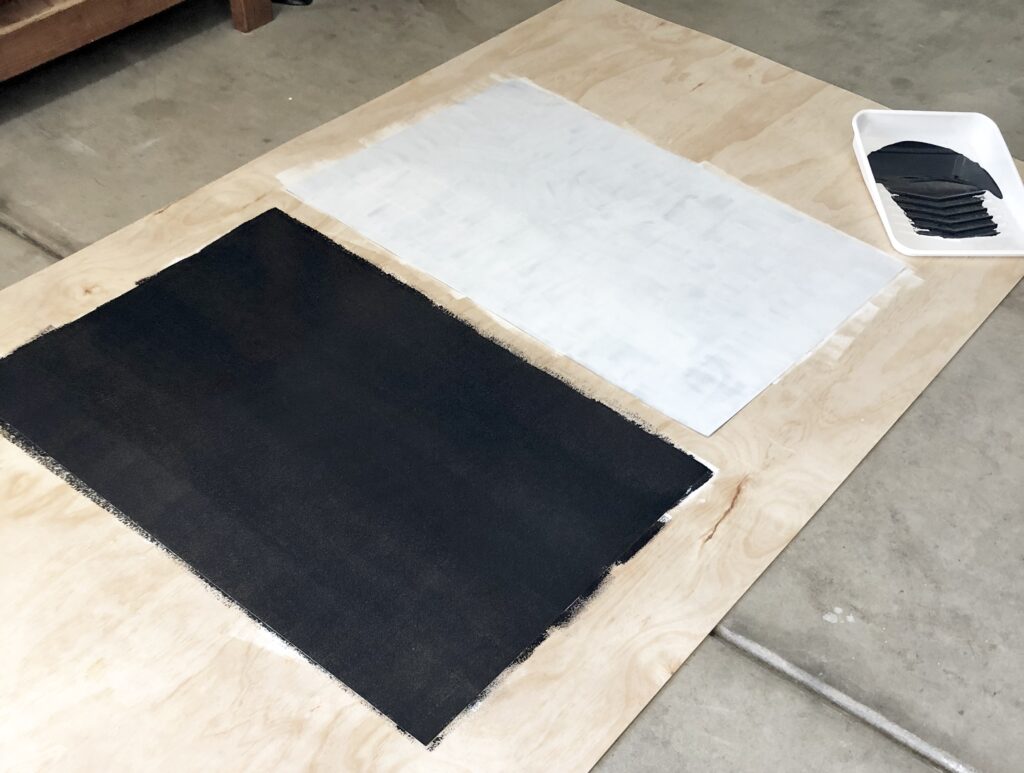 Step 2– Cut your plywood.
This will be the backing to your boards. Leave about an inch around each side of the sheet metal. You will cut the plywood to 37 x 25″ or so to accommodate your wood frame. Now, you can ask Home Depot to do this for you before you leave the store if you like. I already had this wood in my garage from a previous project, so I needed to cut it myself. I just used my handy jigsaw. It's not the best way to do this, I know people! But hey, when the kids are only at school for a few hours, you do what you gotta do! So the line is a little rough…. oh well, it's going to be covered by the frame, right?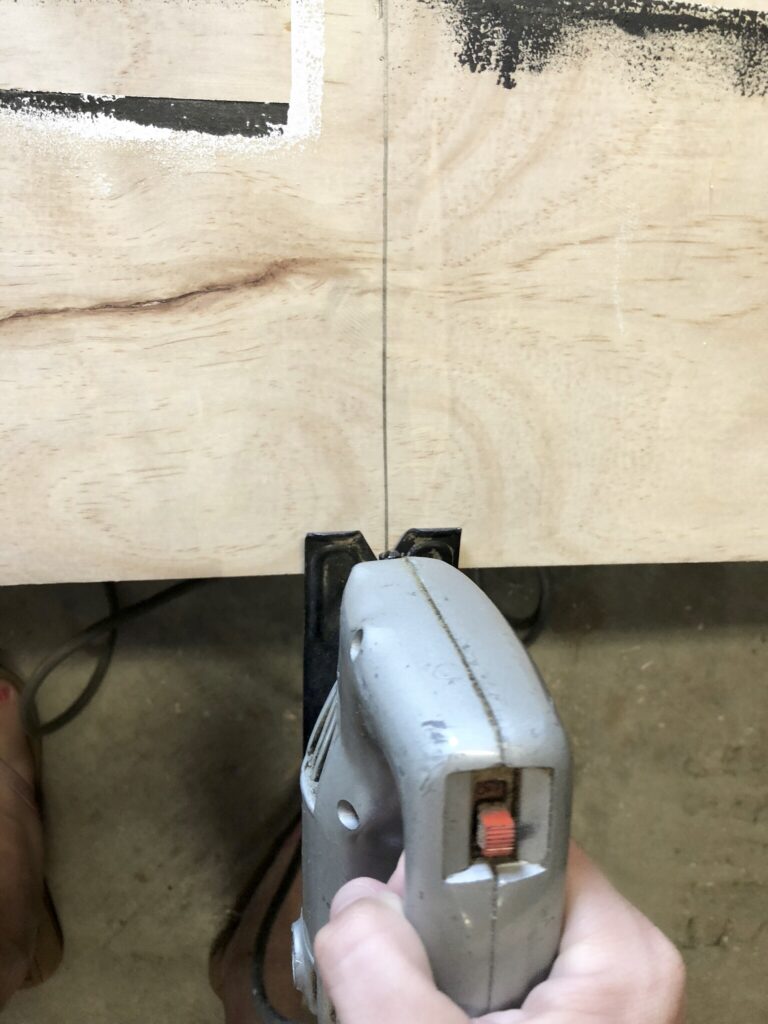 This reminds me of my Dad actually.. he always says "it's rugged but right" when he's doing a project at home. I swear I get that from him- it may be a little rugged, but it's still RIGHT. Hahaha, oh man that's funny. To me.
Step 3– Measure and cut your furring strips with chop-saw (or jigsaw, just kidding) to create the frame around the plywood.
The frame will overlap the chalkboard all around. Paint the pieces of the frame with your chosen paint, or stain.
Step 4– Apply liquid nails to the plywood and firmly press down your chalkboard sheets.
WHAT I WOULD DO DIFFERENTLY**** In the photo below you see that I used streaks of the glue. I noticed after the project was dry, that you could see my glue design underneath the metal sheets! It isn't too noticeable, but it drives me crazy. So, when you do yours, put a good amount of the liquid nails all over the plywood, and then smooth out the glue to a nice even layer before attaching your metal sheet. You should be just fine that way.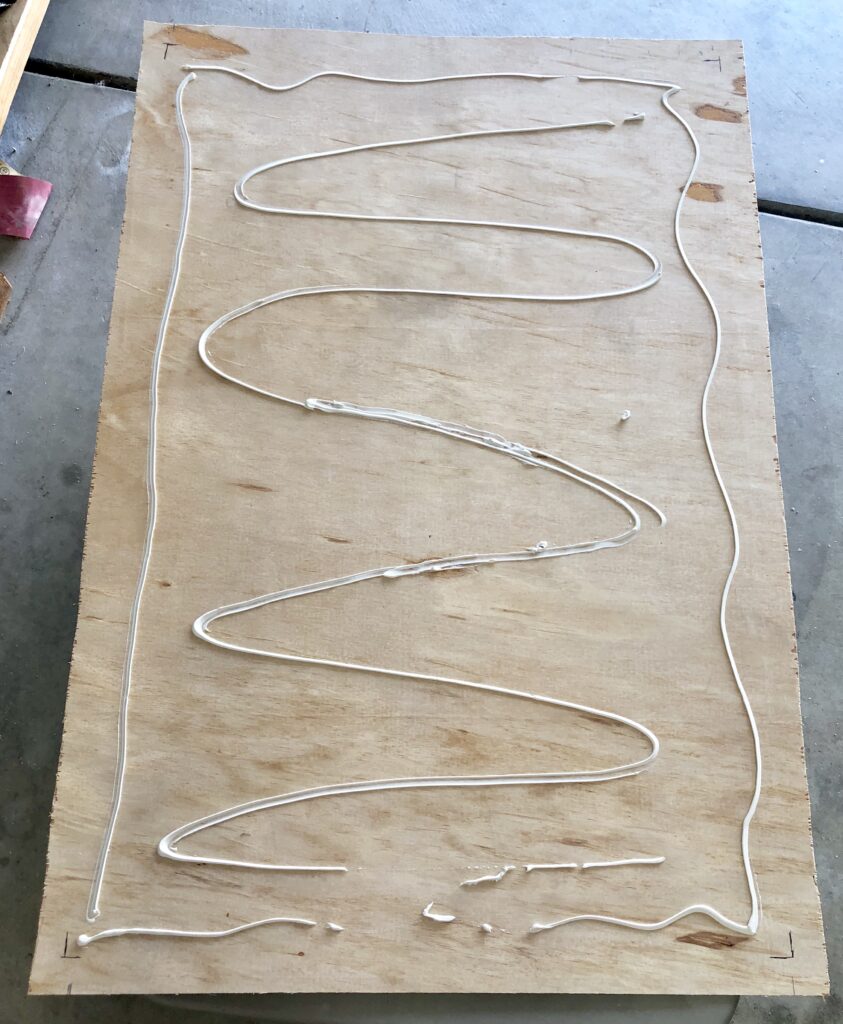 Step 5– Glue ONLY the sides of the frame down.
Leave the top and bottom of the frame off. This is how you will attach your boards to the wall. They aren't attached here, I just had them clamped in place to be sure the side pieces were attached right where I wanted them.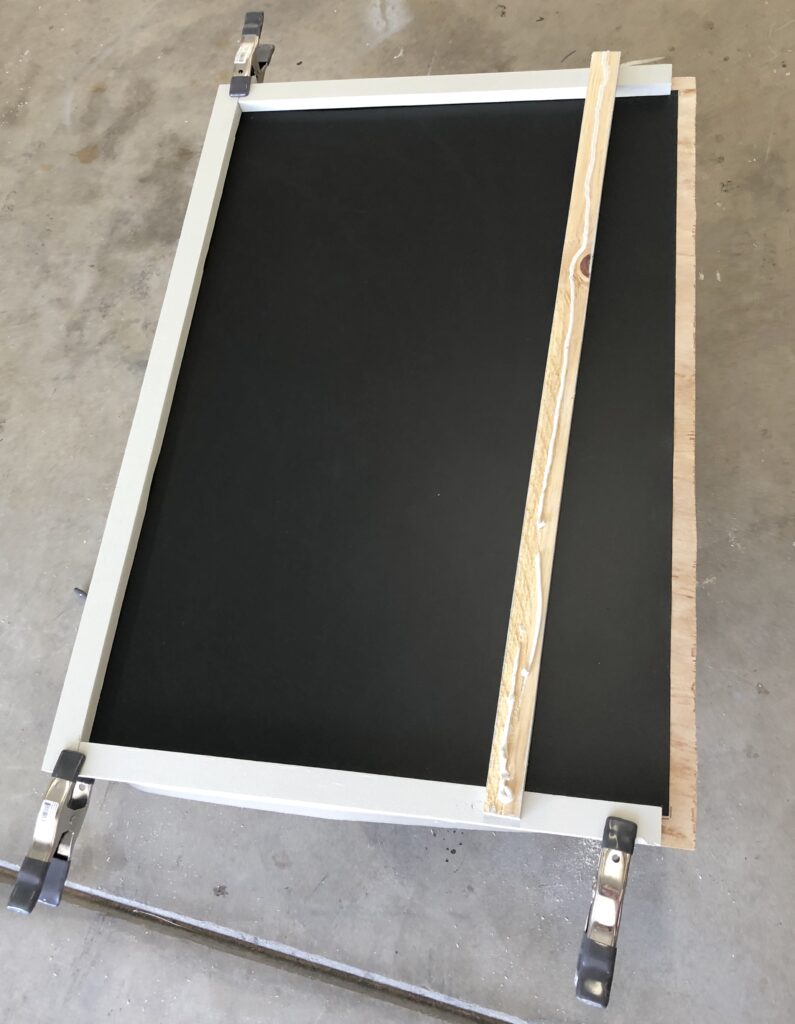 Step 6– I didn't want to drill holes through my frame or have screws visible on my boards, so I decided I would attach the board into the wall before attaching the frame, so the screws were covered up. Soooo…. find your studs and attach your boards to the wall. You'll need to pre-drill your holes in the plywood and wall first, of course. Attach your top and bottom frames with liquid glue and hold in place with tape until dry. If you ever wanted to remove the boards, you would just need to pop off the top and bottom frames.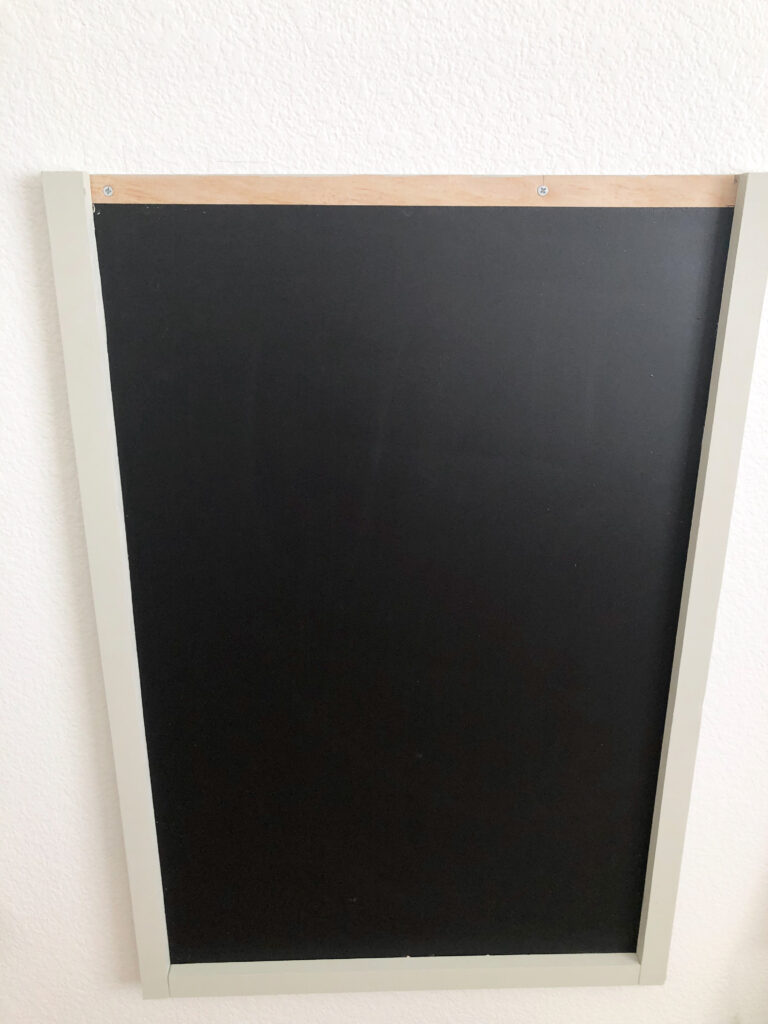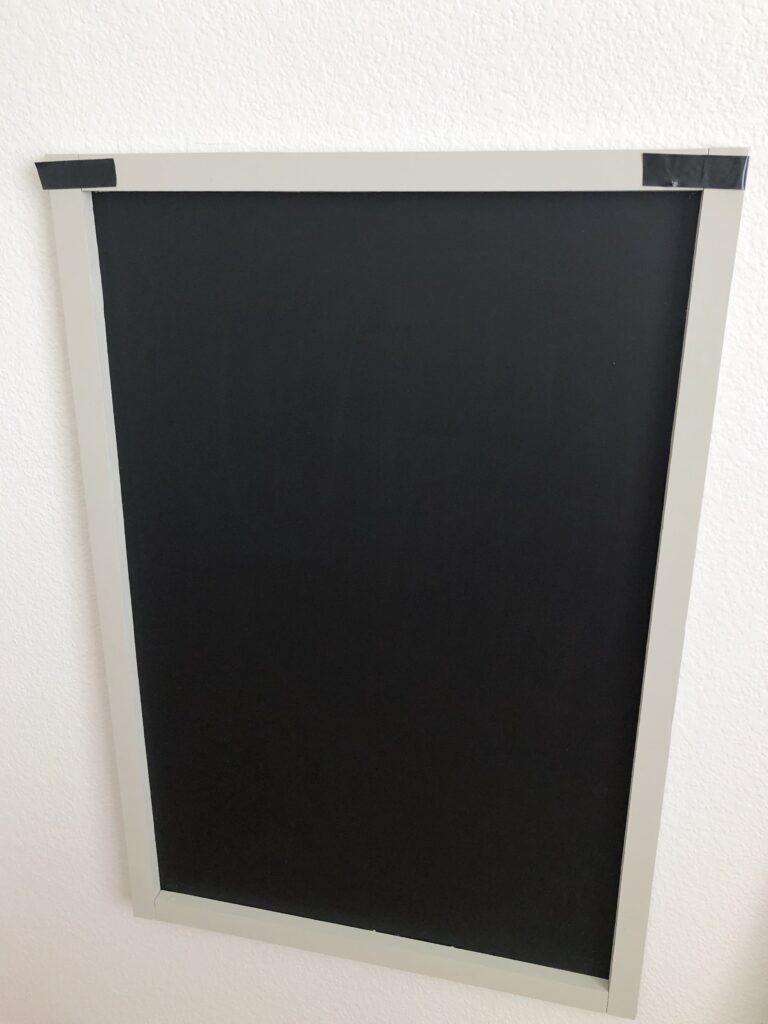 That's it!! Your DIY magnetic chalkboard is done! I added some little buckets from Ikea underneath to hold fun magnets and chalk. The kids love it, and I love that it keeps them entertained for more than 30 seconds! The dress-up clothes shown are by Little Adventures.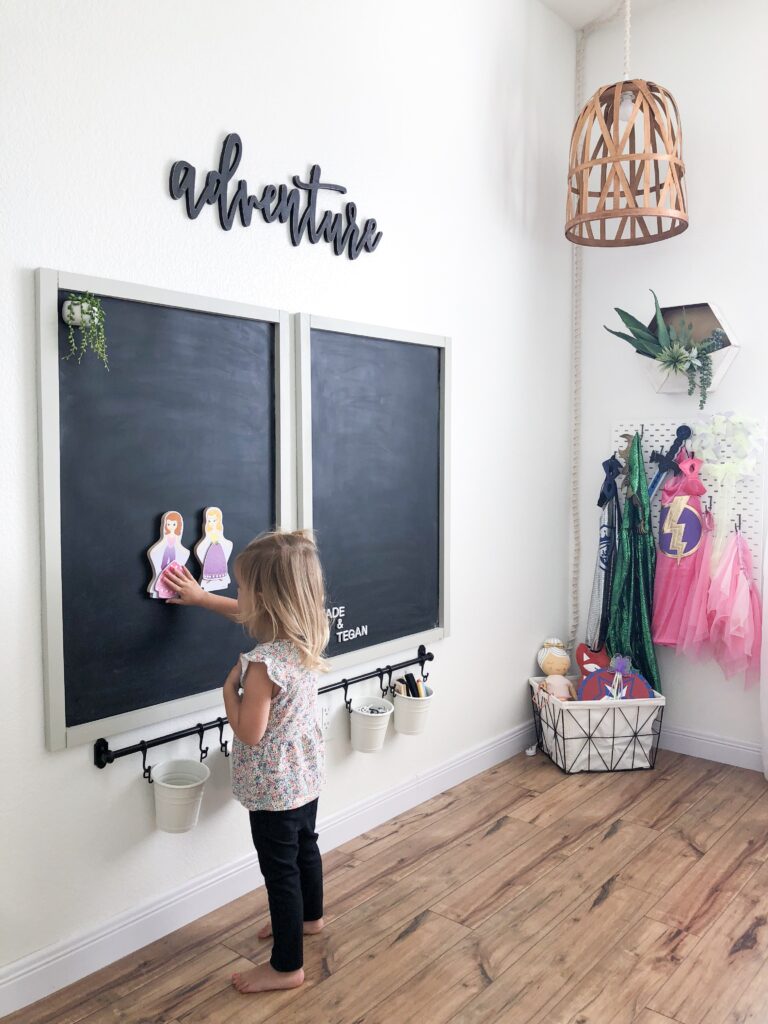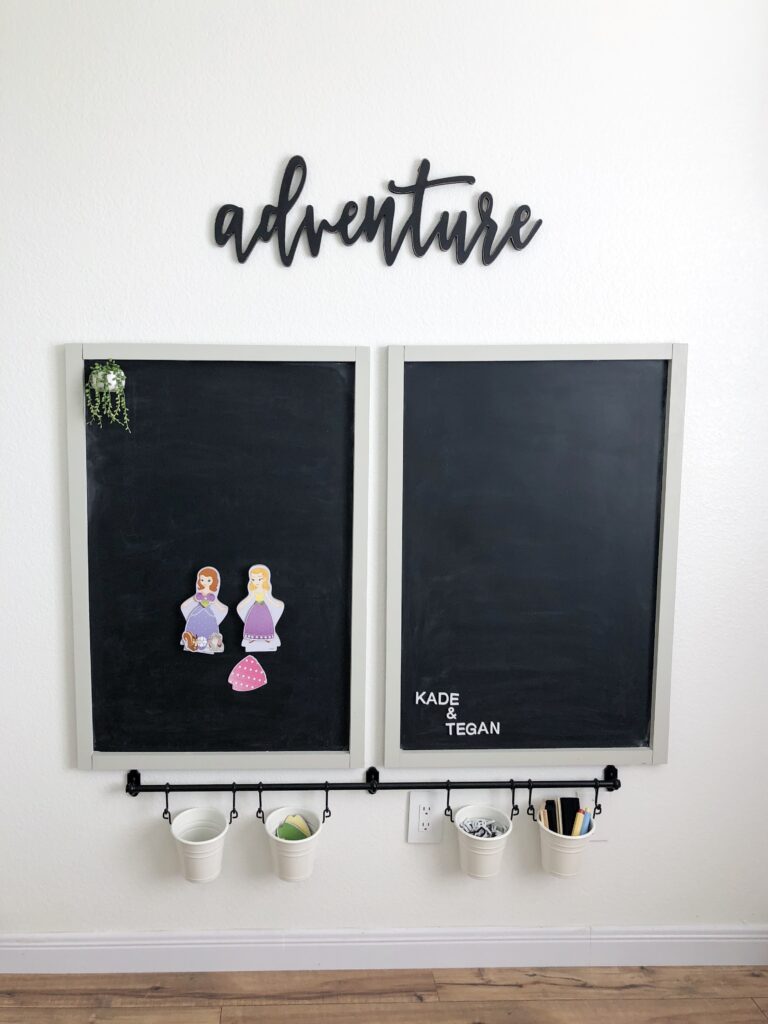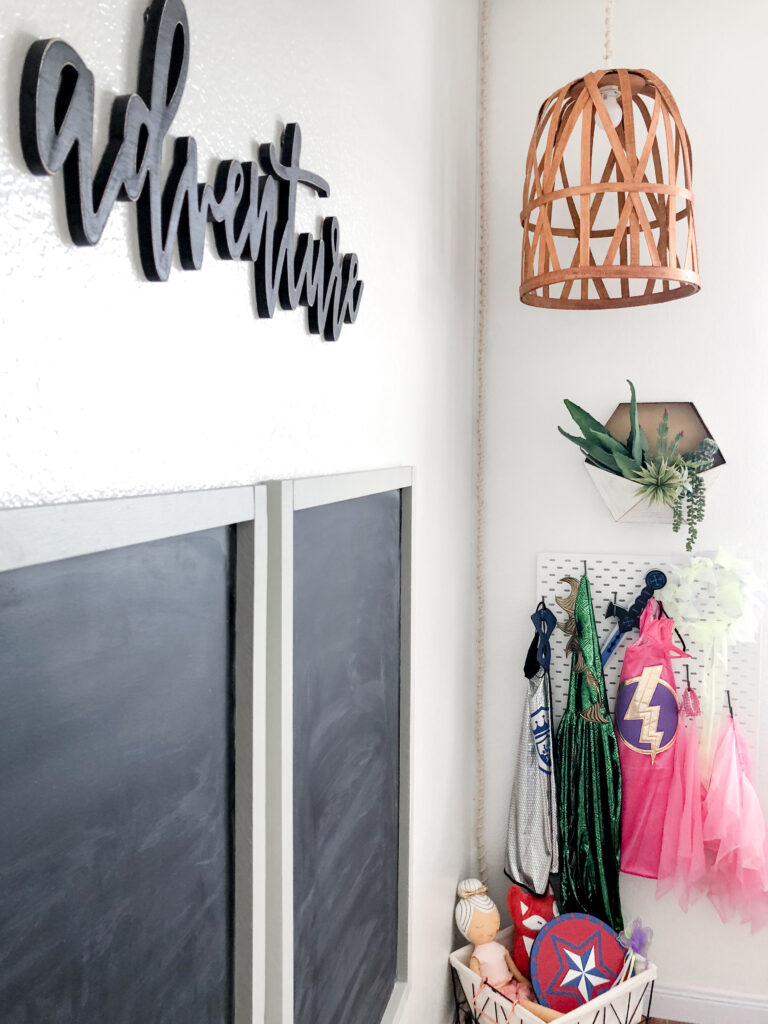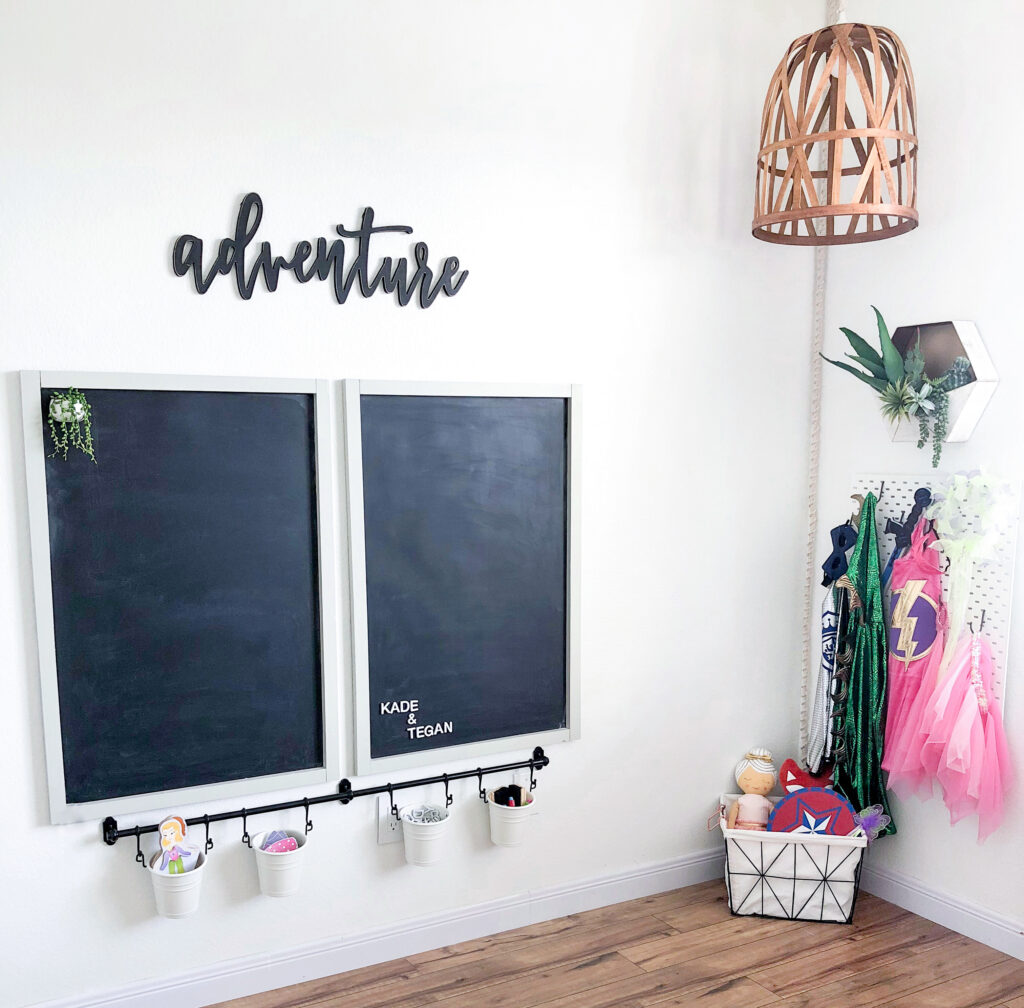 Can't wait to see your DIY magnetic chalkboard masterpieces! Click here now for the tutorial to make this pendant light!
XOXO,