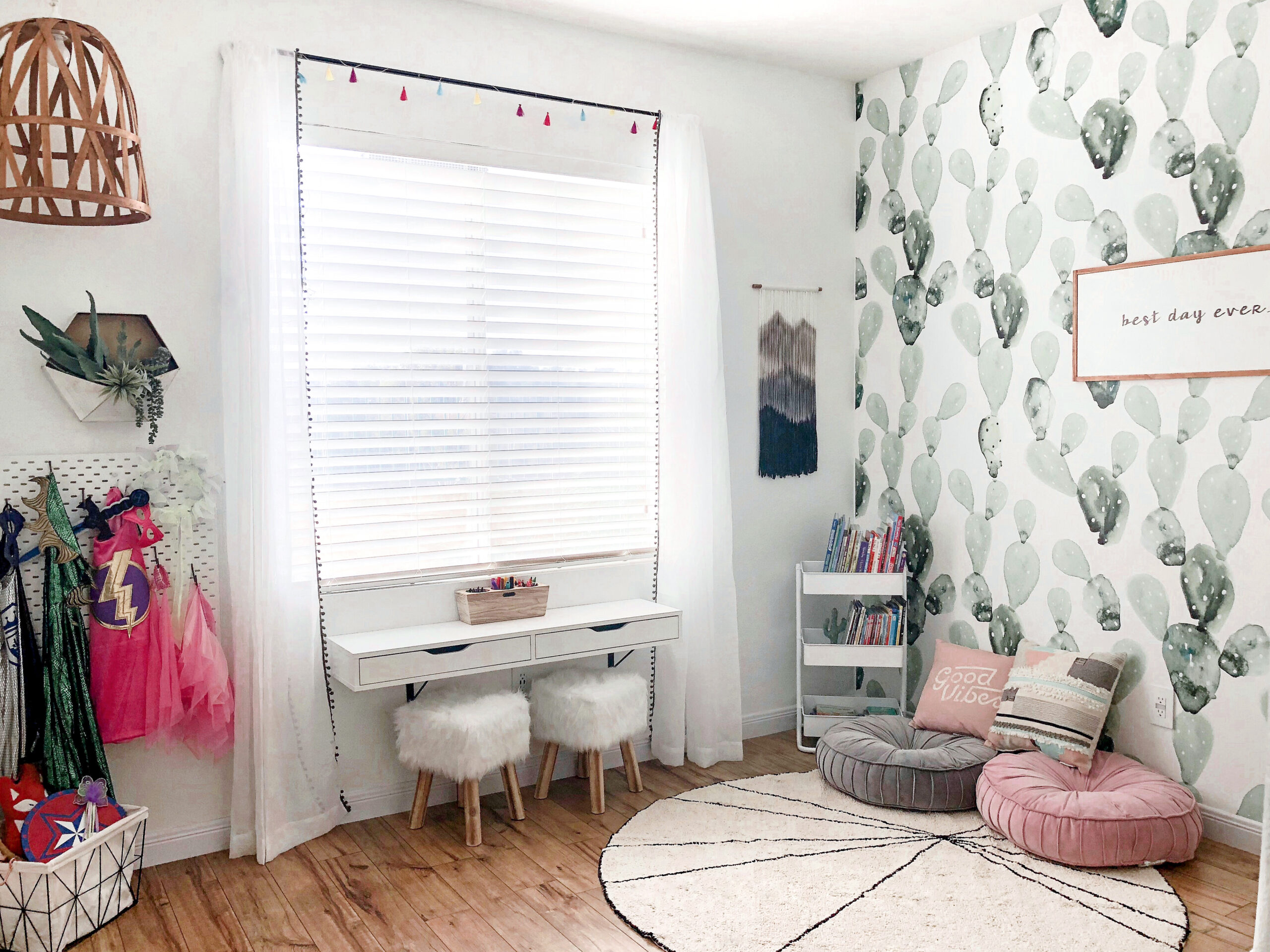 This website may use affiliate links. When you purchase products from an affliliate link, I make a small commission.
I have been dying to update our playroom for so long. It was a disorganized mess, and it looked like all the primary colors had thrown-up in there. I wanted a space where the kids could play, imagine and have fun! We also use it for our guest room when people come to visit, so although the room is REALLY small, I needed to keep a twin size bed inside.
I had previously removed the closet doors to make the room feel bigger, and give more useable space. That's about as far as I had gotten…the playroom moved to the back of the line behind other projects in the house. Now that the kids are both a little older, I didn't want to put it off any longer. So here is their new space! I think I want to claim it for myself and call it Mommy's room instead.
This playroom ideas post contains affiliate links
FUN PLAYROOM IDEAS: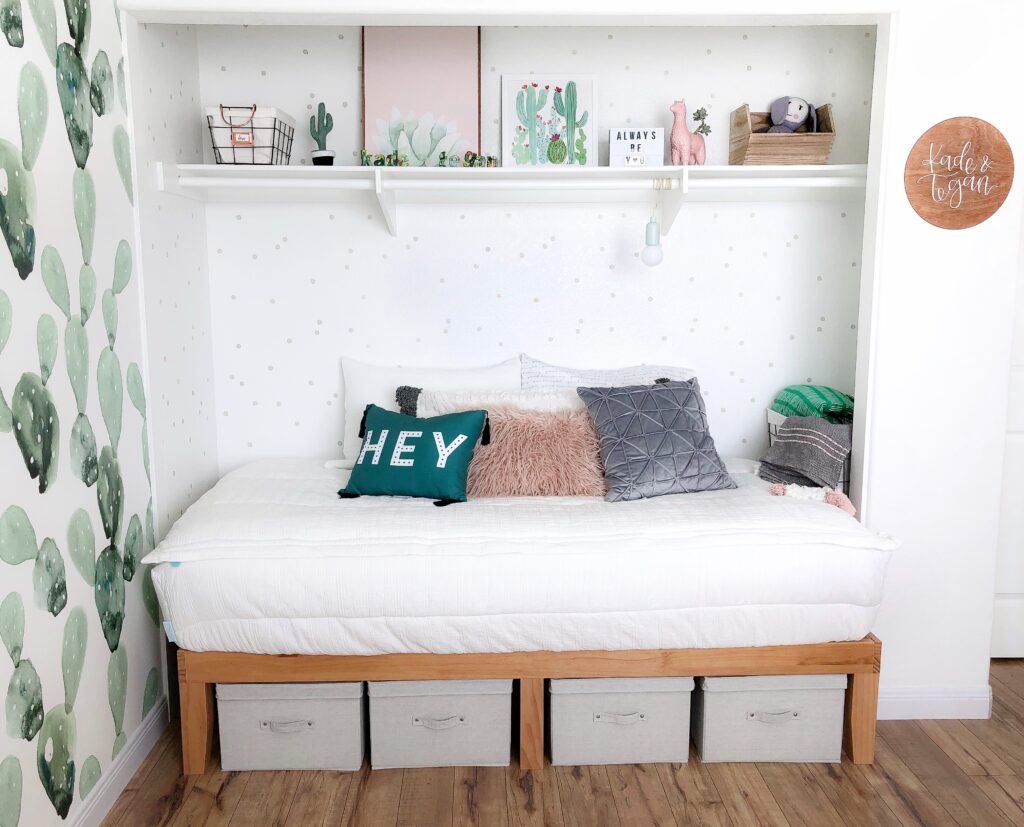 If you haven't heard of Beddy's, you are in for a treat. Their bedding is so soft and cozy, and the coolest part is the way it works. It comes as one piece that you zip closed to make the bed. Basically the fitted sheet, comforter and blanket are all combined to make putting your bed together a breeze. Keeping the bed tidy and always perfectly made is zero effort! Beddy's is a must try.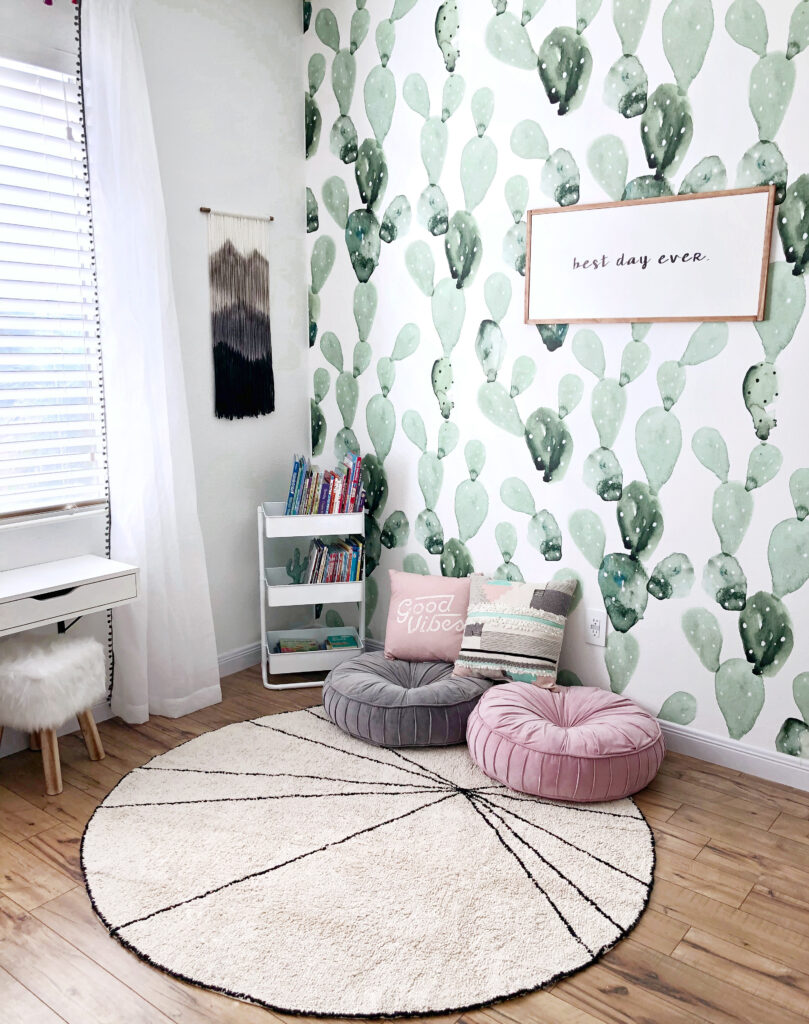 I have been a long time fan of Lorena Canals Rugs. They have a really unique selection, they're so soft, and can be thrown into the washing machine whenever the kids make a mess! I knew this was the perfect choice for the playroom. We have one in Tegan's room as well, and now that I have had a machine washable rug- I wouldn't choose any other brand for my kid's rooms.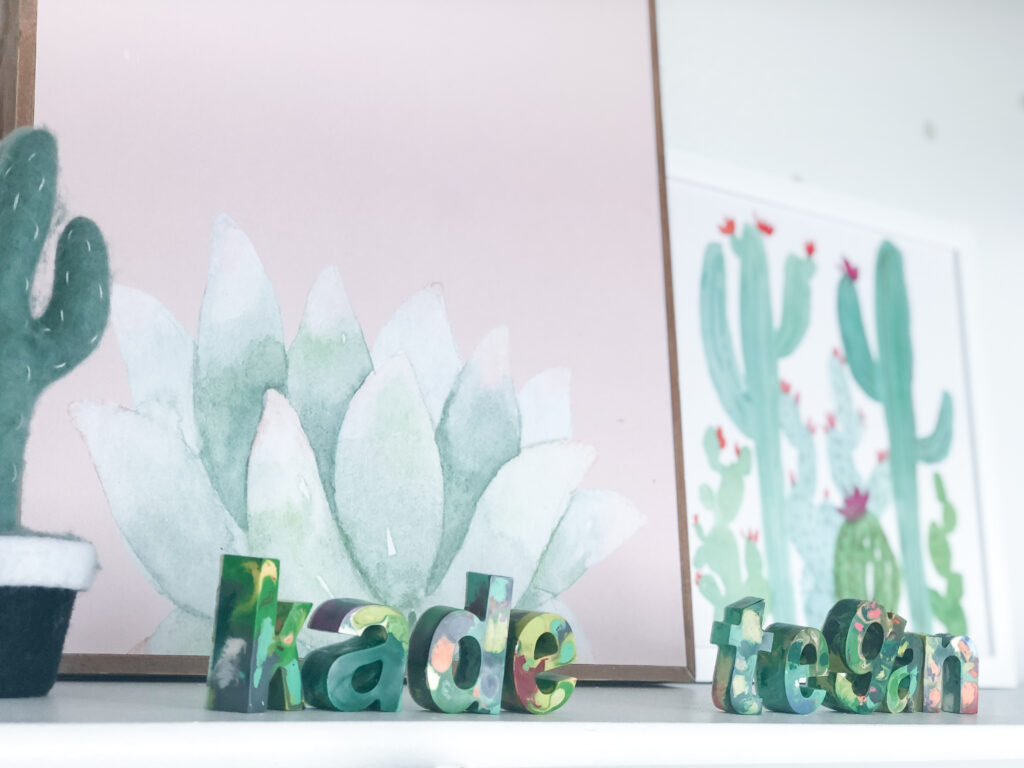 If you're looking for unique decor items for your playroom, I have some great companies to recommend! Goldie Letter Co and Mariya Eleanor Designs both create gorgeous art pieces for your home- and Art 2 The Extreme molds hand-made crayons into different shapes. She can create anything from a donut to your child's name! Perfect for a gift.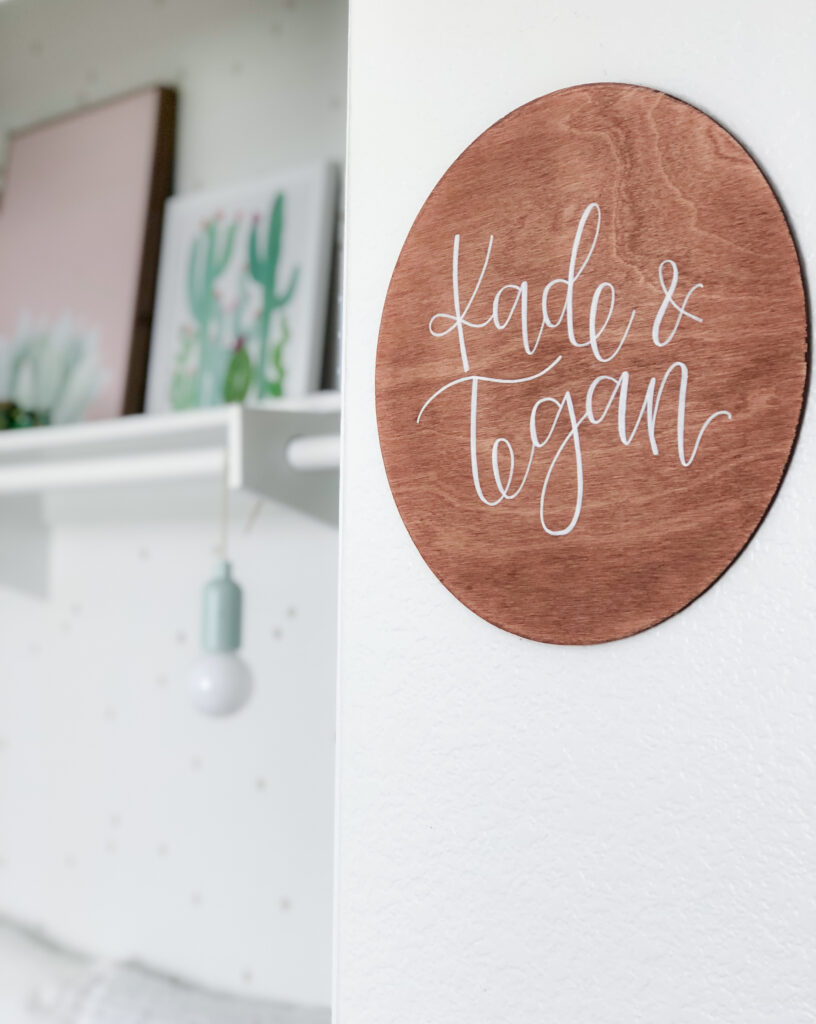 This hand lettered sign by Goldie Letter Company makes my Mama heart melt. She has many other fun items for the home as well as the sweetest baby announcement signs.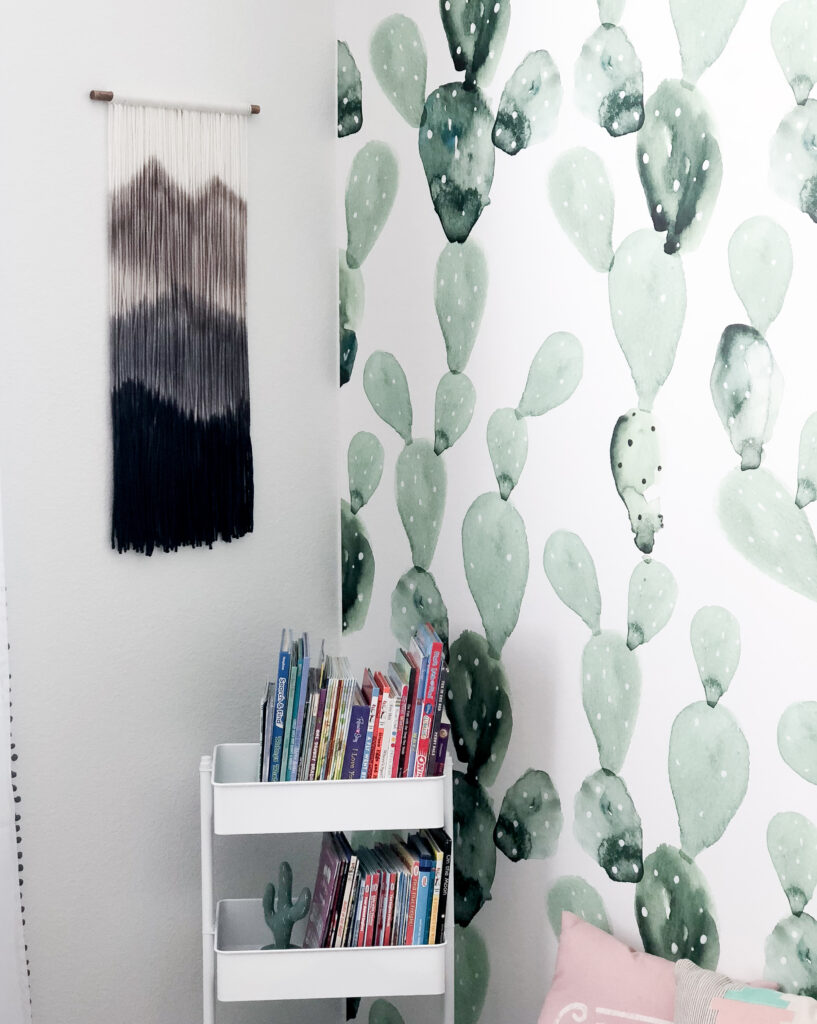 Mariya Eleanor Designs, dyes her wall tapestries by hand and can create just about any color combination or size your little heart desires. Such a conversation starter and very unique! I love the different shades of gray she used.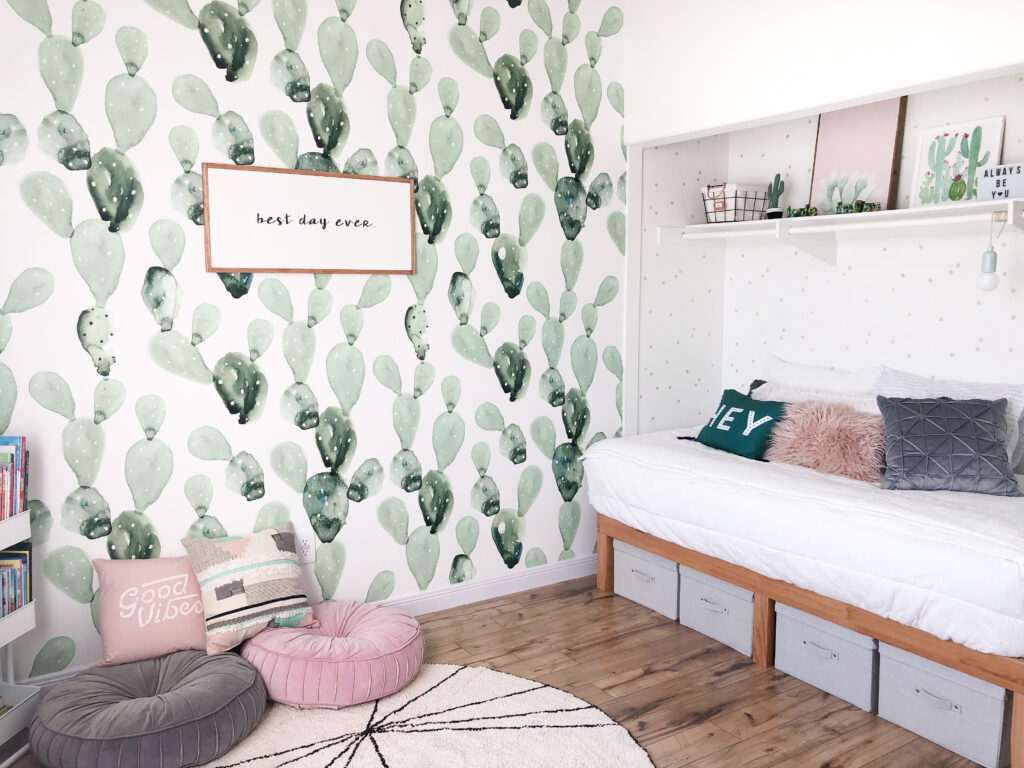 To say I am obsessed with this wallpaper would be an understatement. I am SUPER obsessed with it. Does it not just make the room? Gorgeous patterns, quality material, self-adhesive wallpaper- that is what you will find at Rocky Mountain Decals. You will fall in love! They have a pattern you will love for any room or style.
Another one of my FAVORITE companies is Royal Design Studio. If you are looking for a stencil for a project, this is the place to go. Their stencils are excellent quality and they have a huge variety to pick from. My master bathroom floor was done with one of their stencils as well. The simple polka dot pattern of the Firefly Bonnie Christine Wall Stencil is perfect for the entire area behind the bed. It may be simple, but it also makes a big statement.
Little Adventure Dress-ups has the best dress-up clothes! Everything in Kade and Tegan's costume corner is from Little Adventure. They have such a fun selection, are well-made, and can also be machine washed. It is so dang cute seeing them run around in these!
I also made these matching magnetic chalkboards. I could hardly keep them away from this when I was trying to take photos, they love them! I will have a blog post up soon with this tutorial.
Also, the pendant lamp with macrame style cord was a major money saver- DIY WINNING with that one, click here now for the full tutorial!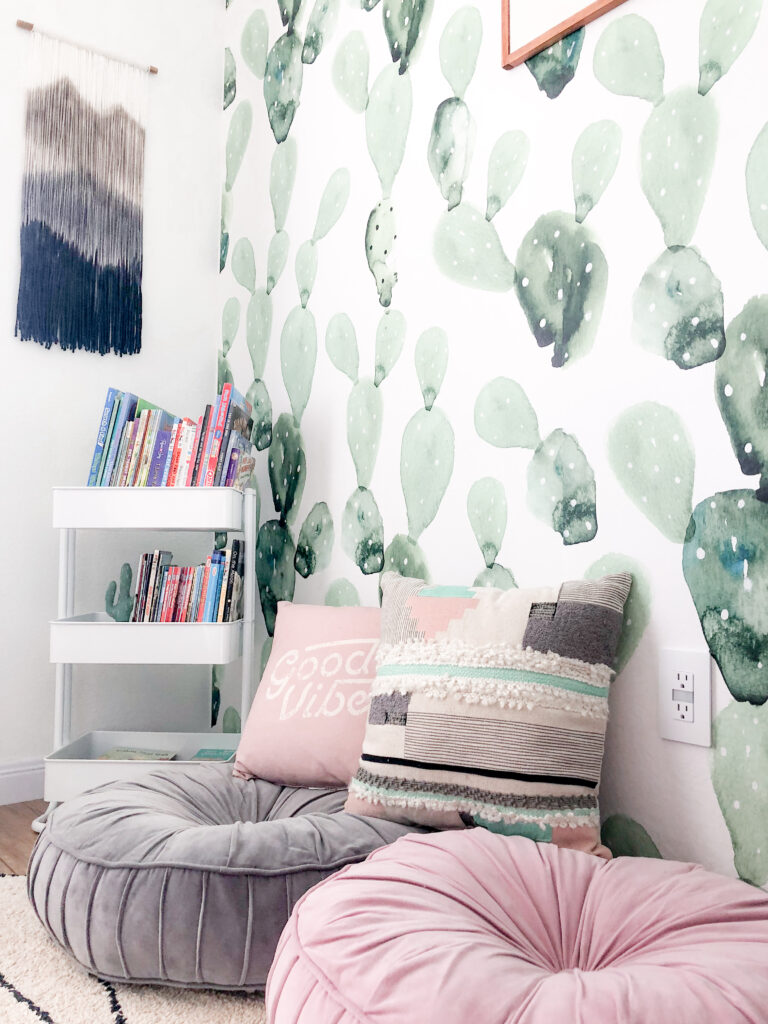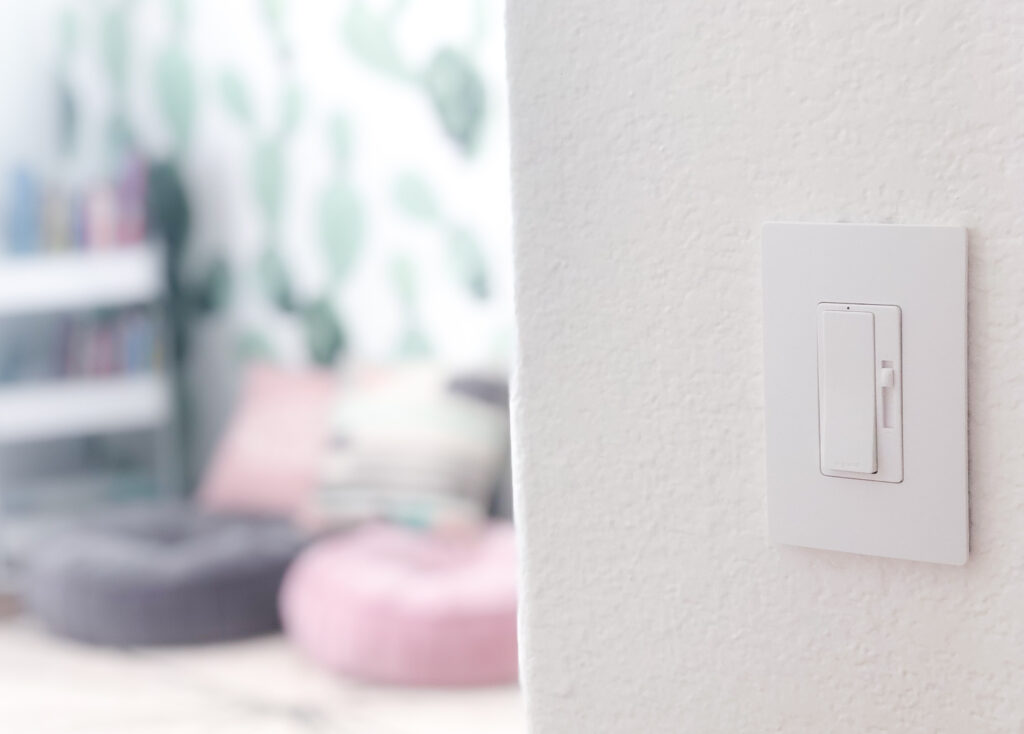 Don't forget the final touches to your room. Your blinds and even outlet covers make a huge difference when updating a space! The outlets and light switches from the Legrand Radiant collection are the cherry on top of this room makeover. I was able to customize my outlets to the needs of this room. We have a USB charging outlet under the desk, a night light built into the outlet next to the bed, and a dimming switch for the pendant light. They are so easy to install as well, all you need is a screwdriver! Who knew an outlet could make you so happy?? Well, now you know where to find them!
You can also find my blinds HERE, which are automatic and solar powered. The company is called My Smart Blinds. I have these in the living and dining room as well. You never knew you needed your blinds to open automatically, until you get these in your home!
I hope you find some inspiration in these fun playroom ideas for your own home inside this room!
Thanks for all the love and for stopping by!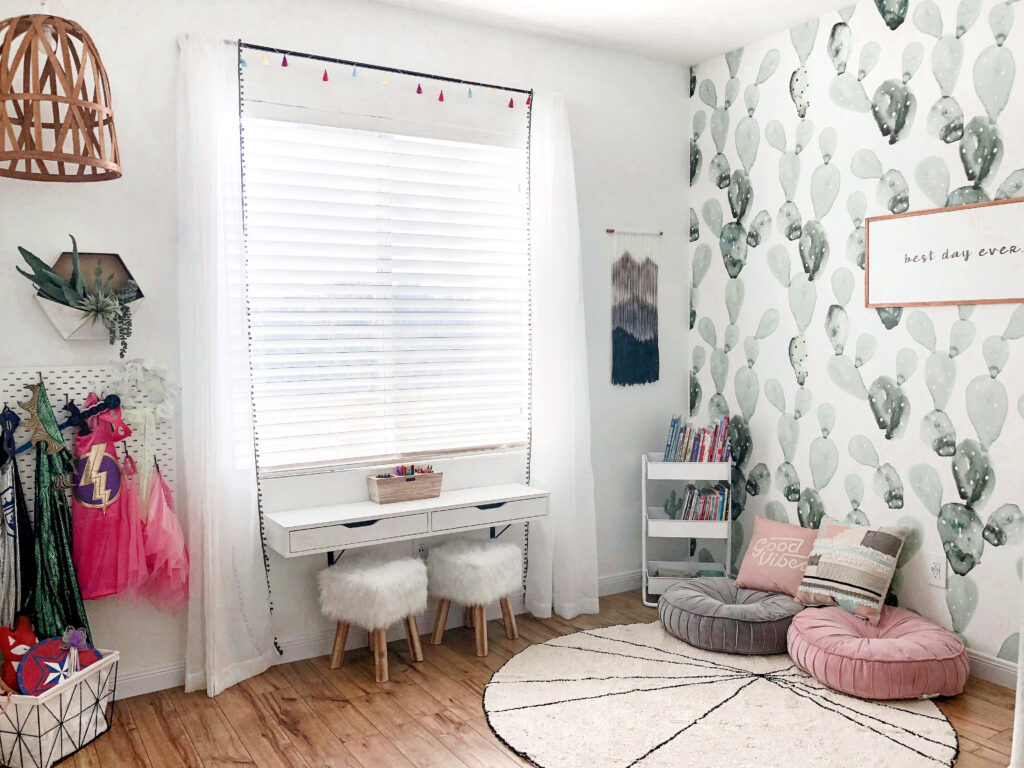 This playroom ideas post was sponsored in part by Beddy's, Rocky Mountain Decals, Little Adventure Dress-Ups, My Smart Blinds, Royal Design Studio, Legrand Radiant Collection and Lorena Canals Rugs.
Shop these Playroom Ideas Below:

XOXO,