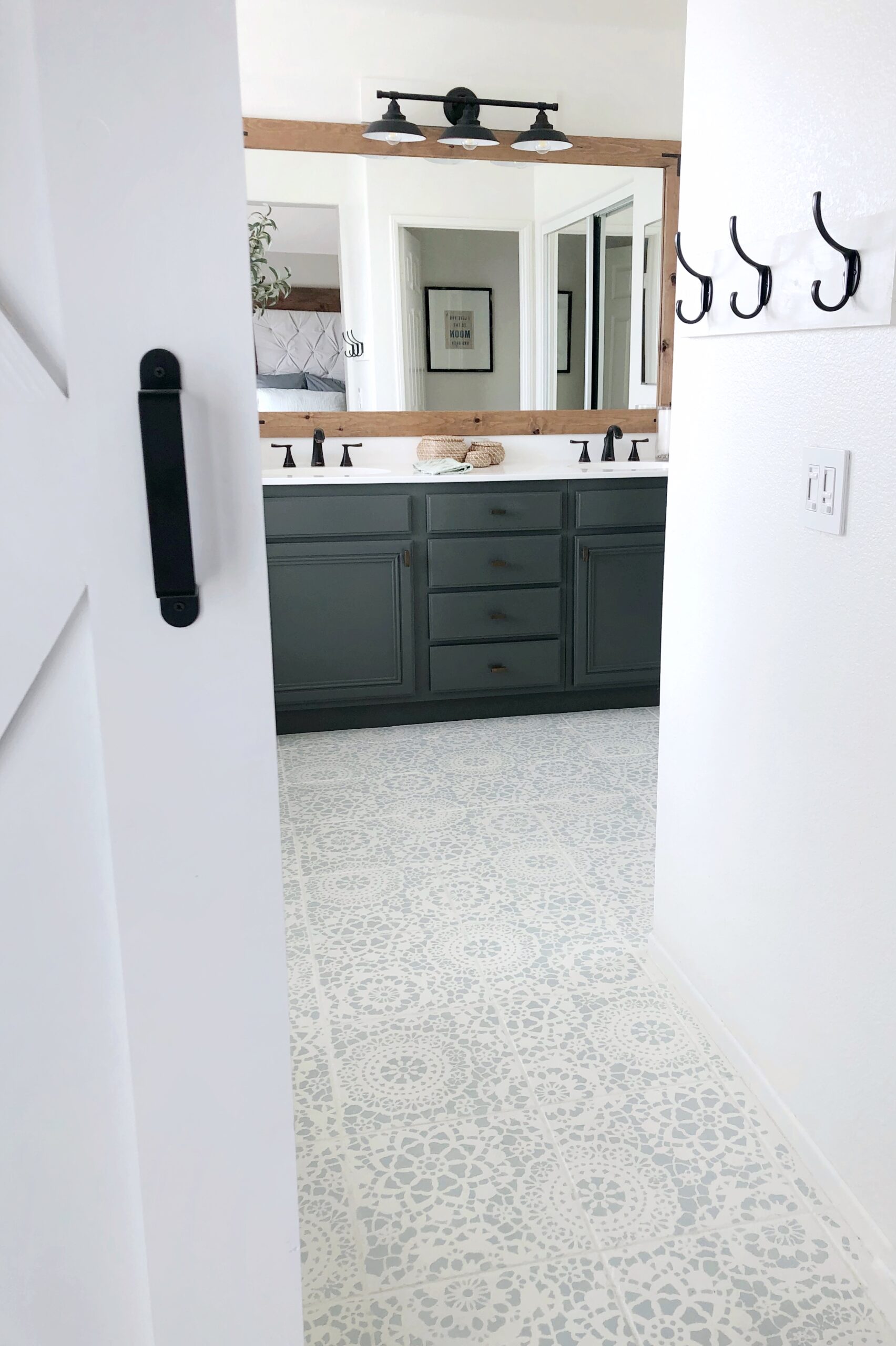 This website may use affiliate links. When you purchase products from an affliliate link, I make a small commission.
Hiii! I have been in some serious Mom mode lately and slacking on my blog posts! That's life I guess- Just flying by so fast! Like, oh dang, I completely forgot that I had other things in my life that I also love- besides my little offspring. It feels so good to be typing away on here again.
So often I get questions about my Master Bathroom and the tile floor that I stenciled. How is it holding up? Are you happy with your product choices? Paint colors, etc… I wanted to give you an update on my pretty, stencil tile floor! She's doing awesome, she has a boyfriend now. JK. Honestly though, I still love our stencil tile floor and am super happy with my product choices. (Here is the tutorial, if you are looking for that specifically)
This post contains affiliate links
I love my Zinsser Primer. I use it for every project needing primer and it covers beautifully. This was the first coat I laid down on my floor- just one coat and that was sufficient for me. I had a reader at one point mention that they thought I should have sanded the floor before laying primer to ensure the primer stuck. I absolutely agree! I have only had two tiny little chips in the paint so far, and one was from a big metal pipe dropping down on it…but if you plan to do this in a higher traffic area- or you just want some extra insurance that this wont chip, then do it! I would use a very low grit sandpaper (maybe 80) to get it good and rough before painting on your primer. Why not?? I love to hear suggestions from people, we can all improve from that!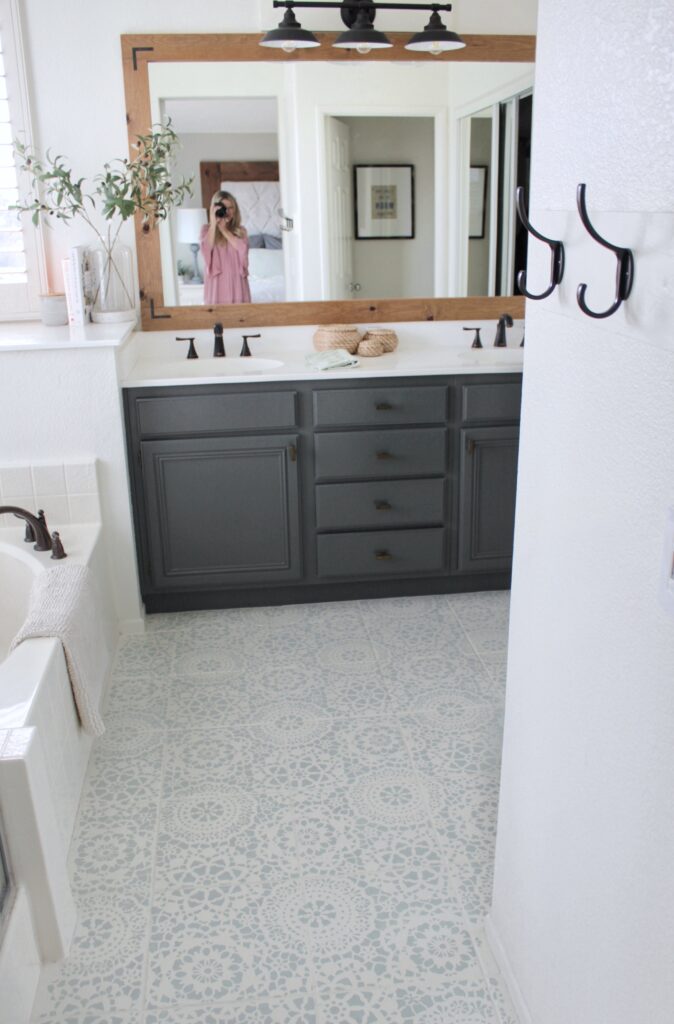 The paint I chose was Behr Porch and Patio Paint. Made for high traffic areas, and also areas with moisture. Perfect for a bathroom. I color matched the paint to Benjamin Moore's -White Dove and also to Sherwin Williams'-Rainwashed. I thought this color would have more of a green look to it, but it is definitely a blue- so if you're looking for green tones, choose something different. I also painted my entire bathroom in White Dove to ensure the white undertones matched. (I swear, white paint is the hardest color to choose. But that's a whooooooole other blog post) White Dove is on the warmer side, so if you'd like something just all around WHITE, not warm or cool- I love Benjamin Moore's Oxford White (I used this on my kitchen cabinets). You cannot go wrong with that color.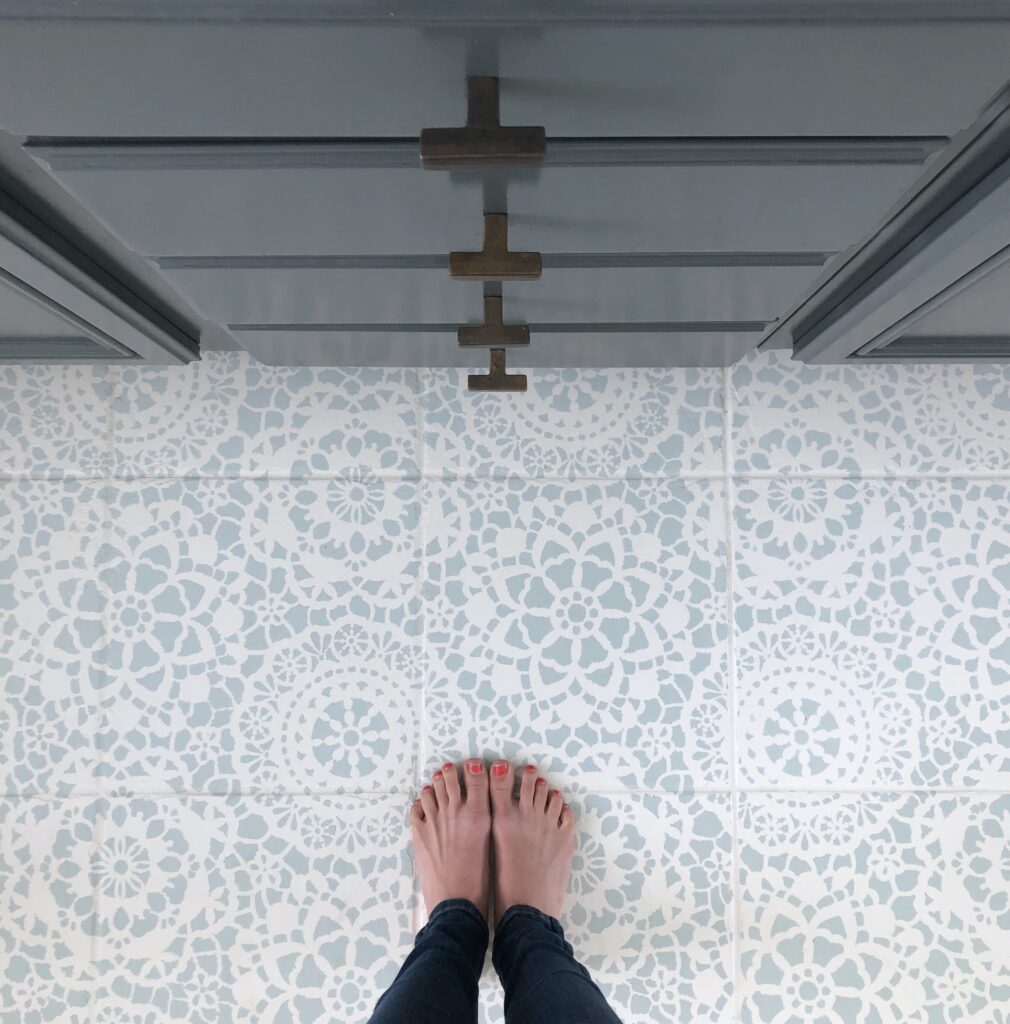 The stencil I chose is a gorgeous all-over pattern. LOVE LOVE! Do NOT try to save money on your stencil. You need a nice, thick stencil for a large project like this. If you purchase a cheap stencil, it will be thin and you'll end up with a mess, trying to keep the paint where you want it to go. THIS is the stencil I used. Royal Design has great stencils and a ton of choices. I personally recommend using an all-over pattern like this. DO it! It's super forgiving, covers over any size/shape of tile so well… Miss bossy pants over here. But, just do what I say OK. Just kidding.. but do it.

Now, there is ONE thing I wish I would have done differently….! I wish I would have used a stencil adhesive spray. Like I said, the all-over patterns are very forgiving so it's hardly noticeable- but, I believe the paint job would have been a little cleaner and lines sharper if I had used one. HERE is a spray you could use- just a light spray on the back side before you place the stencil down each time.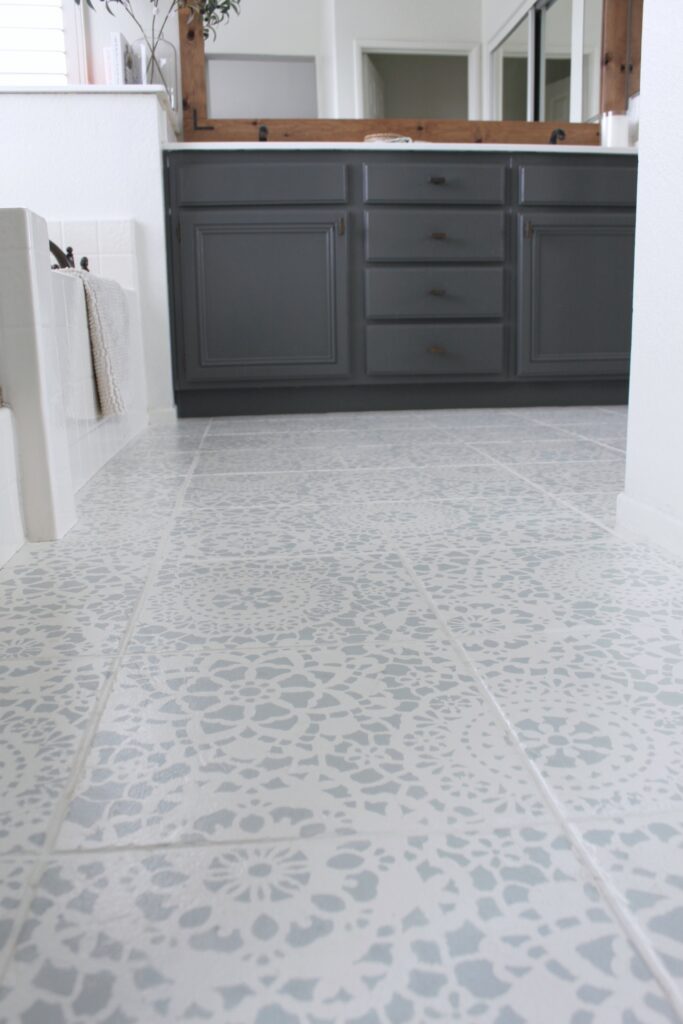 Overall, I am still loving my stencil tile floor and if you're on the fence about trying it DO IT! It's going to turn out amazing and you will impress alllll your friends.
Shop all Products in my Bathroom below!

Happy (and confident) Stenciling!
XOXO,