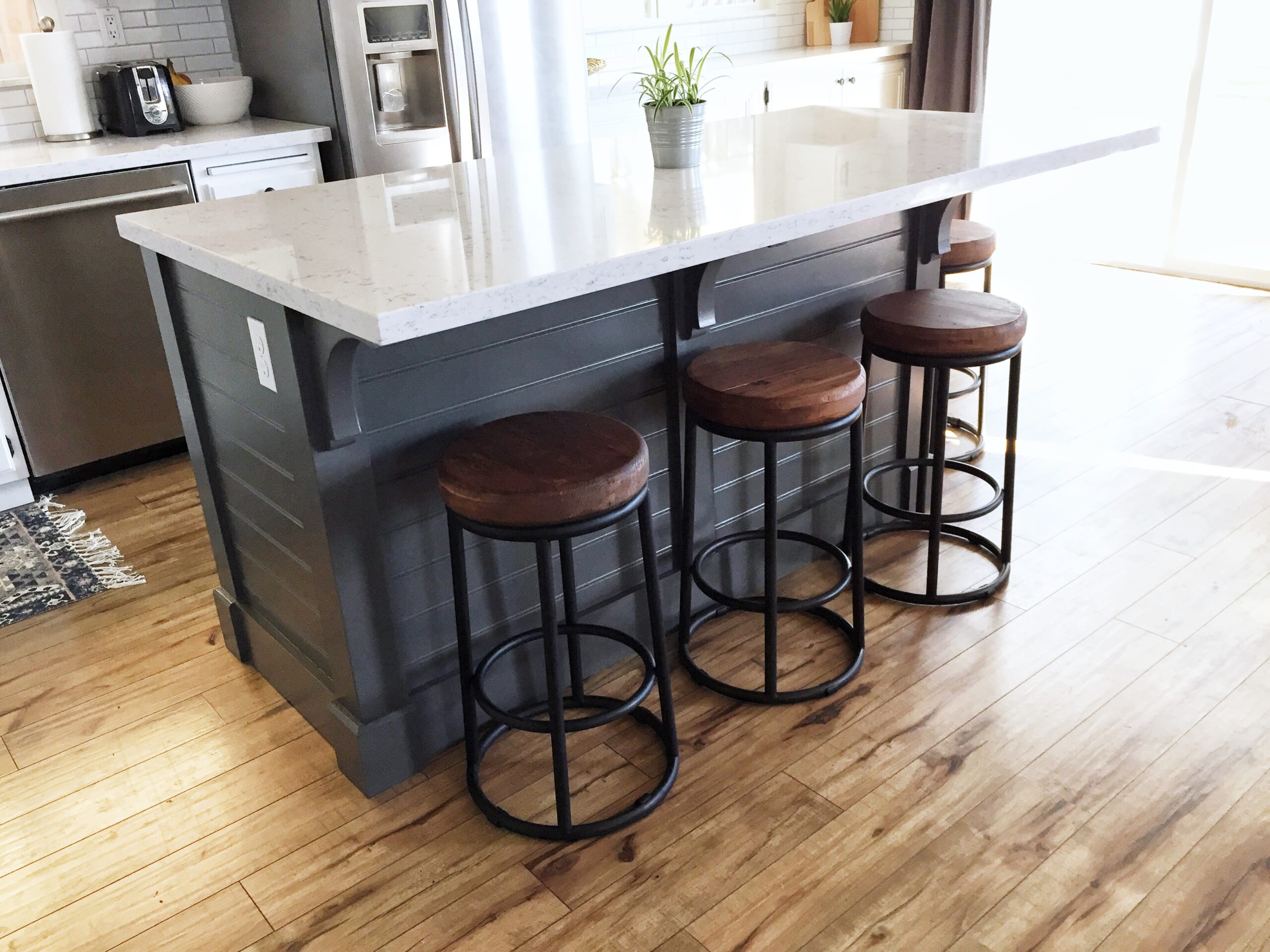 This website may use affiliate links. When you purchase products from an affliliate link, I make a small commission.
If you or someone you know is planning a kitchen revamp anytime ever, then this is a post you want to read! Creating your own DIY kitchen island will save you HUGE bucks!
I researched all the different floating kitchen islands I could purchase and install into my kitchen. Our existing island was so awkward. I can't even explain to you the shape of it… it was like a mix between a triangle and a half-circle? Not only that, but the area really only allowed for a couple barstools to be used. It needed to go. I had dreams of a nice long, rectangle shaped bar, but what I wanted would have cost thousands of dollars! That's not including the quartz countertop that would still need to be installed.
once heard of someone using base kitchen cabinets for a desk base. There's no reason they can't be used for an island. They are normally a standard height and depth, so you know they will match up perfectly with your existing cabinetry! This gives you the freedom to make your island the size you want, and incorporate whatever type of storage you would like, as well. I mean, it's so good!
DIY Kitchen Island Tutorial:
You will need some tools for this project, but heck, you could rent/buy/borrow… and still be saving a ton of money. You will need a nail gun, chop saw and table saw.
Ok let's get started on this DIY kitchen island project. (This post contains affiliate links)
To start off, I used my measuring tape and painters tape to mark off an area I thought would be ideal for the size of the island. I left the tape on the floor for a few days just to get a feel for how walking around it would be. We don't have a ton of extra space, so I wanted to make sure that I didn't go too big.
I decided on a 60" length. This was just the base. I had the countertop extend over on two sides to create an area for seating. I believe the countertop extended over approximately 13 extra inches both ways.
I went on the hunt for affordable base kitchen cabinets. The price range you will find out there is huge! If I wanted to pay a million bucks for a cabinet, I wouldn't be making this myself. Ya know what I mean? I recommend Home Depot. I purchased a 30" cabinet with double doors on the bottom and a nice, large drawer on top for around $95. I got about a $30 discount because the toe kick was missing, but I didn't need that dang thing anyway. I was planning to make my own later on. So, I scored! HERE is the cabinet I purchased.
Now, for the second cabinet, I actually had it made by a carpentry guy I found on craigslist. The reason being, I wanted an opening for my microwave. If you try to buy this type of cabinet online, you will pay $500 and up. That is just dumb. So, I found a guy to make me a 30" microwave cabinet for $250. Deals, deals, deals ya'll. Find the deals.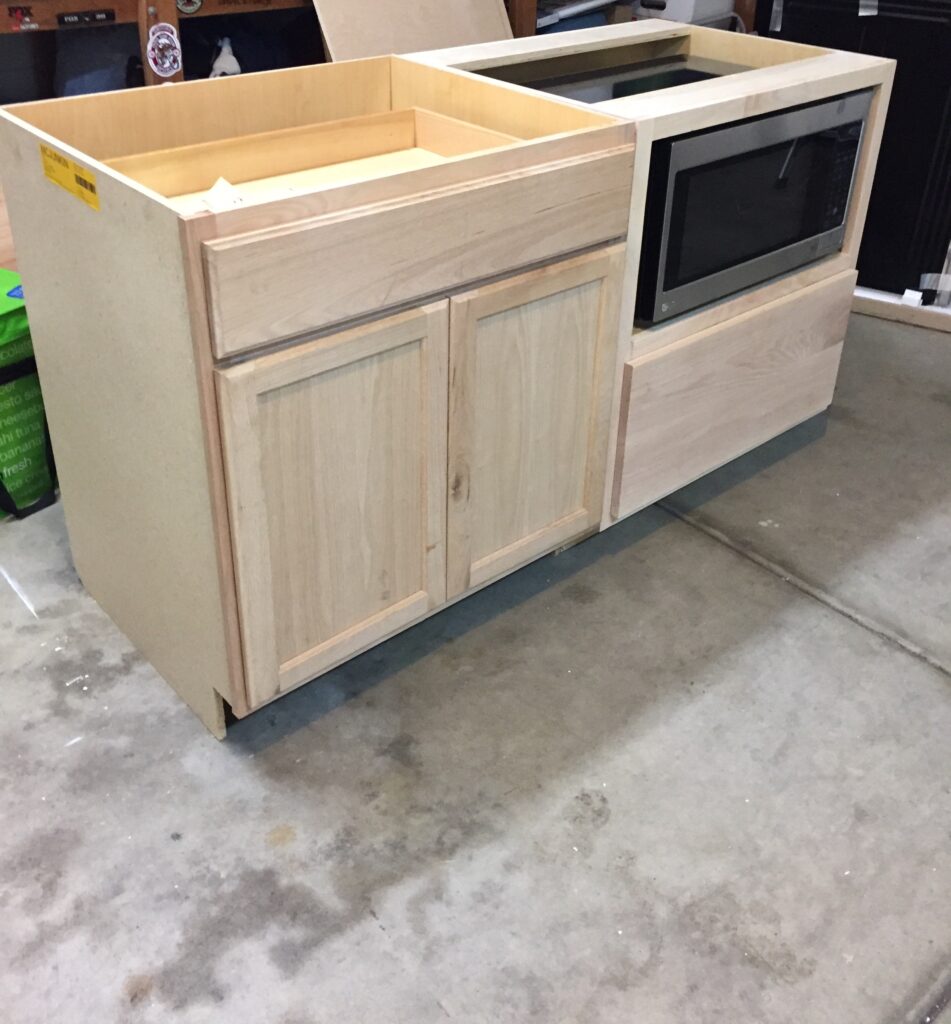 Once we did demo on the old island (peace out), we could decide exactly where the new one would sit. 3-3.5' is a good distance to have your island from your appliances. It gives the right amount of space for walking and opening doors.
Steps for Project:
You will need (4)- 2" finish screws to attach cabinets together.
Drill a hole with slightly smaller bit first, to make this easier. You will do one hole on top, and one hole toward the bottom on the front side of the cabinets. I'm SO sorry, I don't have a picture of this step. Where I have circled in the photo below, is the area you will screw your holes to attach both cabinets. On the inside, so it is hidden. Obviously.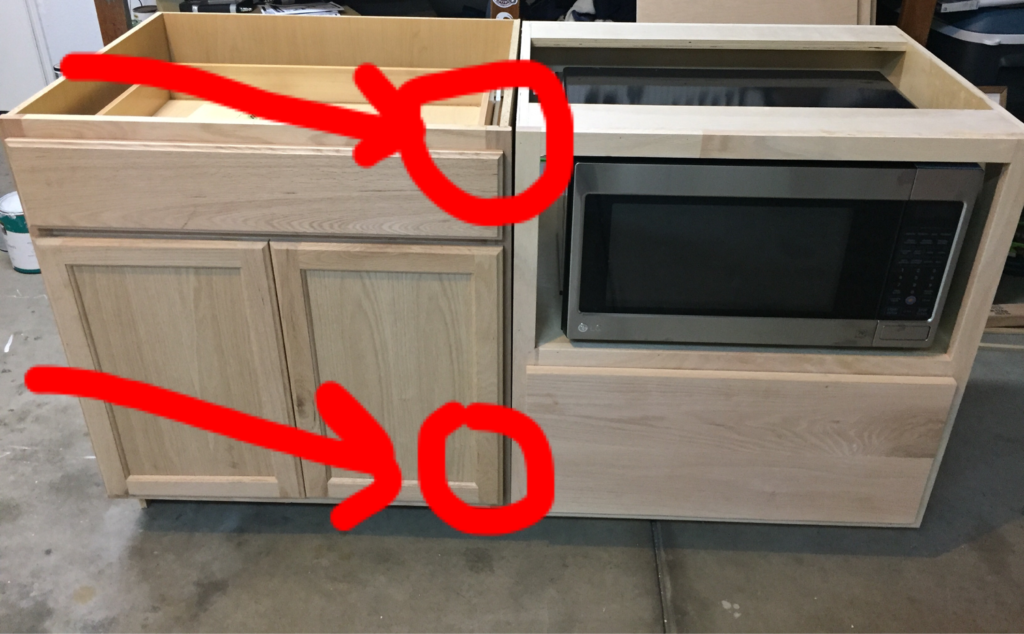 Once the front is attached, take a 1/2" piece of plywood, and wedge it in between the back end of the two cabinets. The reason you cannot just screw the back end together like the front, is because the front of the cabinets have about a half inch of extra thickness, where the back of the cabinets do not. You need to make up for that little extra space with a piece of wood.
Once it's wedged in do the same thing as the front, pre-drill a hole and then screw in your 2" finish screw. One on top and one on the bottom.
After this step, I attached a nice, solid piece of plywood to the entire back of the DIY kitchen island to make it child-kick-proof. That's all I need is a foot through it. Here I am attaching it.. I look insane. Probably because I was SO TIRED.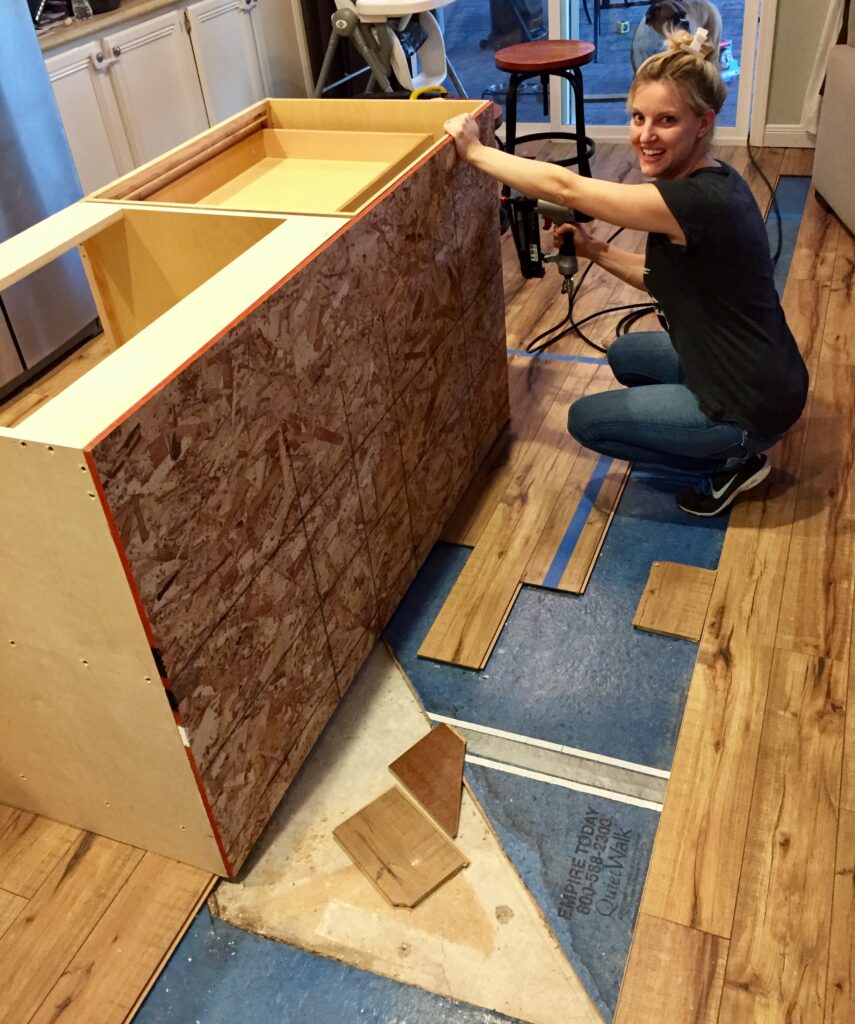 Yes! The cabinets are one solid piece. Now you can style your island however you like! Shiplap, decorative wood X's, corbels, support posts. Whatever you want!
This is the product I chose to use for my siding. It a bead hardboard paneling. I bought it at home depot. I love how the planks are already attached, and it is quality material that is ready to paint.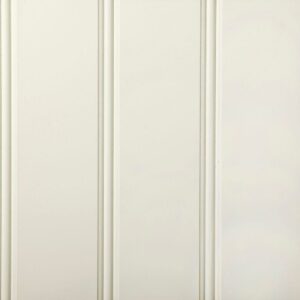 Cut your planks to size length-wise, for the sides and back of your DIY kitchen island. Apply liquid nails first, and then with a small brad nailer, attach your siding. Starting from the bottom and working your way up.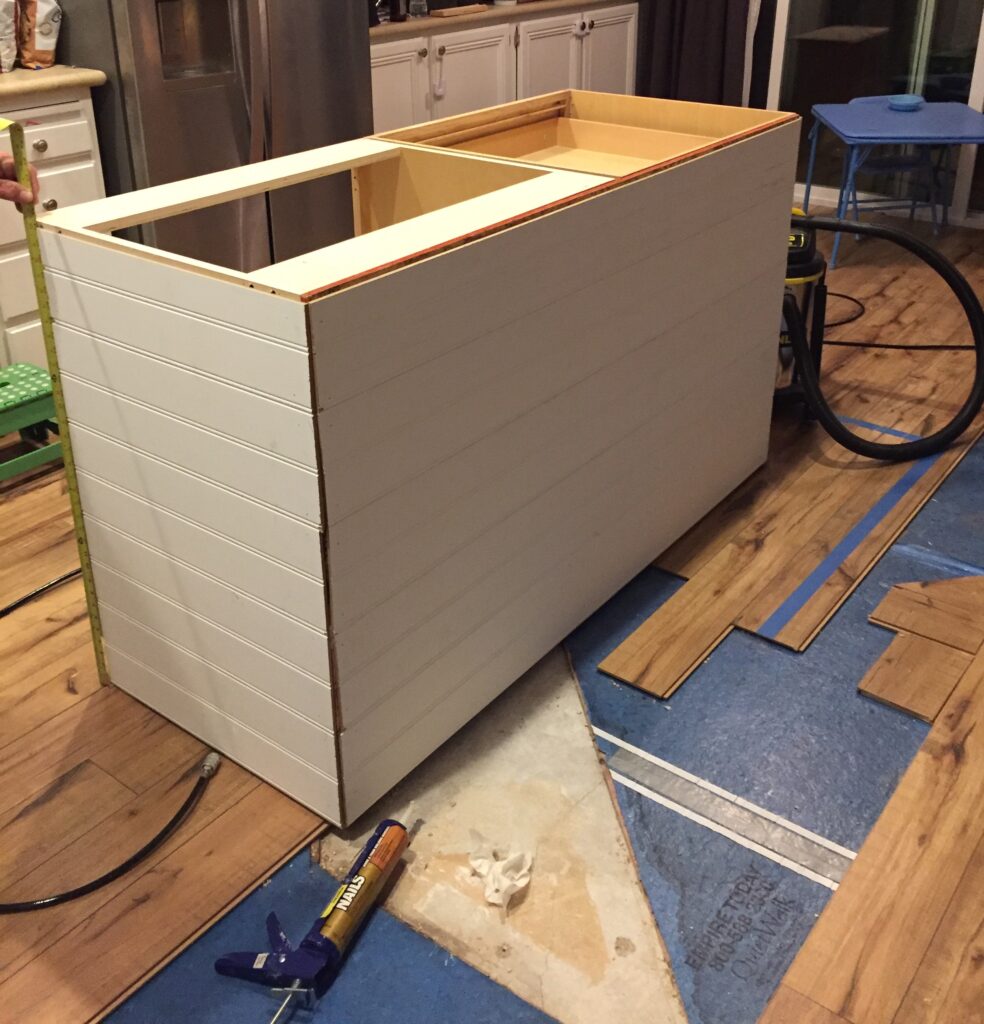 Once the siding was finished, I decided to add a frame around the bottom and edges. Along the bottom, I used a 1 x 6 board. Up the sides, I used a 1 x 4. You will need the table saw or a miter saw of some kind to create the 45 degree angles for the corners. You'll need a nice, angled cut for the 1 x 4's at each corner.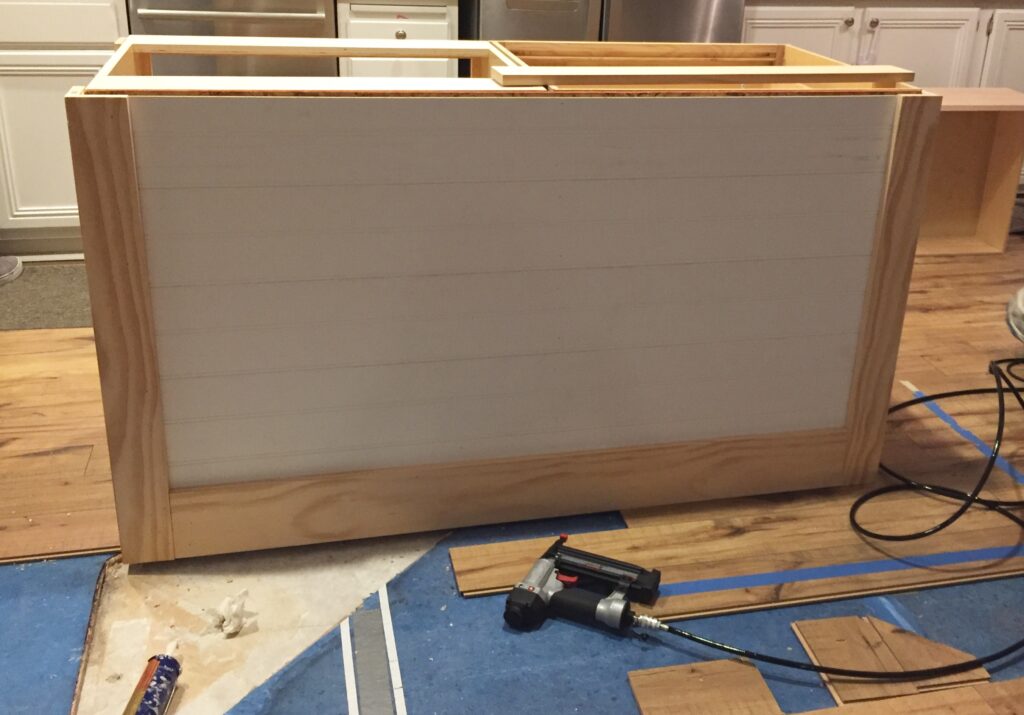 Just to add a little more decorative detail, I added some 1 x 6 squares to each corner at the bottom. These were miter cut at the back two corners to connect as well. Ignore the floor… we replaced some pieces because of the old island we took out.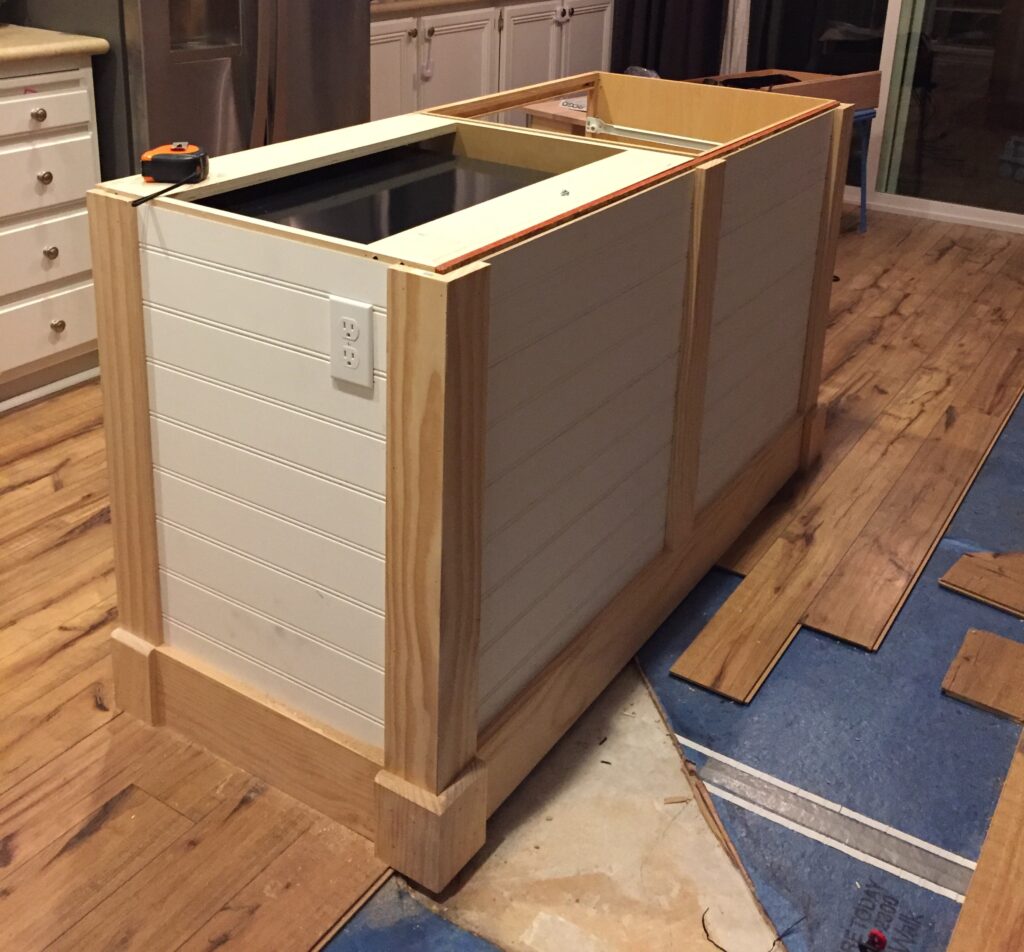 That's It! She is sooooo pretty. I used Benjamin Moore Kendall Charcoal for the paint color. But, I color matched it with Behr's Semi-Gloss Alkyd Enamel paint. This paint is great for cabinets and areas that get a lot of use. I painted our DIY kitchen island before discovering Benjamin Moore's Advance line, which I used on the main cabinets. I am still pleased with Behr's Alkyd paint… but it for sure does NOT go on as smoothly as the advance line. It has however, held up well against spills and clean-ups.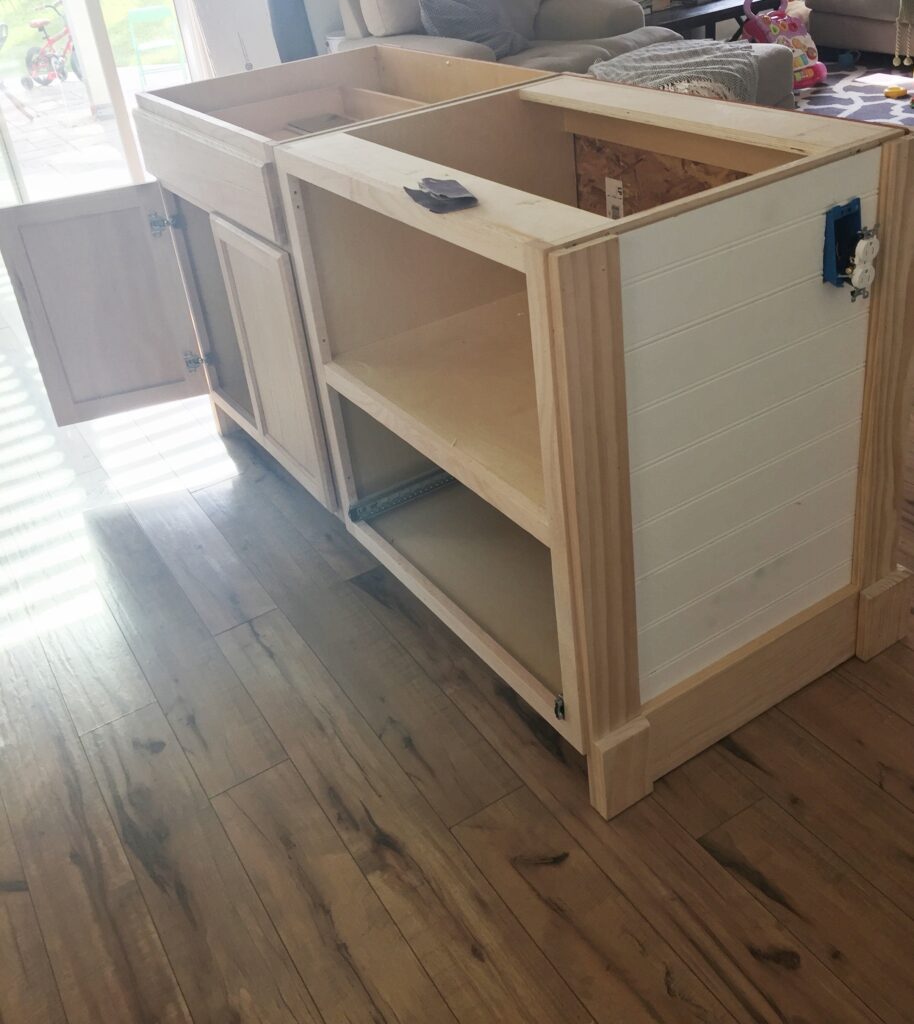 After the counter top was installed, I attached four corbels on top of each of the 1×4 boards for support.
I am super thrilled about our DIY kitchen island.
We were able to add storage and hide our microwave inside, as well as add more seating. We love it!! (the electrical is a whole other topic. But, yes, you can run your existing wiring into your new island! It's not too hard)
Once again, HERE is the cabinet I purchased from home depot for a great price!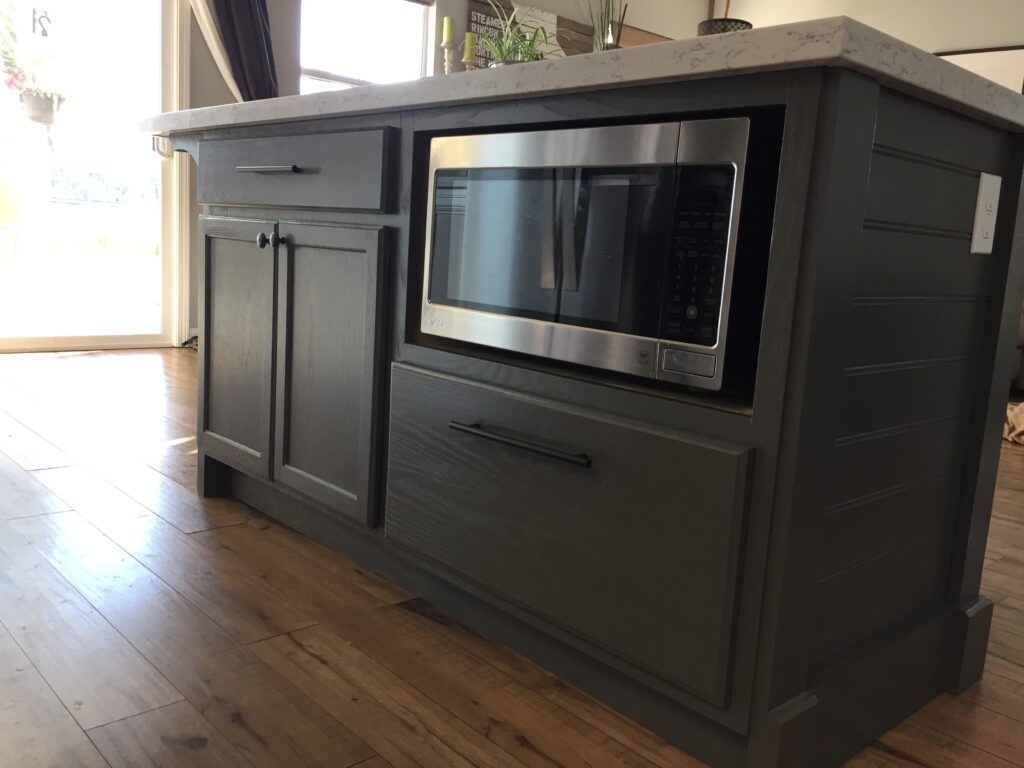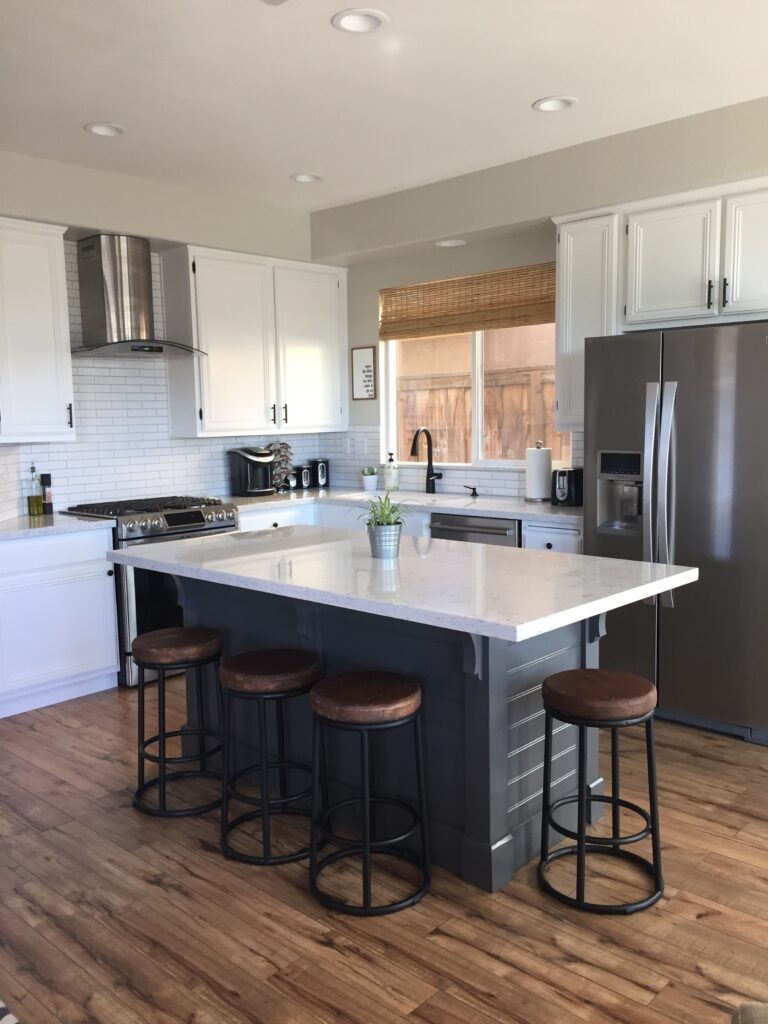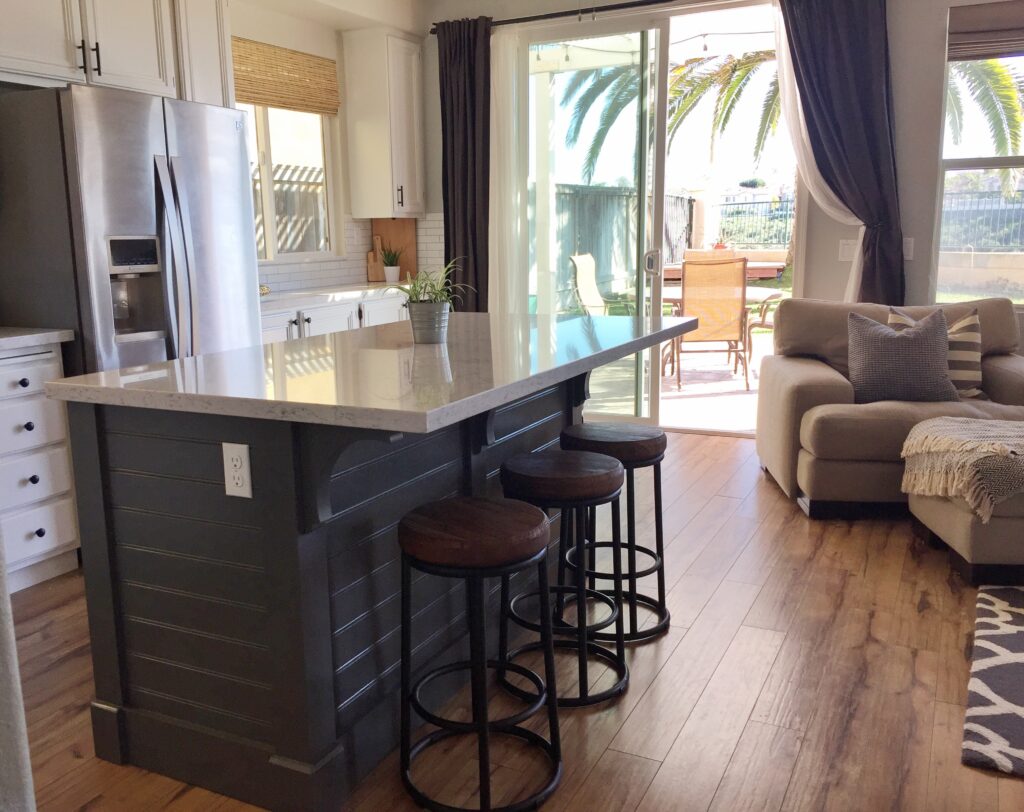 Find these barstools HERE! They are the best!