This website may use affiliate links. When you purchase products from an affliliate link, I make a small commission.
This post is sponsored by Geckskin® Products, but all thoughts and opinions are completely my own.
If you're anything like me, you struggle with keeping some things organized at home. Especially if you are a parent it seems that every time you turn around something needs picked up or put back in it's place. If I don't have a specific spot for something, it will absolutely get lost. I can't even tell you how many times I've gone up and down the stairs searching for my child's jacket, or rummaging through the drawers to find the correct measuring cup. No thank you! I do NOT have the time for that.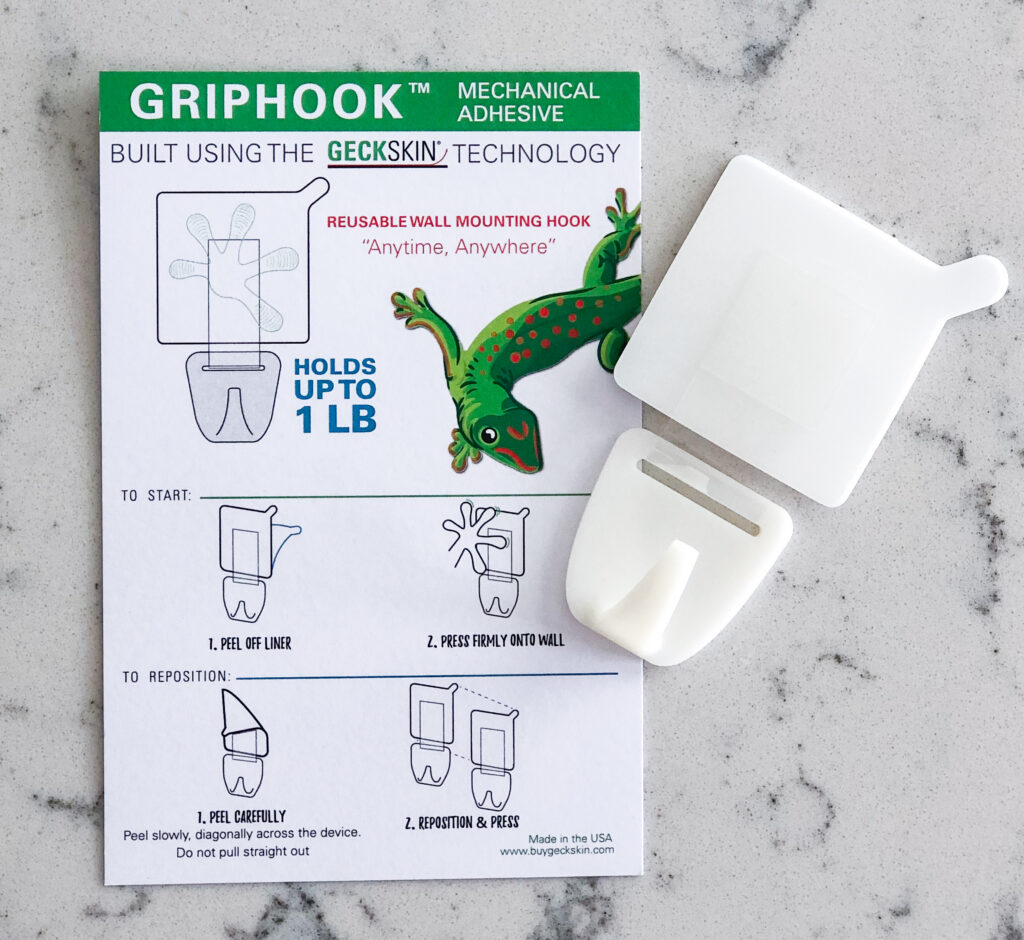 You know me, I say it all the time, I love things that make my life easier. Yes, I am totally on board with products that help keep me sane and my mom brain in check. I found this little product that does just that. They are called GRIPHOOKS™ by Geckskin®. It is a small 2 1/4″ square that when you peel the back off, you are able to press it to any hard surface providing a hook that holds up to a whole pound of weight. It won't ever damage your walls, and the best part is that it can be reused multiple times. Which is actually perfect for someone like me who is constantly changing things around in the house.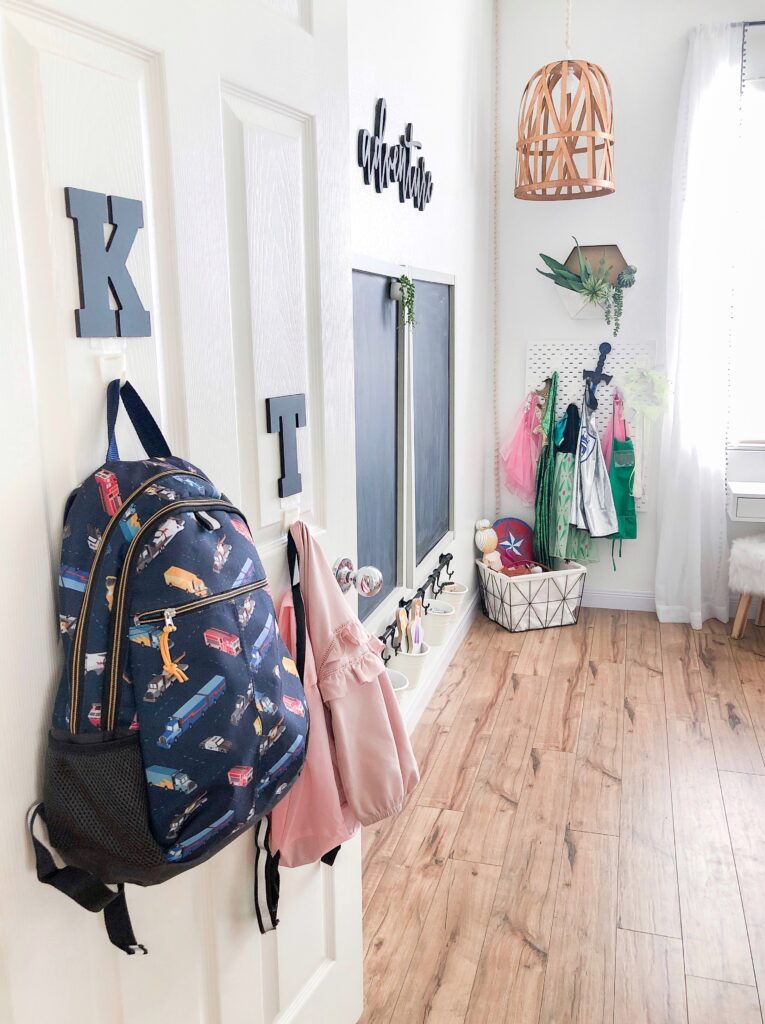 I was able to use this product in the playroom to easily create a designated drop-station for the kid's backpacks and jackets. Also, I removed the old pegboard hooks and replaced them with GRIPHOOKs™. Am I the only one who loses their mind with how often pegboard hooks pop out of the holes?? Especially when kids are grabbing dress-up clothes all the time, they never stay in place. The GRIPHOOK™ was the perfect fix!
The product's Grip & Peel™ capability allows them to be damage free, reusable and support weight, which has never been done before. The company's founders mimicked gecko-like attributes when they created this product. The way the hook hangs just below the adhesive square, distributes the weight and allows you to peel and re-stick elsewhere. It really is such a cool product, the thought and science that went into it is fascinating.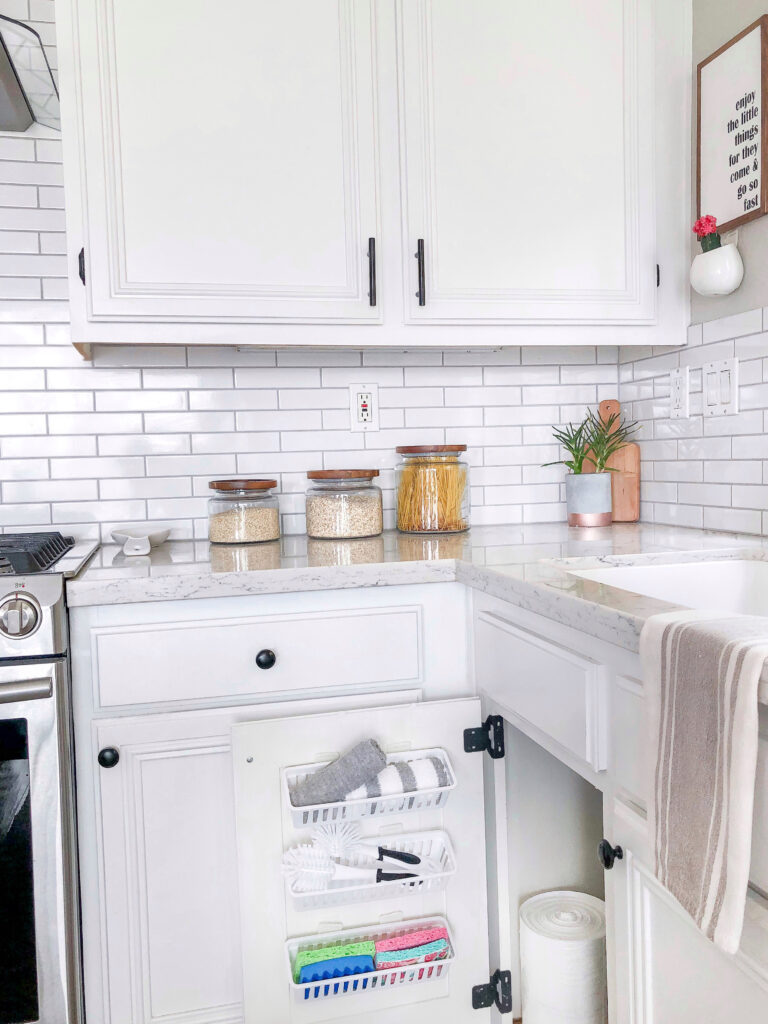 All other well-known products similar to this which stick to the wall as a temporary hook solution, will leave an awful residue and more than likely damage your walls when removed. Also, once you pull it off, it has to be trashed. That's what is so great about this product, use it in the kitchen to hold a plant one week, then when you need a change move it to the closet to hold your jewlery. No mess, no stress.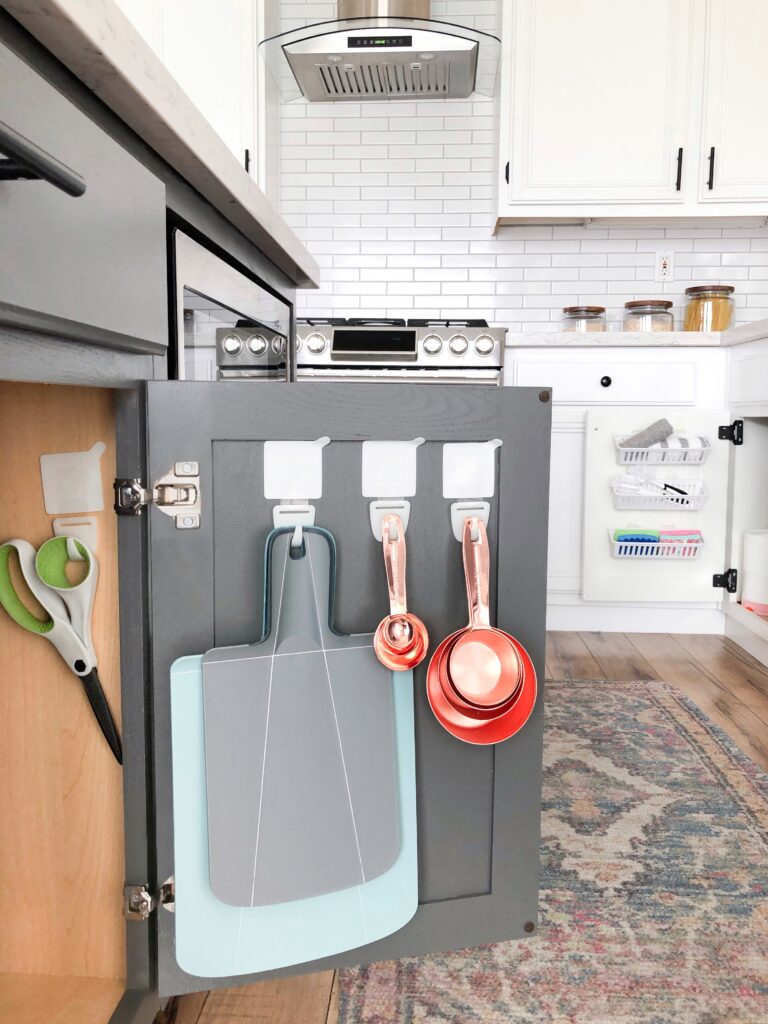 Some of the ways I currently use this product at home:
Organize items under the kitchen sink such as sponges, dish brushes, dish towels.
Hang measuring cups and spoons for easy access
Hang cutting boards
Stash scissors out of sight from the kids
Drop-station at playroom door for kid's backpacks and jackets
Pegboard hooks for the playroom that actually won't fall out!
Hang small plants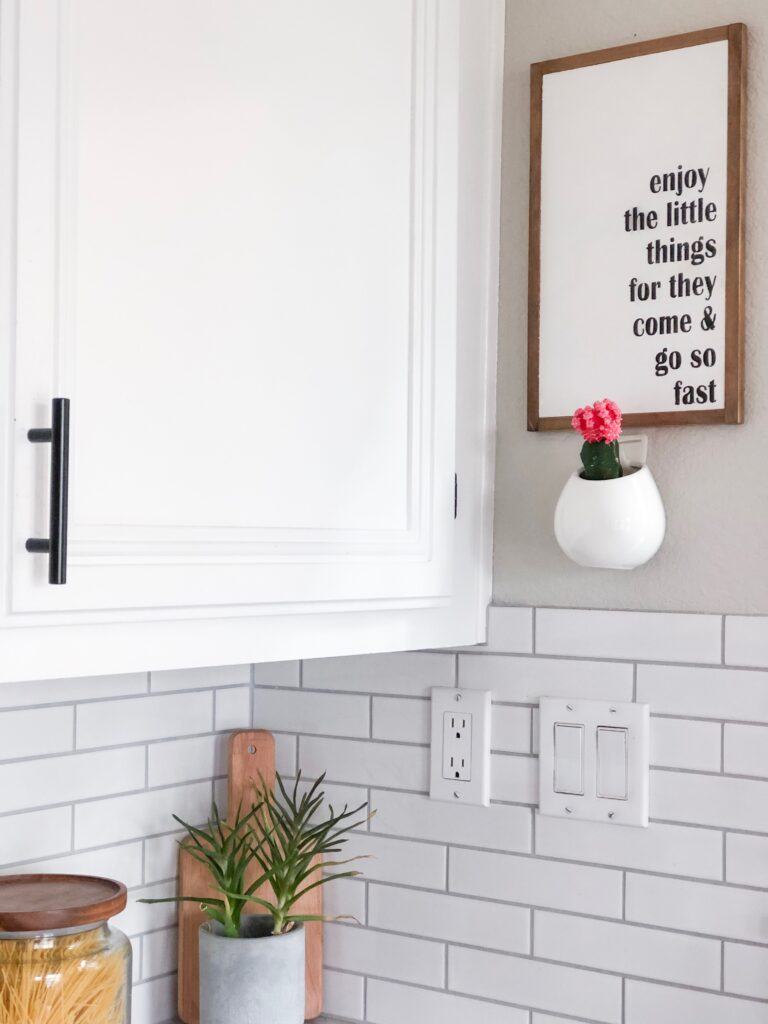 A few other products from Geckskin® include the GRIPHANGER™, GRIPLOOP™, and GRIPTILES™. Each product has a different purpose and make life a little easier!
So many ways to use these little guys, you are sure to love them. Now excuse me while I hang some of the kid's artwork with my new friend the GRIPHOOK™.
Have a great day!
XO,