My husband is a Firefighter Paramedic. He works long hours at a very busy station, with often no time get a meal in. I am a stay at home Mama to our two babes (which actually, now that I think of it, has that same job description ha ha). I found myself always having the good intention to make breakfasts ahead of time so there would be something for him to take to work in the morning… but we all know how that goes. Life is busy, it's chaotic, and by the end of the day when you put the kids to bed, the last thing you want to do is whip up a batch of make-ahead egg muffins with veggies, onions, meats… No thank you, I will be falling over onto the couch when that time of day hits.
I finally found
the perfect solution to the breakfast dilemma
– Overnight Oats! This takes less than 5 minutes to prep, before throwing it into the fridge for the night. He can grab them on his way out the door, and they are ready to eat!
I created my own little version with the ingredients we love. Not only is the recipe healthy and filling, but it's also vegan, dairy, and gluten free. So everyone can enjoy these Oats!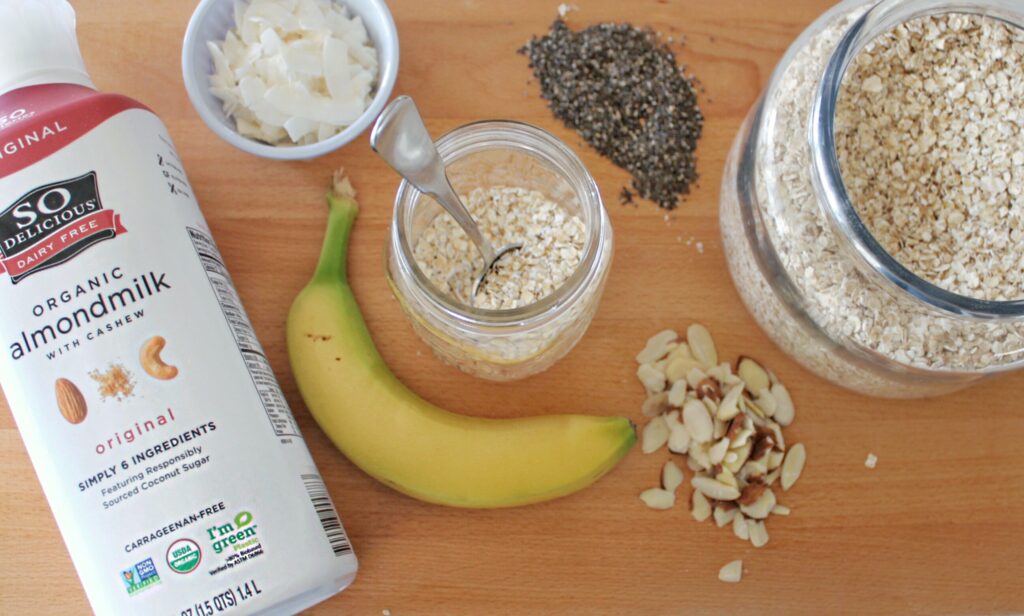 The very best part to this recipe is the
So Delicious Almond Milk
. If you haven't gotten your hands on this yet, do it. Their organic almond milks are made with 7 REAL ingredients or less, so you know exactly what you're drinking. Just 50 calories per serving, and they taste so light and smooth. Heck, even the bottle is made from 80% plants! Finding a product that is organic, non-GMO, gluten-free, and dairy-free means that I can serve
this almond milk
to any of my house guests in my recipes! This is a staple product in my home.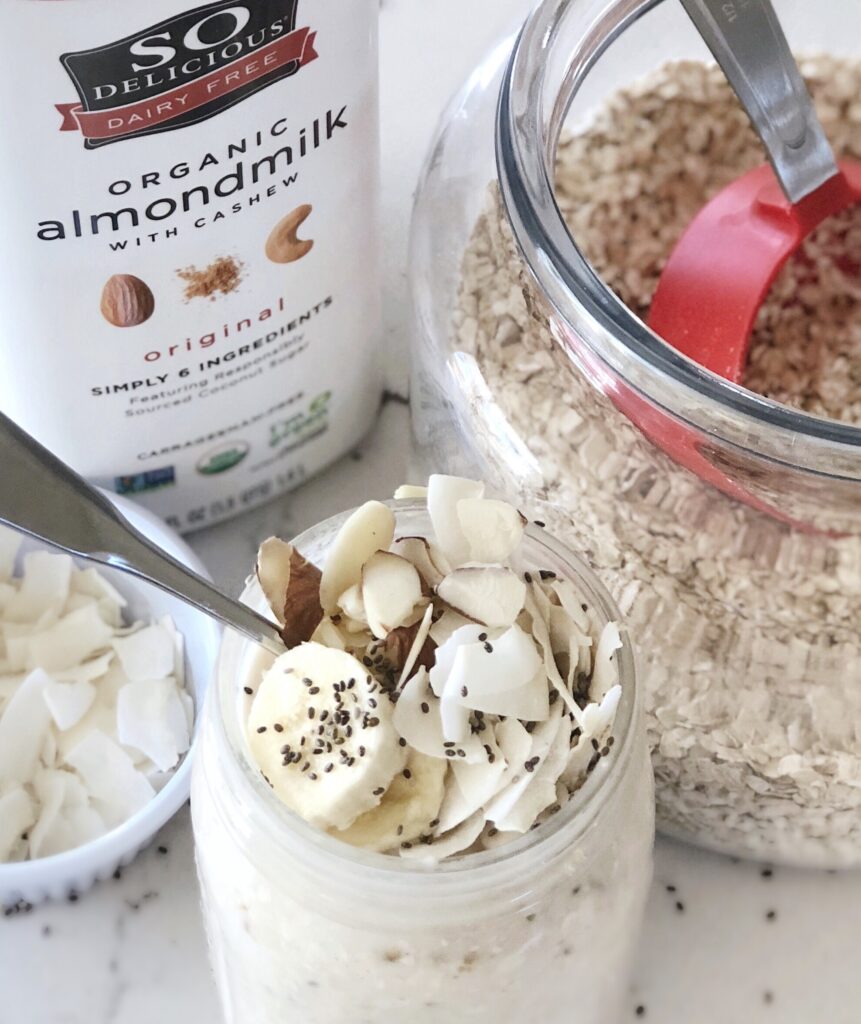 You can find So Delicious Almond Milk with Cashew at your local Walmart. Click
HERE
for a rebate to save on your purchase.
To make these overnight oats, simply combine all the ingredients listed below in a small jar, shake or stir, and cover with a lid before putting into the fridge. It's that easy. Don't forget your Organic 
So Delicious Almond Milk Rebate
!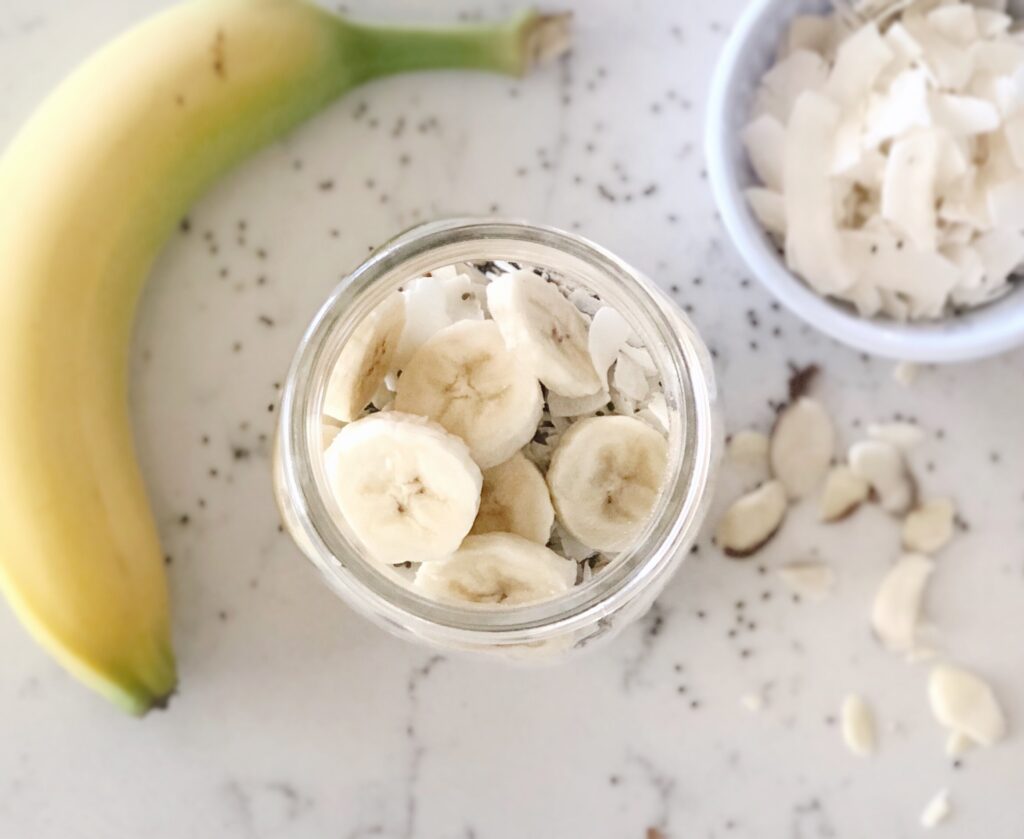 Here is the super simple recipe for these super yummy oats!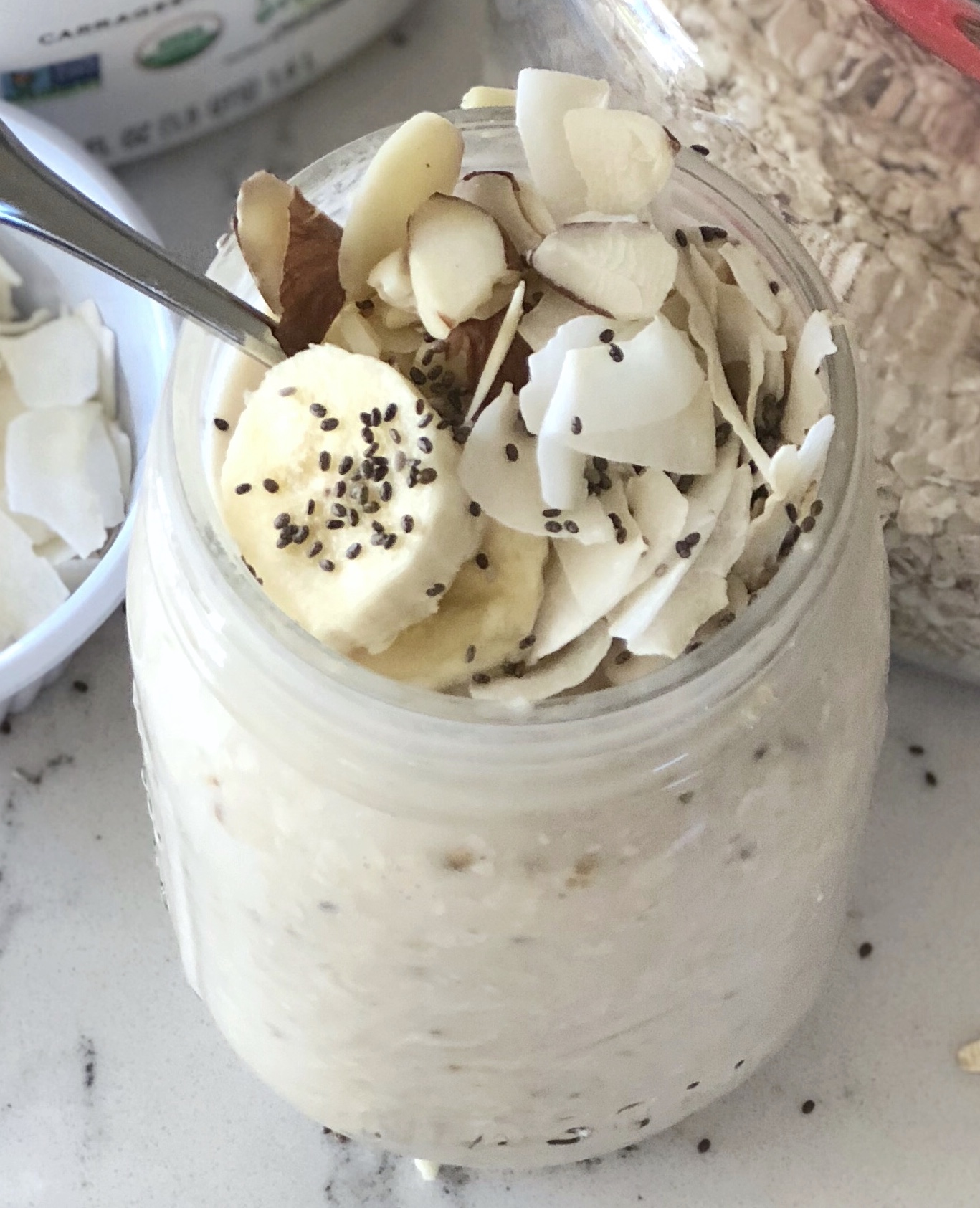 Banana, Coconut & Chia Overnight Oats
This quick and healthy recipe for overnight oats is perfect for a breakfast on the go. Filled with fresh banana, chia seeds, and coconut flakes- it is sure to please everyone in your home.
Total Time
4
hours
5
minutes
Ingredients
3/4

Cup

So Delicious Organic Almond Milk

1/2

Cup

Oats

1 1/2

tsp

Chia Seeds

1/4

tsp

Vanilla Extract

1-2

tbsp

Coconut Flakes

1-2

tbsp

Sliced Almonds (optional)

1/2

Banana - Sliced
Instructions
Combine all ingredients in a small jar

Cover with lid and place in refrigerator for at least 4 hours, or overnight
Recipe Notes
If you are using the unsweetened So Delicious Almond Milk, you can add a teaspoon of maple syrup to sweeten 
Thanks for stopping by! I hope you love these Oats.
Cheers to happy bellies in the morning!
XOXO,