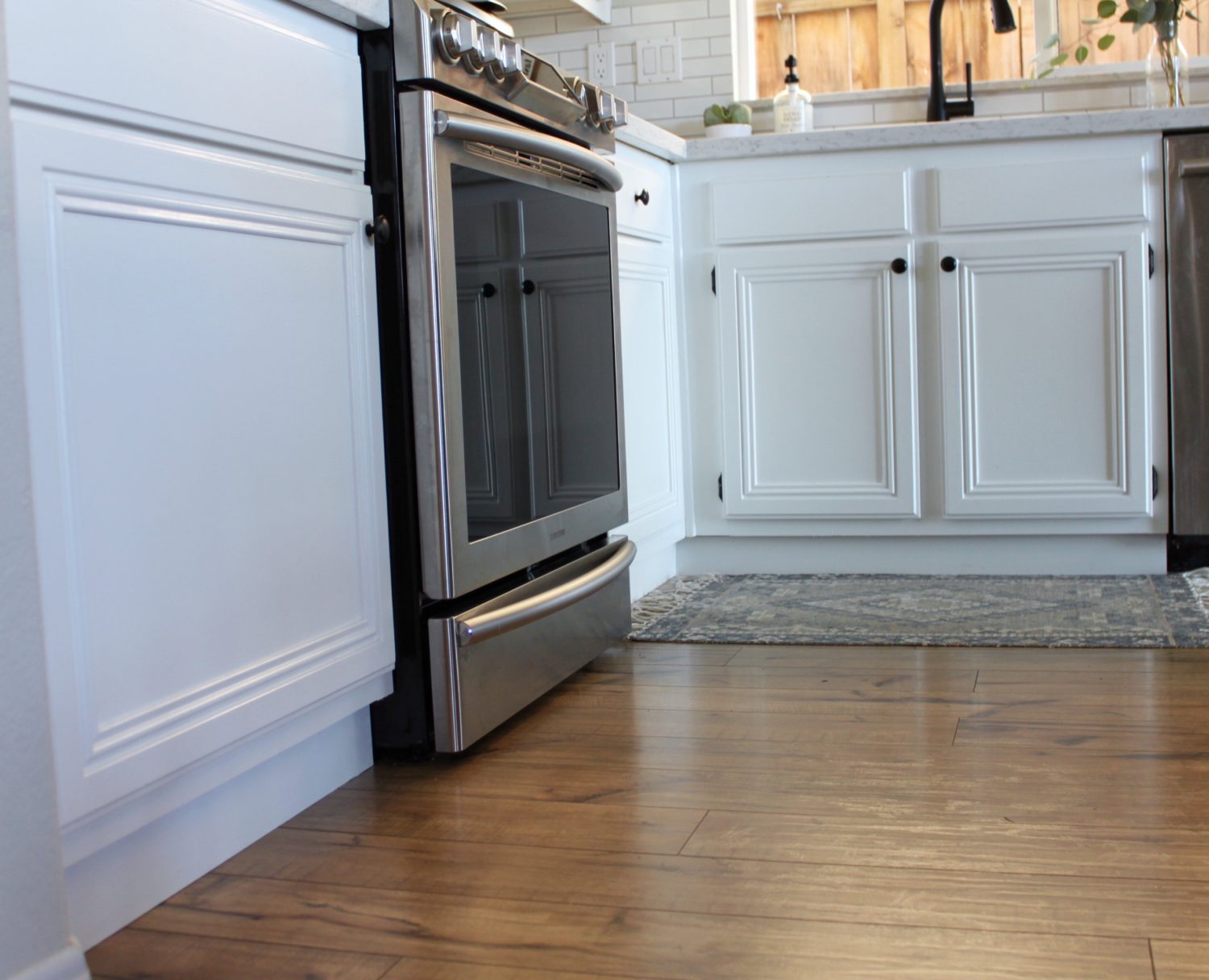 This website may use affiliate links. When you purchase products from an affliliate link, I make a small commission.
It can be VERY expensive to remodel your kitchen. Not everyone has 25k to drop! Or maybe you know your home right now is only a 5-year home, not your forever home. So, you would like a nice update- without the big cost. There are ways to do this! This post is all about changing the dated, round cabinet trim – or for a more correct term, the toe-kick. I also have previous tutorials on affordable updates you can do yourself in your kitchen, such as refinishing your own cabinets and hardware,  as well as making your own island.
This is the round trim I am referring to below.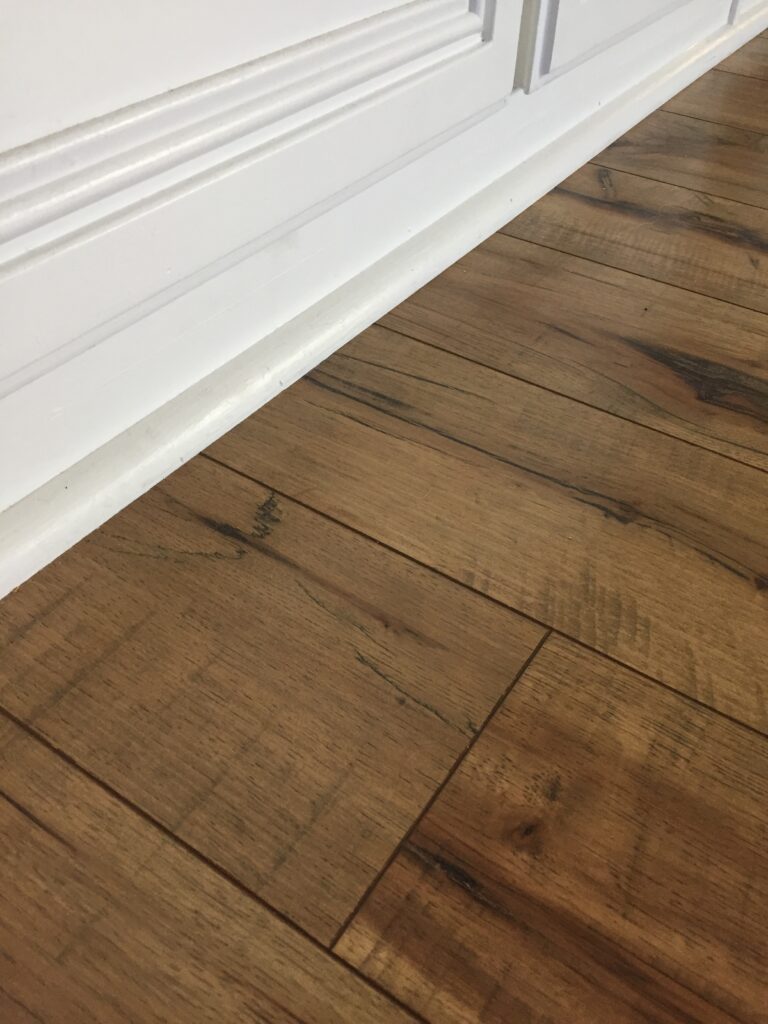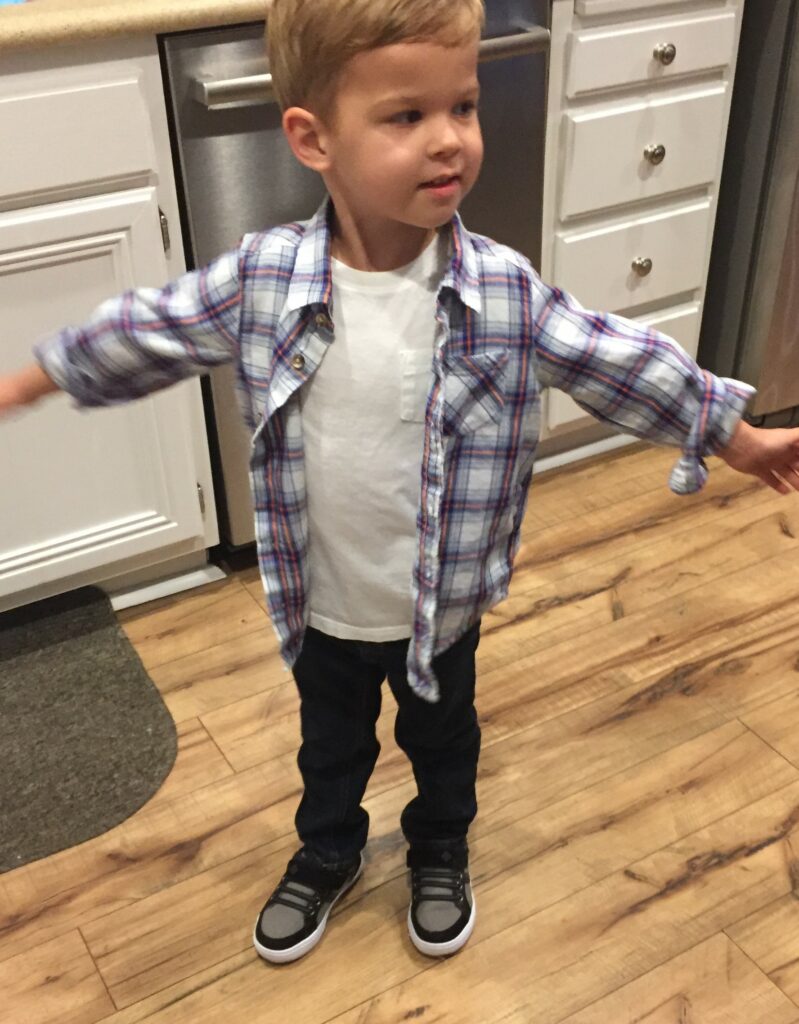 In the photo above, you can see my son standing in front of the old cabinet trim. I can never find the photos I need to prove my point, when I need them! So this will have to do for now.
We didn't want to spend thousands on brand new kitchen cabinets, so refinishing them was really my only option. Luckily for me, that worked out and we love the results. The older design style of the cabinets didn't bother me at all. I found them to have a fun personality that some of the shaker style cabinets tend to lack. The one part of the existing cabinets that I really felt dated the space, was the quarter-round shaped trim all along the bottom. At least in our kitchen, it looked dated. I'm sure it can be done fabulously in a newer kitchen, but ours not so much.
Here is the surprisingly simple way to update your cabinet trim make a more modern change!
Items you will need to update your cabinet trim(affiliate links below):
Let's get to work! Take a chisel and pop off all of the round trim.  It should come off fairly easily. I also took off the piece of wood behind the trim as well. This part is fun. I like to take out my aggression whenever I get the chance to demo something. "I love Demo Day" like Chip Gaines always says. Ha. Man, I really wish I had cable again, so I could just watch some HGTV!
Measure each section that you will be covering with the 1"x 3" boards. For me, this was the perfect size to fit underneath my cabinets. So, you should be able to just cut to length and not worry about ripping any narrower…. BUT measure the space under there before you go and just take my word for it. Your kitchen may be different than mine. If, for some reason it's too short for a 1×3, you can rip your boards with a table saw. If you need a taller board, try going up a size. These pre-cut boards are all available at Home Depot. Fingers crossed they will slide right under your cabinets like butta.
Ladies who are reading this. If you don't have a little chop saw like this
, get one! There are so many things you can do even if this is your only tool.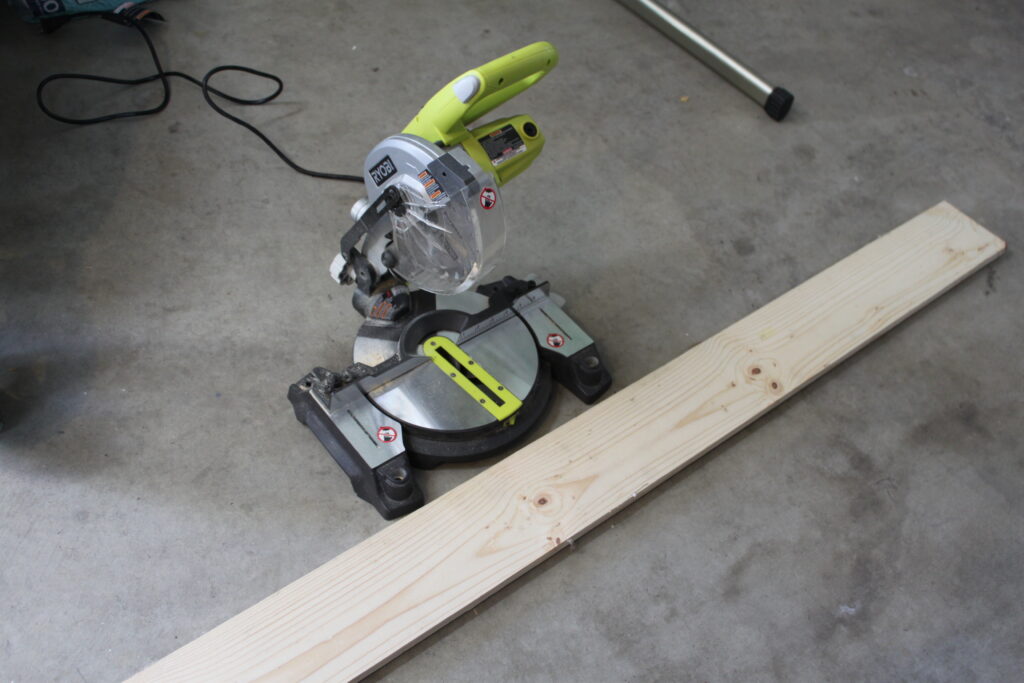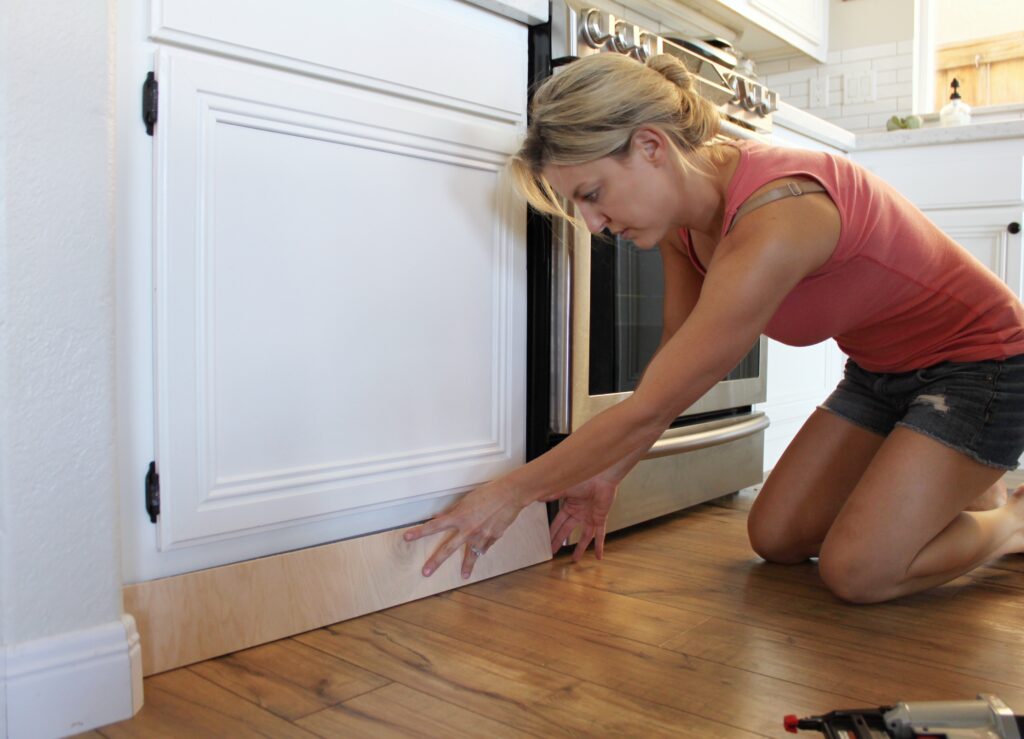 Cut each section to size, and double check to be sure they fit properly before painting. Save yourself some agony later- just double check. Then, prime and paint your boards with the same paint you used for your cabinets. Well, that's obvious Kelly…Sheesh sometimes I just need to give ya'll more credit! Lol.
Once dry, apply some nail glue and use your brad nail gun to attach cabinet trim. Fill in cracks and cover nail heads with caulking or spackle and touch up your paint.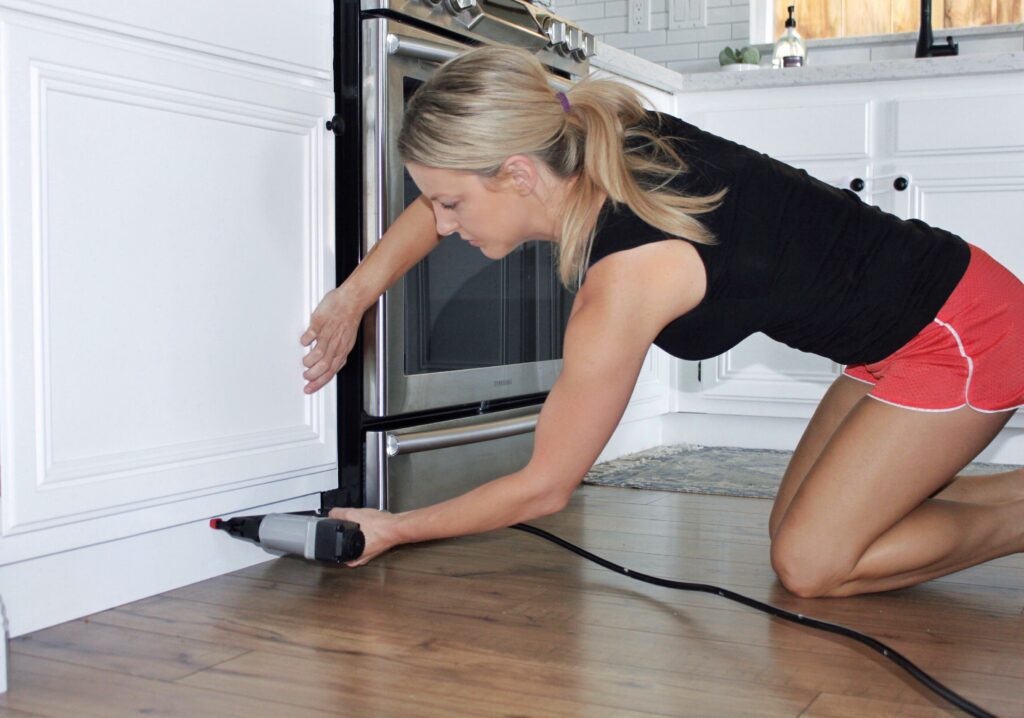 That's it! That is the whole project to update your cabinet trim. Your kitchen looks updated and fresh and it was pretty simple, too!
Who needs to hire a professional, when YOU got this?
*I also did this on our island, and forgot to include the toe-kick instructions with that post. So, for those of you wondering how to finish that last step, this is it. Only on the island I used a 1″x 6″ board. Follow the same steps to create the toe-kick under your island.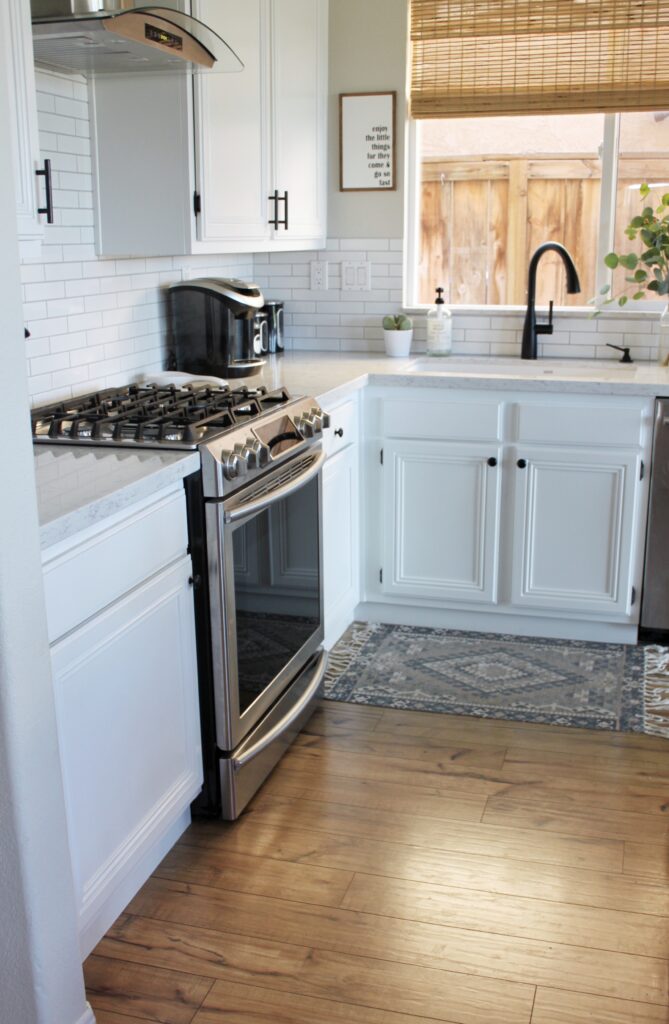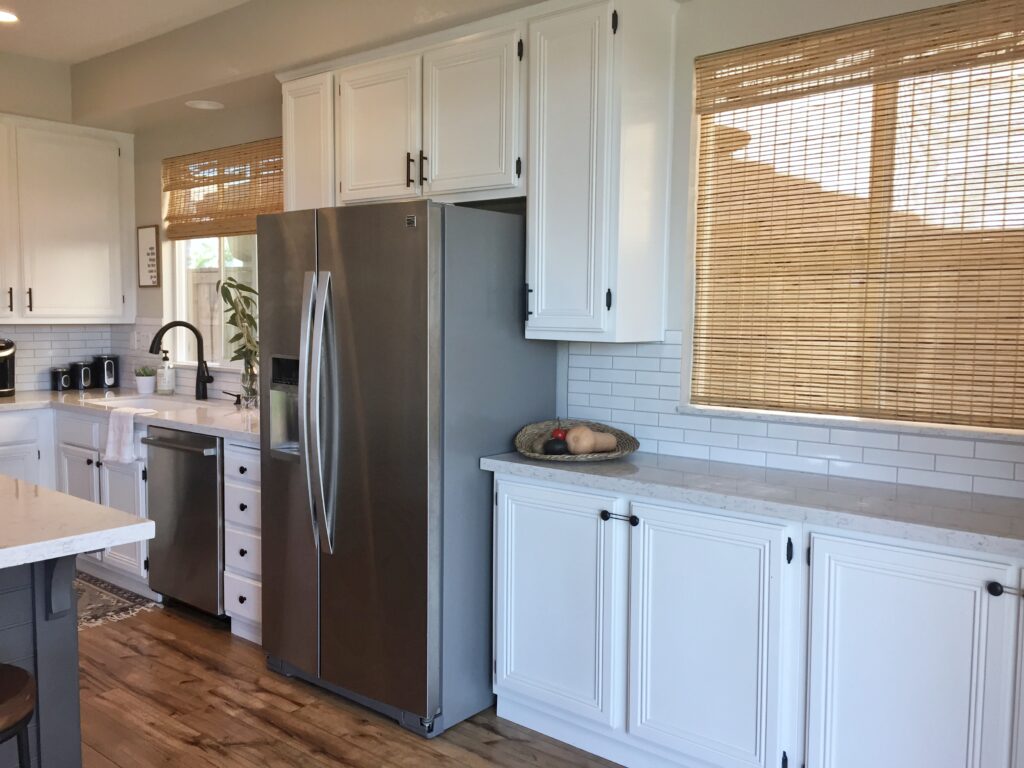 XOXO,