This website may use affiliate links. When you purchase products from an affliliate link, I make a small commission.
DIY projects are great… but the problem with starting one, is that it occasionally leads to a snowball effect of continuing projects. Once I completed our headboard, I knew I needed a pair of large table lamps…new bedding…new pillows…. and wait a minute- our master bathroom looks pathetic! I better redo that, too! Of course, that project is for another post on another day… but you get my point.  When my husband sees me staring crazy-eyed at a part of the house, while frantically biting my nails, he knows what's comin'.
I decided I would try out my local thrift store, just to see if somehow they would have an fabulous pair of big, matching lamps that I could refinish for my bedroom. What is the likelihood of that happening??? I guess I was feeling lucky that day.. because I literally walked right in and at the very back corner of the store I saw exactly that. It was like I was sent to the thrift store that afternoon by the Lord himself. I practically sprinted to them while my infant daughter was strapped to the front of me holding on for dear life. These are the things that make a DIYer so happy! I mean, they even had totally reusable shades!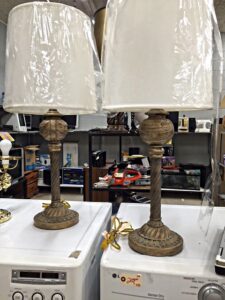 Here they are just sitting on a couple old washing machines. They were $12 and the transformation is so fun. The easiest project to do!
I discovered Chalky Finish Spray paint by Krylon. Game changer for painting projects!! It goes on so fast and gives a flawless, no drip application. I could only find this at Hobby Lobby in San Diego, (Amazon was way over priced) and it was 30% off.. so it was around $4 for a bottle! I chose Slate as my color.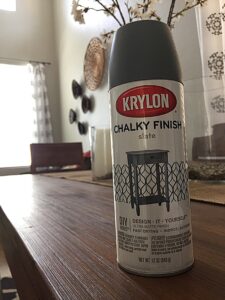 You can use this to paint ANYTHING. I even ended up using it on my bathroom cabinets. Blog post to come! Did I say amazing?
Step 1- Spray your lamps with a white primer spray paint. Any brand will do. This will ensure the yucky bronzed metal color won't show through.
Step 2- Spray your lamps with Chalky Finish spray paint. I did two coats.
After I did this, I felt slighty bored by them.. so I just took a super light-gray paint sample I had in the garage, and dry brushed it randomly over the lamps. To dry brush, dip paint brush lightly into paint and dry off excess  paint onto a paper towel. Then quickly brush in short strokes. It makes such a fun textured look!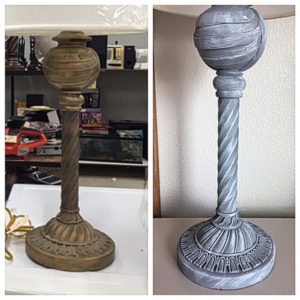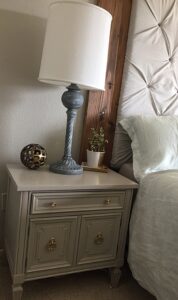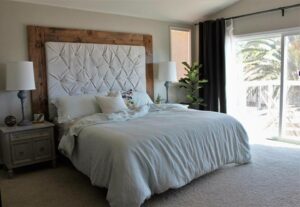 Such an easy project, and such a dramatic change for your space! Have Fun!
Kelly