This website may use affiliate links. When you purchase products from an affliliate link, I make a small commission.
Our bedroom and master bath have been neglected since we purchased our home 4 years ago. Basically blank white walls and a bed. Seems when I have the itch for a DIY project, it ends up in another room of the house.
As you may know, I have a super active 3 year old boy, and an adorable 8 month old girl…. so I have not had energy for ANYTHING for a VERY long time. Oh man, naps were my favorite thing once baby #2 came along. As soon as I started feeling a little more like my old self, I decided this bedroom needs some work. Maybe I will just turn into Martha Stewart and create a massive, ridiculously detailed and time consuming headboard!! I have time for that! Of course! So that's just what I did. (what was I thinking?) Haha. But honestly, if I can find the time to do this anyone can.
I knew I wanted a rustic-glam type of feel (I actually think I made that term up, lol.) Not only wood, and not only fabric. So, I designed this rustic glam headboard to incorporate both elements. I pulled different tips from many online sources until I found what I believed was the best, most efficient way to build this. So, I hope you find this a helpful shortcut for some of your headboard questions. Especially for making tufting easier! Let's get to it.
Rustic Glam Headboard Tutorial:
Supplies you will need for wood frame:
Choice of lumber cut to your desired size (3 pieces, Home Depot will cut for you!)
Minwax wood conditioner
Minwax wood stain
Minwax Polyeurathane Satin Clear Coat to seal
3″ minimum screws to attach to studs in wall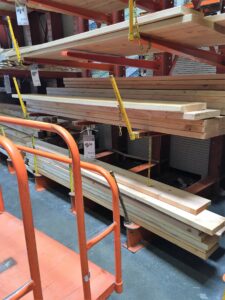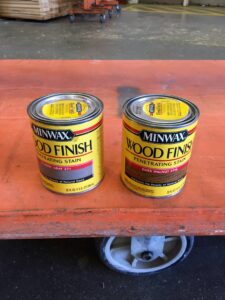 I went with Douglas fir, which is a softer wood. Really you can pick whichever wood you like the look/price of. I wanted some good knots in it, and the wood is very inexpensive too. I believe it was 8″ wide x 2″thick. The stain I used was a combination of Dark walnut and Classic Gray by Minwax. (but I actually am liking the color stain- Special Walnut better now)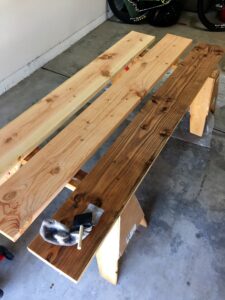 Take a couple of the leftover scraps of your wood to practice mixing the stains to create the look you're going for. If you just slap some stain on your boards, you may end up crying because it looks like poo instead of purty.
Once you say, 'yay I like that', it's time to apply your wood conditioner to your boards. Rub on with a cloth and let that sit for about 10 minutes. Then apply your stain, rub off with a clean cloth once you reach your desired color- in the direction of the grain. Super easy and satisfying. Makes me want to stain everything all over the place. Seal with a coat of Satin Poly. I like satin, because I didn't want any shine. Drill straight through the boards into wall studs.
Materials needed for Tufted headboard:
Peg Board (found at Home Depot, they can cut it to size for you if you ask!)
If you looked at the links you will know I have an addiction to Amazon Prime…. So shoot me. But, each of those items I linked are perfect for this rustic glam headboard project! I recommend! Use these links to purchase.
Once you measure how massive or dainty you would like your headboard, cut to size and lay flat on ground. Just make up your own pattern of where you'd like your buttons to be placed. I counted holes to make them all perfectly spaced out. THIS is why the peg board is key! If you use a solid board, chances are higher your buttons won't look as uniform.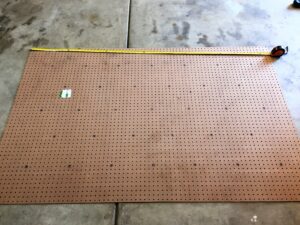 I just took a sharpie and circled my holes where I wanted to place the buttons. Next, put your 3″ foam underneath the board. BUY THE FOAM AT HOME DEPOT! If you buy it anywhere else, you will spend a fortune and that's the opposite of DIY happiness. You want to put the foam on the opposite side so you can then mark through the holes that you chose and make a dot on the foam itself.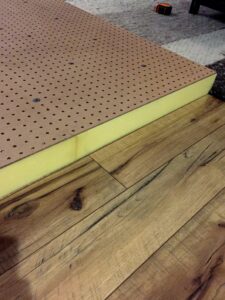 Once that's done, flip over the foam so you can see the marks and attach to the peg board with spray adhesive. Cut out deep holes slightly bigger than your buttons. This allows them to sink and get that tufted look. 🙂 This tool works great. Don't know what that thing is actually called though.
**Side note. I made my foam the same size as the peg board because it is surrounded by wood. If you are skipping the wood border, you will want to make your foam a couple inches wider than your board so you have a fluffy look on edges. Otherwise, you will likely see the wood pushing through.. If that makes any sense?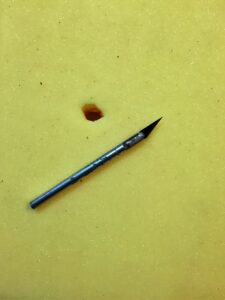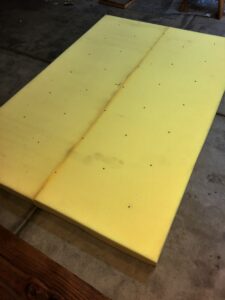 After all holes are made, lay your batting over the top and just start poking holes through it.. Makes it a lot easier to feel through your fabric and find those suckers.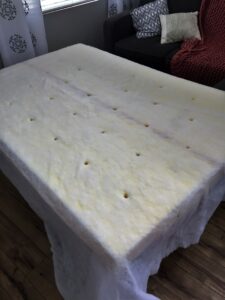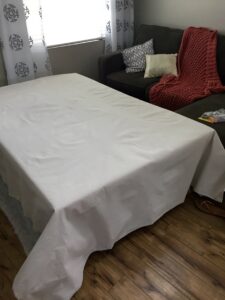 Next lay your fabric over top of everything. The "fabric" I actually used is a drop cloth from Home Depot.. Cost around 15 bucks I believe. I LOVE it. Has a sort of oatmeal, grainy look to it. You cannot beat that price! Deals make me happy ya'll.
Now for the tufting…. I know you're super excited. After covering all your buttons….Which is probably the worst thing of all time. I mean, if you can find fabric buttons that have wire loop backs, that are the right size, that match your fabric, then you are amazing and you should use them! Otherwise, you have to lower yourself to my level, and cover your own friggin buttons with some of your fabric. You'll be super proud of your hard work after it's all over, and will never look so lovingly at a pile of buttons ever again. Moving on.
Using your trellis wire as your thread, start from the CENTER and work your way out. Adjusting and creasing fabric as you go. Be sure you have left enough extra fabric around all sides. Extra can always be cut, but if you end up short.. you will want to rip your hair out of your own head. Ok?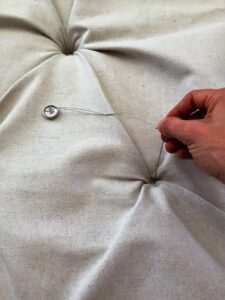 The needles I used were about 3-4″ long, I believe. Thread the wire through the eye and also the button. You will have to fish around to find the nearest peg board hole, but once its through, take your fabulous staple gun and put a staple right next to the hole. Then wrap your wire around it multiple times to hold. The wire is much better than any thread, in my opinion, because it secures itself with out worry of the fabric thread unraveling one day. Love that!
Keep working your way out and keep getting more happy and relieved that it actually is looking amazing.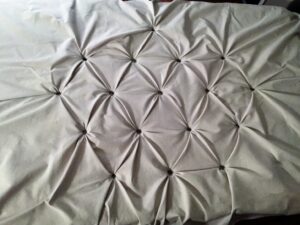 Once you're done with all the buttons, do a happy dance, have a glass of wine, go on and on to your husband about how hard it was, and sit down for a while. Because you're worn out.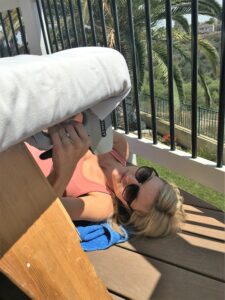 Cut extra fabric all around, and staple all around pulling fabric tight and creasing. You're done!! Now hang on the wall in the center of the three boards you had previously stained- using the Hangman product I linked for you in the materials list. This project takes a little time, but is so worth the effort for a totally unique headboard.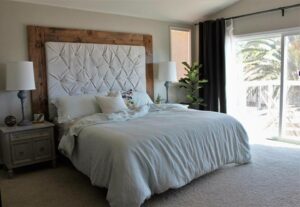 Let me know how your rustic glam headboard turns out, or if you have questions! Can't wait to see!
Kelly